Pretty much everyone has heard of WW (Weight Watchers) and their proprietary points system, but what really is the difference between counting calories vs WW points? Is it really worth it to pay for Weight Watchers when you can track your food with free apps?
Both of these can work, but which is better depends on your perspective. Weight Watchers points are calculated based on calories, saturated fat, sugar, and protein. Due to the high saturated fat and sugar content of typical "junk" and processed foods, these typically have high point values in proportion to their calorie count. Calorie counting by itself only takes into account the calories, not the nutritional value. Counting points strongly encourages you to minimize things like sugar and fat, while eating more healthy unprocessed foods.
For the past week, I've tracked on both Myfitnesspal and counted points with the WW app
After switching over to WW Freestyle (now their Blue Plan) from just counting calories, I was really curious how they compared – how many calories was I really eating on Weight Watchers? With all the zero point foods, would it be too high for weight loss?
What I learned REALLY surprised me.
Before I get into what I discovered, let me go over the basics!
Update: Weight Watchers New Plan for 2020 – Colors Explained!
Calorie Counting
Everyone knows calories in vs calories out – your body burns x calories per day and if you eat above that number, you'll gain – below, you'll lose.
That's the relatively simple science behind the calorie counting approach.
The nice thing about the calorie counting method is it's free – food either has nutrition labels that let you know calories, or you can easily look it up online. There are also tons of free food tracking apps like MyFitnesspal or Loseit. There's also plenty of websites that will let you calculate how many calories your body needs a day depending on a variety of factors such as age, sex, weight, activity level, and even your height.
WW Points (Green, Blue, Purple)
But there's also the Weight Watchers (WW) points tracking system which is currently WW Freestyle Blue, Purple, or Green Plans.
Freestyle These new color plans strongly encourage healthy eating while also providing the flexibility to eat the foods you love. (Blue and Purple do this to a greater extent than Green)
WW (Weight Watchers) is constantly evolving its points system to align with the most up to date science and research involving health and weight loss. Currently, they're using a system called WW Freestyle – which includes over 200 zero point foods and encourages eating healthy, whole foods over those that are higher in refined sugar, saturated fat and low in protein.
How many calories is a Weight Watchers point?
It used to be a WW point was (very) roughly equivalent to around 50 calories, but these days that is not exactly accurate. It really depends on the food as Weight Watchers calculates their SmartPoints using calories, saturated fat, sugars, and protein.
With the older system (PointsPlus) they were calculated using total fat, fiber, protein, and carbs.
Now that they're using saturated fat and sugar in the points equation, it really heavily penalizes a lot of processed foods.
Many of these types of foods have point values so high compared to their calories that it really encourages many people to choose healthier options.
However, with the addition of so many free foods in Blue and Purple plans, it can help make up for the lack of daily points you're allowed so you can eat all the calories your body needs.
Food Examples – Calories, Weight Watchers Points
| | | |
| --- | --- | --- |
| Food | Points | Calories |
| Apple | 0 | 60 |
| Banana | 0 | 105 |
| Spinach | 0 | 25 |
| Plain Bagel | 7 | 270 |
| Peanut Butter (2 tbsp) | 6 | 190 |
| Butter, regular (1 tbsp) | 5 | 100 |
| Olive Oil (1 tsp) | 1 | 40 |
| Cheddar Cheese ( 1 oz) | 4 | 110 |
| Pop-Tarts (1 pastry) | 8 | 190 |
| X-treme Wellness Wraps, Fiber | 1 | 50 |
| Old Fashioned Oats (1/2 cup) | 4 (free on purple) | 150 |
Most foods seem to range somewhere between 20 – 50 calories per point, depending on the nutritional value. Foods higher in saturated fat, sugar, (or both) will have higher points for the same calories compared to healthier foods.
If you want to give Weight Watchers a try, you can check out their current promotional offers here (currently they are offering $0 down and 3 months free!)
They currently have 3 color plans – Blue, Purple, and Green.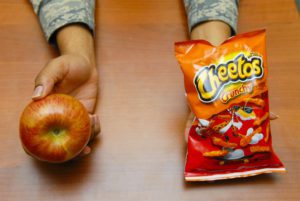 One of the concerns a lot of people have is all the zero point foods on their current Blue (formerly Freestyle) and Purple (modified Simply Filling) – if you can eat unlimited amounts of chicken, beans, fruit and veggies, plain greek yogurt, even eggs(yolk included), can you really lose weight? And even more so on Purple, where things like whole grains (including whole-grain pasta, oatmeal, barley, couscous) and even air-popped popcorn are thrown in.
WW makes it clear you're still supposed to use moderation with all these things – zero points does not mean zero calories.
But even so, most people aren't overweight from eating too much chicken, beans, veggies, and fruit. Statistically speaking most people aren't going to go crazy and overeat with these foods.
However, some people need much more self-control over food, even food that is healthy, so Weight Watchers re-introduced their old SmartPoints plan under the color "Green".
Note: This article was written following the Freestyle plan, currently their "Blue" plan
Something that really surprised me was just how difficult I found it to reach my daily calorie limit tracking WW points with their freestyle program! To do it, I had to dip into my fit points (extra points earned from exercise) or weeklies (an extra budget to splurge on during the week).
Something I've learned is that it's difficult to eat a healthy amount of calories for weight loss (without dipping into the weekly budget or fit points) unless you include a decent amount of zero-point and low point foods!
And I get 35 points per day which is much more than most others! Gah!
But well here's the thing – I'm really trying to adjust to eating more of the zero point foods, which is where they're trying to encourage you to get a good amount of your daily calories from.
Without a ton of those types of foods included in my diet, I had to go over my daily points allowance to even hit between 1,200 – 1,300 calories per day, which is very low! When I was tracking on Myfitnesspal, I ate between 1,500 – 1,800 (some days more) for weight loss.
Side by side comparison of tracking caloric intake vs WW SmartPoints:
| | | |
| --- | --- | --- |
| Day | Calories | WW Points |
| Day 1 | 1,236 | 35 |
| Day 2 | 1,625 | 46 |
| Day 3 | 1,375 | 41 |
I've been logging both smart points with WW and calories with Myfitnesspal for the past week – I'll show 3 days during the week to show a few examples of what the points and calories look like by comparison.
You'll see the calories are low compared to the points I used because I was still adjusting and trying to figure out better lower point/zero-point options.
Saturday 8/31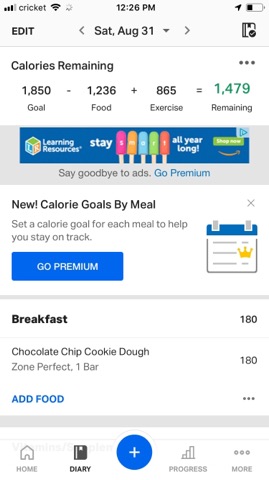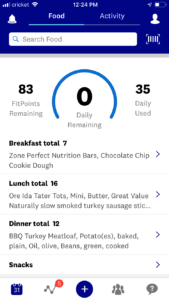 This day was the only day I actually stayed within my points (35) and not go over into my fit points or weeklies, and my calorie count was only 1,236.
Now, you might think 1,200 is a good calorie limit for weight loss, but for me, it's pretty low. I typically eat more than that, with my low-calorie days around 1,400 – 1,500 per day.
Sunday 9/1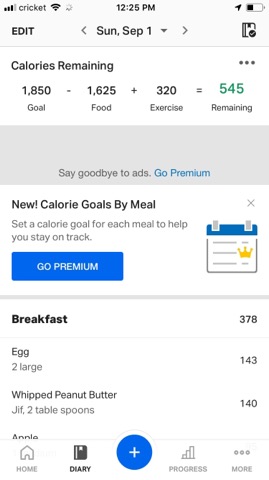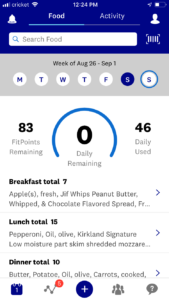 My food tracked via Myfitnesspal totaled 1,625 calories, while WW smart points were 46. I went 11 points over for the day (my target is 35) and had to dip into my Fitpoints.
Note: I have my app set to use my fit points before my weeklies – that's just the way I prefer.
Tuesday 9/3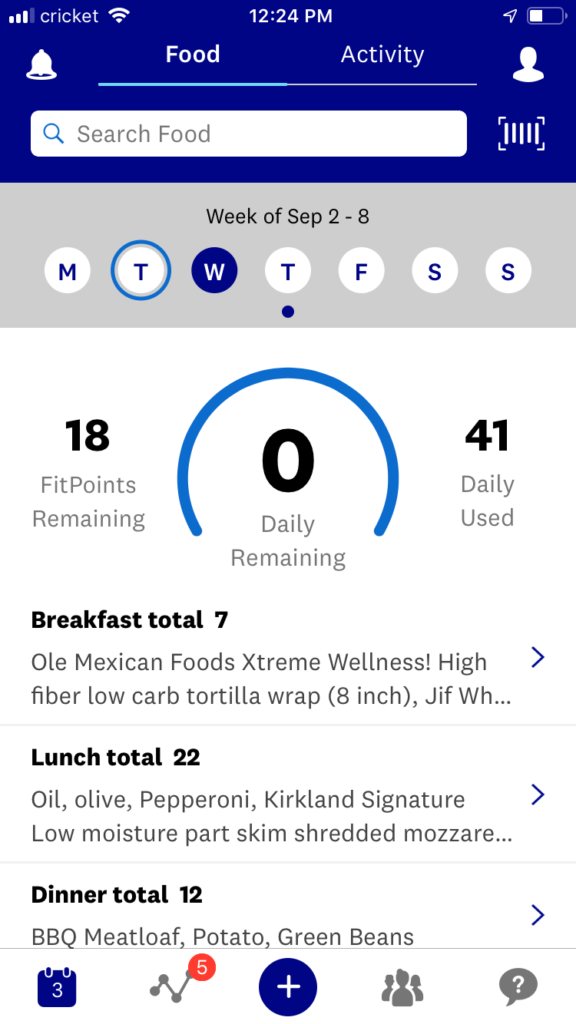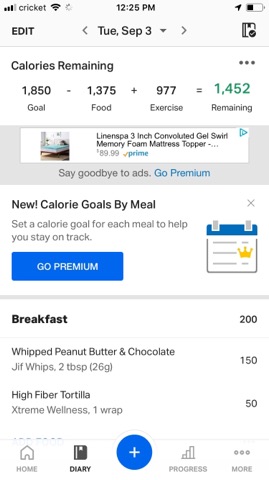 Went 6 points over and ended up at 41 for the day, while my calories were only 1,375.
What tracking calories and adding up WW points have taught me, and how it compares to their older points plus
First of all, I'm still in a major learning curve phase with the new system.
Back when I followed Weight Watchers the first time in 2010, the program was much different. Back then, it was much more similar to counting calories. Although it still took into consideration some of the nutritional components when determining points, there was more freedom to eat the foods you wanted and stay within your point range.
(This was because they didn't use saturated fat and sugar with PointsPlus)
Now after having rejoined, I noticed they recalculated a lot of the point values with the new Freestyle program and many foods have higher point values than they used to, and everyone is given less of a daily points allowance.
It's much harder to stay within my points and eat the food I want!
But there's also much more zero-point food items.
Zero-point foods are things like fruits and veggies, eggs, lean protein (like chicken breast, some fat-free turkey or chicken lunch meats, and 98% lean ground turkey) plain fat-free Greek yogurt, and beans. Even rotisserie chicken breast is zero as long as you remove the skin!
Now here's the deal – I totally understand the rationale behind their new points system. It's not that they want people to go hungry and eat as few calories as possible, they are trying to encourage eating healthier by penalizing unhealthy foods with high points, and healthier foods lower points (including a lot of zero point foods).
If you're running low on points and still hungry, you're supposed to fill yourself up on the zero point items.
Trying to eat more with fewer points
So, I want to take an example of how you can try and get more food into your smart points budget.
Take a pack of Pop-Tarts that's around 400 calories. That's equivalent to around 17 WW points which is the majority of what most people are allowed to eat in a day! (I currently get 35 points – there's a variety of factors at play, some people might get much more daily points than that) Yet 400 calories is not the majority of your daily caloric intake, so the program is designed to limit your intake of processed foods and train you to eat lower point or zero point options, which are healthier.
On the flip side, you could have an entire chicken wrap with lettuce for around 200 calories and only 1 point!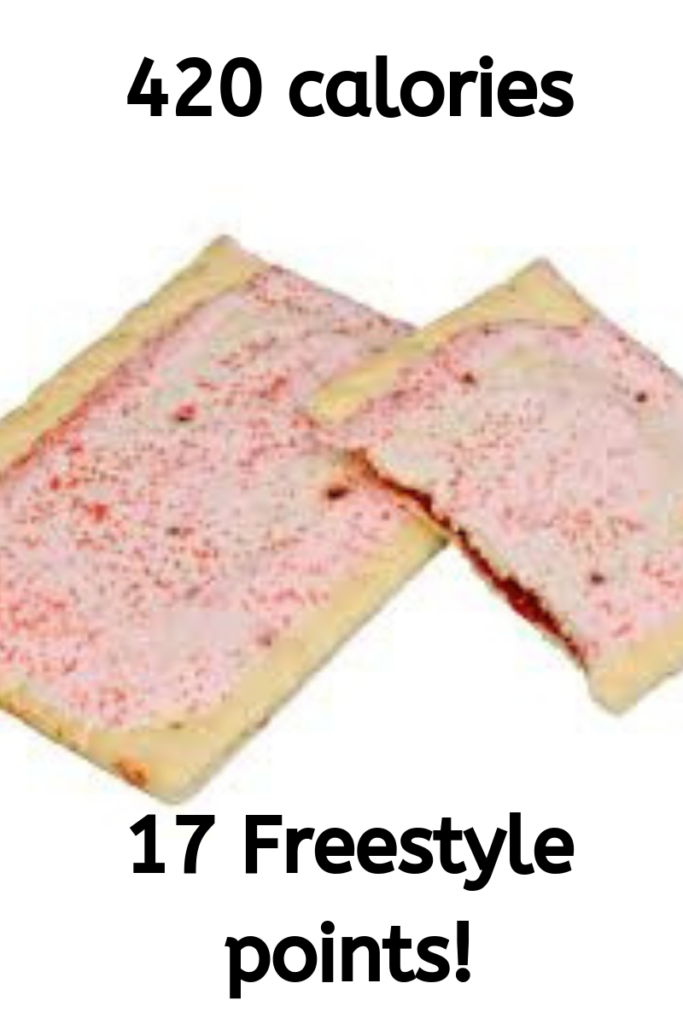 Calorie counting definitely allows for much more freedom to eat the foods you want
The thing about tracking calories is there really aren't specific rules or guidelines to follow other than eating under x amount per day. If we take the Pop-Tarts from the earlier example and track them just for calories, that's only about 400. Between 1,500 – 1,800 is a completely normal calorie limit for weight loss. So you could easily eat them and still have calories available for things like pizza or fast food!
It may not be healthy, but as long as you limit your portions and track you could still actually lose weight eating food that's not the healthiest.
With WW, you have much less freedom to be able to do things like that since you're so restricted with points.
However, with both methods, there's a learning curve and you will adapt. Even when you track calories you become much more aware of how many are in certain foods and quickly learn to avoid or limit certain things with super high calories.
Naturally, you're going to want to gravitate towards foods lower in calories so you can eat more. The same thing can be said for WW points – you're going to learn to avoid high point foods and eat lower point (or zero point) things so you can eat more!
So would I say it's easier to track WW points or calories?
There's not really a clear answer, but it could arguably easier to track with WW Blue and Purple plans if you eat a lot of whole, unprocessed foods since there are so many zero point foods you don't actually have to track.
For example, if you're making dinner and the recipe calls for mostly zero point foods, you only have to worry about tracking the foods with points and not every little thing. If all your snacks are zero points, you don't have to worry about tracking them.
The hardest part about calorie counting is when you start making recipes and creating complex dishes, it can be somewhat difficult and even tedious to make sure you measure or weigh every ingredient, then divide it by the servings to know how many calories are in each one. That is the part I absolutely hate!
However, if you use a food tracking app (like MyFitnesspal) you can create your own recipes in their system and then simply re-log it every time you eat it!
If you make the same recipes over and over again (like me) you only have to go through the effort of figuring it out once, then in the future, it's pretty simple to log your meal.
It's the same thing with any food you eat – you can save your favorite foods or meals and then it's incredibly easy to log them in the future. If you use it for any length of time and your meals tend to repeat, then the longer you stick with it, the easier tracking meals will get.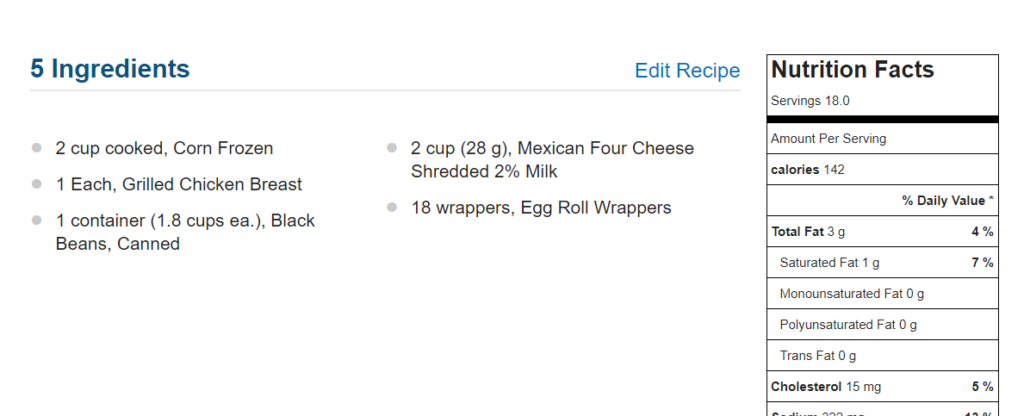 Both methods work for weight loss – just find one that fits with your lifestyle
There's a bit of a learning curve involved in either method you choose, so you just have to find what's best for you and stick with it. They both work if you put in the effort and are consistent.
I really think that WW (Weight Watchers) is a fantastic program that teaches healthy eating habits that can last a lifetime. It does cost money, but there is a level of guidance and accountability that goes with it vs. simply trying to count calories on your own.
Join for $0 and get three months of Weight Watchers free through this link
But with free food tracking apps like MyFitnesspal tracking calories can be really simple, especially if you stick with it. If you have the motivation to do it on your own, it's a great free option.
Also check out:
4 Affordable Apps like Weight Watchers
I'm getting PAID to lose weight – this is how!
Feel free to drop a comment down below and share your experience with counting calories or WW points!
Please follow and like us: