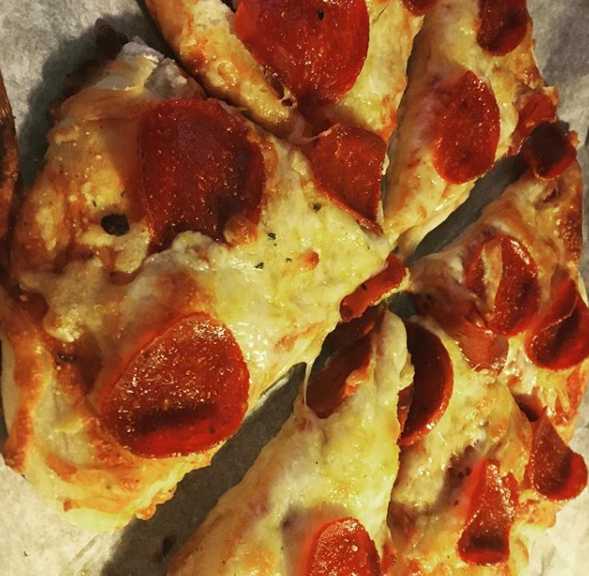 I've sort of been obsessed with the WW (Weight Watchers) 2 ingredient dough recently, and totally loving making this pizza with it!
If you haven't heard of it, it's basically just equal parts plain, fat-free Greek yogurt and self-rising flour. (If you don't have self-rising flour, you can easily make your own)
For this recipe, I used 1/2 cup each. But you can use whatever ratio you want – 1/2 cup, 1 cup, etc. Depending on how much you want to make.
A little tip, because this a bit messy and not necessarily something you will want to make every day, you can make a bigger batch (like 2 cups flour with 2 cups yogurt) and section it out, put it in bags in your fridge and pull it out when you want to use it. I'm not sure about freezing it because I've never tried it, but it might work too!
The idea behind this is that on the WW Freestyle program, plain, fat-free Greek yogurt is 0 points. That is what makes this so low in points.
And if you haven't heard of this, or tried it yet, it's actually really good! I mean, it has a slight tangy taste from the yogurt and it's a bit plain, but if you add some flavor to it, it's great.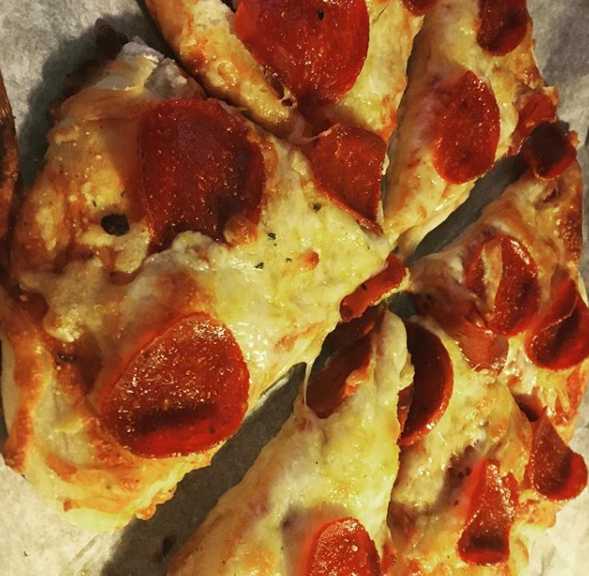 Pizza with 2-Ingredient Dough
Ingredients
1/2

cup

plain, fat-free Greek yogurt

1/2

cup

self-rising flour

1/4

cup

part-skim mozzarella cheese

2

Tbsp

pizza sauce

8

slices

turkey pepperoni (or regular, or whatever toppings you prefer!)

spray butter

garlic salt
Instructions
Mix together 1/2 cup self-rising flour and 1/2 cup yogurt in a bowl until incorporated. Knead together with your hands on a floured countertop until it forms a ball, add more flour if necessary.

Cover a baking tray or pizza pan with parchment paper and ball of dough on top

Lightly flour rolling pin and roll out dough to desired thickness

Spritz the spray butter over the top of the dough, and lightly sprinkle with garlic salt (optional)

Bake at 375 for about 5 – 10 minutes, depending on the thickness

AFTER baking, add pizza sauce and toppings

Place back in the oven for an additional 8-10 minutes, or until cheese is melted and bubbly
The tricks I use are to use spray butter (because it has no calories) and garlic salt to make the dough less bland. Also, baking the dough a little bit before adding the toppings will help it to be more firm and less soggy.
Brand of yogurt matters!
A lot of people complain this dough is difficult to make because it's so sticky and messy. (It really does stick to your hands!)
However, I've found that the brand of Greek yogurt you use actually does matter. Typically, cheaper store-brands will be more watery and much harder to work with than other brands.
Brands that work well for the 2-ingredient dough
Kirkland (Costco's brand)
Oikos
Dannon
Fage
Those are just ones that I've tried, not an all-inclusive list. If you have a brand that works well and you want to let me know, drop a comment!
It's still going to be sticky no matter what, but using one of those brands can help a little bit with the mess. Also, don't be afraid to add more flour if you need because that helps a lot too.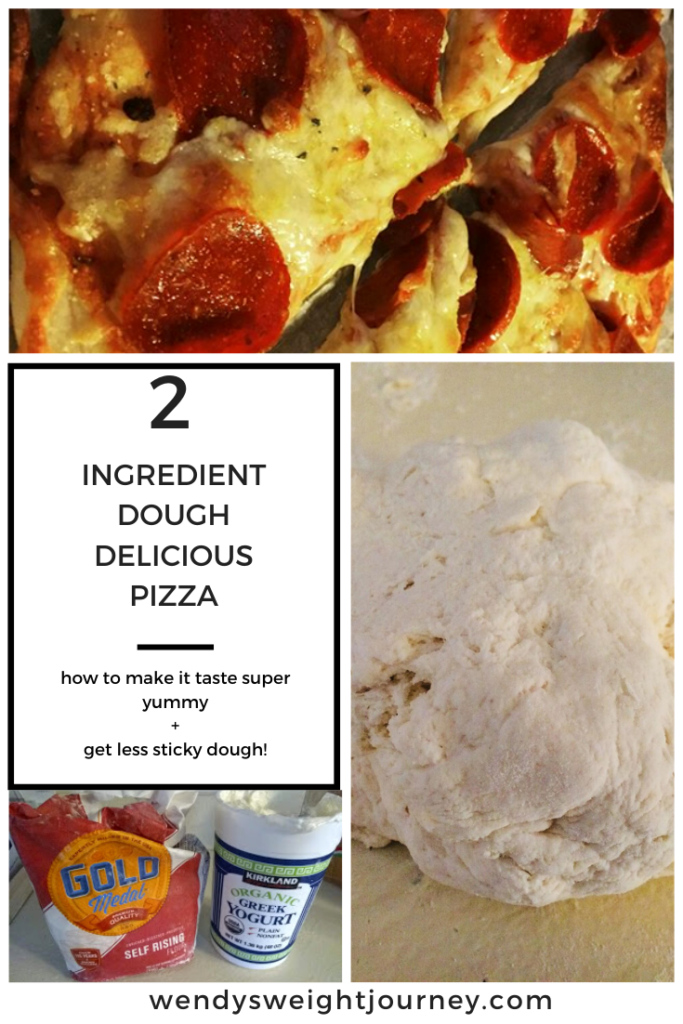 Calories, Nutritional Info, and Weight Watchers point values
This entire pizza with toppings and all is only 9 Weight Watchers points!
If you want the calories and nutrition, each pizza according to this recipe is around 435 calories. I built this recipe with MyFitnessPal. You can see the full nutritional data below.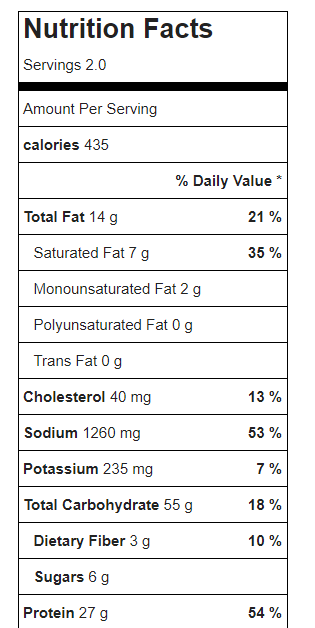 (The reason this says there are 2 servings in the nutritional tag is that the recipe I built on MyFitnessPal was a double batch)
I say healthy (ish) pizza because I realize it's still higher in fat and sodium, however, compared to pizza you'd get delivered or many frozen pizzas it's a much better alternative.
If you're like me and struggle to lose weight, you should totally check this program out. (don't worry, it's NOT another diet!)
Please follow and like us: