Love it or hate it, WW (formerly Weight Watchers) has yet again switched up its program. Surprise surprise…
What used to be three separate color plans (Blue, Purple, and Green) has now transformed into the new Weight Watchers PersonalPoints program.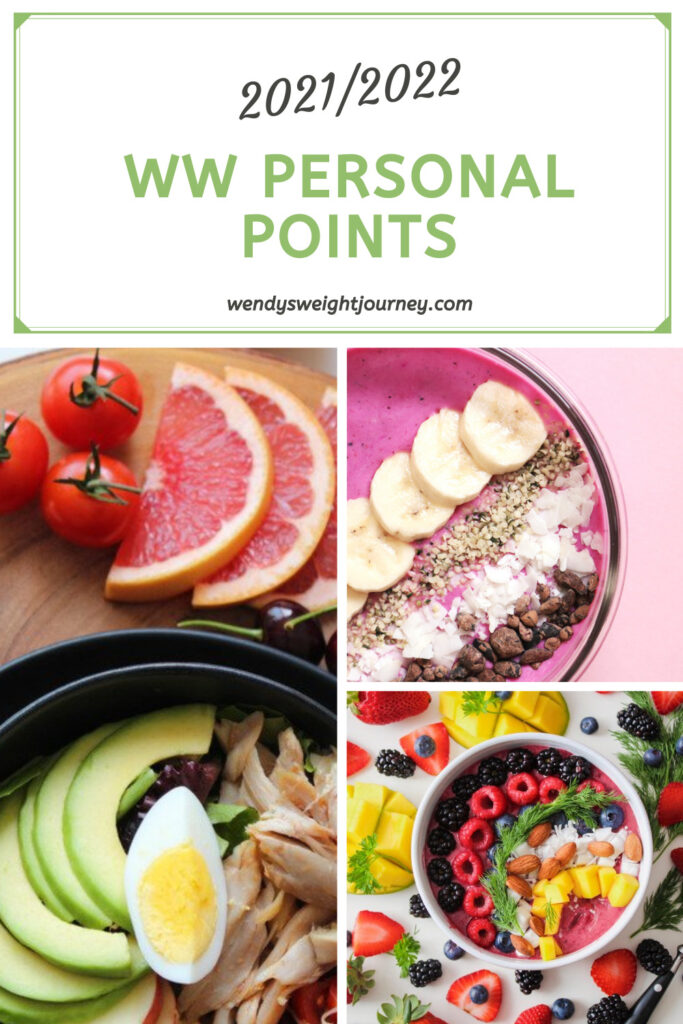 While I go back and forth with using the WW app, I decided to check out their new program for 2021/2022 to I can keep my readers up to date with the latest version (as well as any newcomers who may be curious to learn more about it).
The WW PersonalPoints Program is their most personalized program to date
WW programs have always been personalized to an extent, basing it on factors such as age, weight, sex, and activity level.
The former Color Plans took it a step further, and let users select from three different programs – Green, Blue, and Purple.
But with PersonalPoints, you're prompted to answer a series of questions upon joining which creates a custom plan just for you.
This new custom plan takes all the old factors into account (your weight, age, sex, etc) but also bases it around YOUR eating preferences.
It actually creates a list of ZeroPoint foods just for you, based on the foods you eat regularly and your health. To be clear, these are based on zero point foods from the previous programs, but exactly which foods are zero points on your plan is what is unique.
Your daily points are then adjusted around the types of free foods your plan allows. Feel free to check out the table below for a quick summary…
WW Personal Points vs. WW Color Plans, At a Glance
WW PersonalPoints Program
WW Color Plans
Individualized for every
member
3 pre-built plan
options (Green, Purple, Blue)
ZeroPoint foods are unique to
your plan
ZeroPoint foods
are predetermined in each plan
PersonalPoints calculated
with calories, protein, fiber,
and take into account natural vs.
added sugar, and unsaturated vs.
saturated fats

Food points calculated with
calories, protein, sat fats, and
sugar
Ability to earn extra points
by doing healthy things
Earn extra points only
through activity
Provides a step-by-step action plan
No step-by-step plan given
Includes weekly point budget,
rollover points, program book,
connect groups, WellnessWins,
and 24/7 live coaching
Includes weekly point budget,
rollover points, program book,
connect groups, WellnessWins,
and 24/7 live coaching
---
How exactly does WW customize your plan?
You'll first be prompted to take a quiz that will ask questions about your health and eating habits, as well as how much and how often you enjoy eating healthier certain foods such as veggies, fruit, lean proteins, and whole grains.
It also asks how often you indulge in less healthy or higher calorie food choices.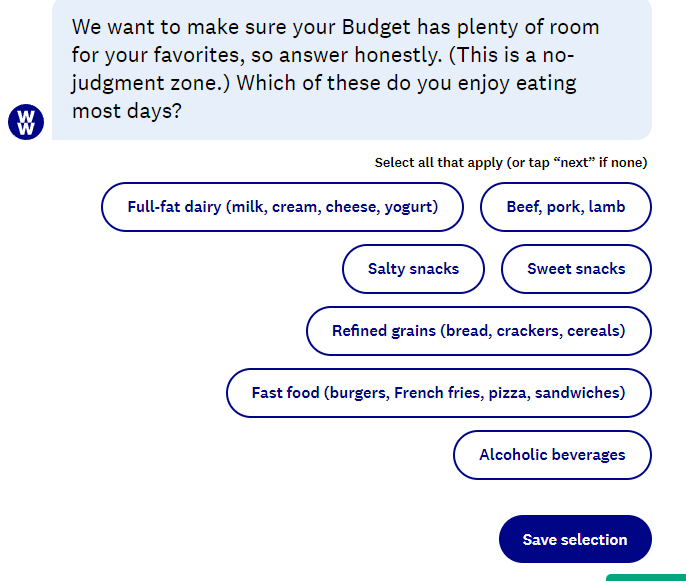 You can always go back and re-answer the questions later if you're unhappy with the final results, so don't stress over it. (Actually, you can re-take the quick as many times as you want!)
How PersonalPoints are different
Beyond the customized plan, the actual calculation of WW Points has changed as well. Points are now calculated based on a variety of factors such as:
Calories
Fiber
Protein
Unsaturated fats
Saturated fats
Added sugar
The old points were calculated based on calories, saturated fat, sugar, and protein.
The new PersonalPoints system still uses these to calculate points, however, it's now able to discern the difference between things like healthy and unhealthy fats and added vs natural sugars.
How this affects the point system
Foods with higher amounts of saturated fat will go up in points
Foods with no saturated fat will be lower in points
Foods with added sugars will be higher in points vs those with natural sugar
Foods with more fiber will be lower in points
If you are already a WW member (or have followed the program in the past) you may notice particular foods have gone up in points, while others have gone down.
However frustrating this may be, just remember, the goal of the WW program is to nudge you towards eating healthier food options.
Also, PersonalPoints actually gives you more ways to grow your daily points budget. On the old plans, you could earn activity points which were thrown into a separate budget. With this plan, you can earn daily points by drinking water, eating vegetables, and exercising.
You also still get the benefit of rollover and weeklies, so all added together will give you more freedom with your points to eat foods you want.
What foods are free (ZeroPoint) on WW PersonalPoints?
There's no universal free or ZeroPoint food list for PersonalPoints since they're unique to each member. But here are some general examples of what types of foods will be free on different plans:
Fruits
Vegetables
Avocado
Potatoes/sweet potatoes
Corn (and even popcorn!)
Skinless chicken breast (and turkey)
Tofu/tempeh
Eggs
Beans, lentils, peas
Oatmeal
Brown rice, whole grains
Fat free/low fat yogurt and cottage cheese
Your own PersonalPoints plan will have some combination of these for free options depending on your preferences.
For example, if you say you don't like to or rarely eat fruit, WW will no longer have fruit as a free food on your plan. The same goes for any of the old free foods – eggs, legumes, chicken, fish, dairy, etc.
(Vegetables are always free on every plan, no matter how you answer the questions.)
Here are my unique ZeroPoint foods…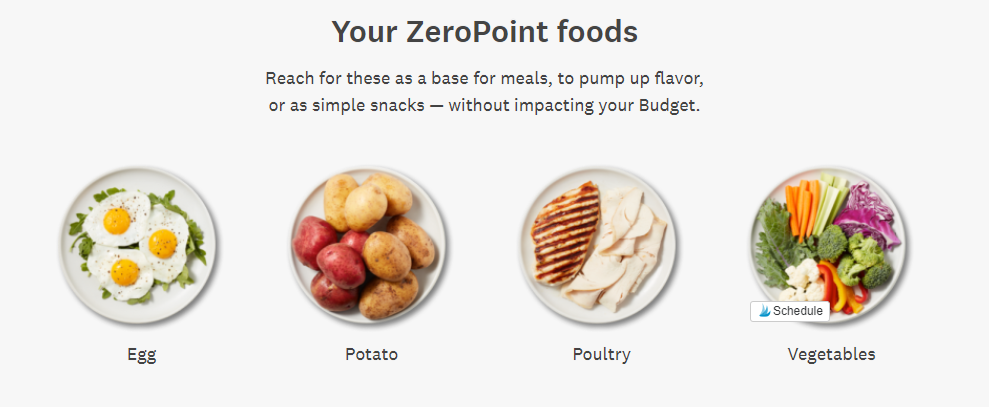 This is good for me personally as I love potatoes, eggs, and chicken! If I had answered the questions differently, I could have gotten more freebies… but I purposely didn't select as many options as I could have because I wanted to keep my daily points budget higher.
---
More ZeroPoint foods = less points
A decision you'll have to make for yourself is whether you'd rather have more daily points or more free foods.
The more free foods you have on your plan, the lower the daily points you get. The fewer free food options you have, the higher your points.
Each has its pros and cons, and it may take some experimenting to figure out what works best for you.
How to add extra daily points to your PersonalPoints budget
Another new feature added to the WW PersonalPoints program is the ability to increase your daily points budget by doing healthy things. So how exactly does it work?
Eating vegetables – for every 1 cup of vegetables you eat, you get an added daily point
Drinking water – if you meet your daily water goal, you get an additional point
Exercise – physical activity will add daily points as well
How to make your PersonalPoints mimic the old WW Green, Blue, and Purple Plans
If you were already a WW member and found the system switched up on you overnight, you might be curious as to how to get your old plan back!
WW may have changed their program a bit, but you can still get your old ZeroPoint foods to match up pretty close to your new PersonalPoints plan.
To to answer questions to get WW Green plan back with PersonalPoints
The green plan had free veggies and fruit, and nothing else. Vegetables will always be free, so it doesn't matter how you answer when prompted with how often you eat them.
If you want fruits to be on your ZeroPoint food list, make sure to answer you like to eat it most or some days.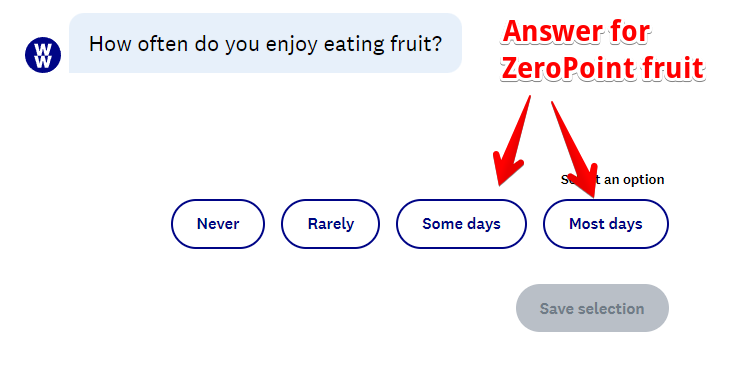 As for the rest of the questions, don't check any of them unless required.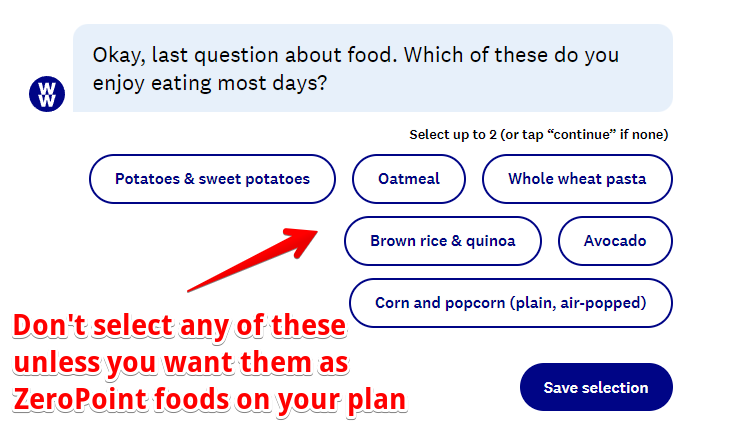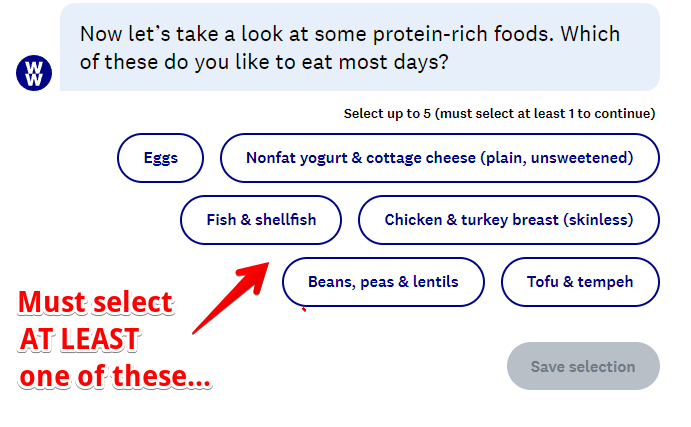 Now WW will automatically add at least ONE extra ZeroPoint food based on how you respond to their protein question. You're able to add multiple proteins, but if your aim is to go back as close as possible to their Green plan, just choose whichever one you eat the most of.
Now your plan will only have free fruit and non-starchy veggies and 1 added "free" protein source. Your daily points may have gone down from before, but remember you can increase your daily points budget by eating vegetables, drinking water, and exercising.
WW Blue plan with PersonalPoints
WW Blue plan had free fruits, vegetables, and several lean protein sources. Setting PersonalPoints to mimic this closely is pretty straightforward – just make sure you answer you eat lots of fruits, vegetables, and select all the proteins you're able to.
Free foods with old BLUE plan – fruits, veggies (potatoes are not included, but corn and other starchy veggies are), non-fat plain Greek yogurt, lean meats like chicken and turkey if 98% fat-free, eggs, beans, lentils, edamame, chickpeas, fat-free, refried beans, tofu, fish, tomato sauce/puree, salsa
WW Purple plan with PersonalPoints
WW Purple plan had the most freedom with ZeroPoint foods. In addition to fruits, vegetables, and lean proteins, the Purple plan added on foods like whole grains, oatmeal, potatoes, and popcorn.
To mimic this closely with your PersonalPoints, make sure to select as many of the foods you enjoy eating as you're allowed to. This will give you the maximum number of ZeroPoint foods on your plan.
Free foods with old PURPLE plan: includes all free foods from Blue plan, but also potatoes, brown rice pasta, brown quinoa, whole-wheat couscous, black bean pasta, brown rice, potatoes, sweet potatoes, yams, fish (including canned tuna in water), non-fat cottage cheese, oatmeal, air-popped popcorn without oil
Note for those with diabetes – if you have diabetes, you won't get the option to add grains, corn, potatoes, or avocado to your ZeroPoint foods.
How to change your zero point foods and daily points with WW PersonalPoints
Within the WW app, you can click into your account — > settings — > food preferences, then click ZeroPoint Food Settings.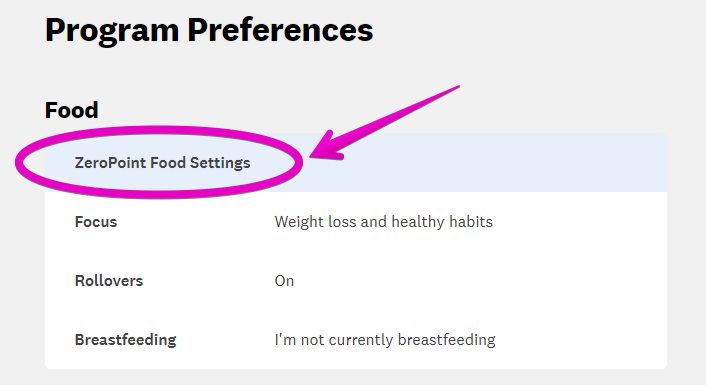 From there, you'll be asked why you want to change them. After responding, simply click "take the assessment" and you'll be able to reanswer the questions.
Pros vs Cons of WW PersonalPoints
---
Pros
Your plan is much more individualized based on the foods you like to eat
Fruit is no longer zero points by default
Can pick and choose which lean protein sources you want for ZeroPoint options
Further customizes plans for health conditions like diabetes
You can add more daily points to your budget by eating vegetables and drinking water
Many healthier foods have gone down in points
Weekly points and rollover points are still available for a "cushion"
Cons
Many members are finding themselves with smaller point budgets
Many (less healthy) foods have gone up in points
Previous WW followers don't like adjusting to an entirely new eating plan and point calculations
The Bottom Line
Despite its faults, the new customization WW has added with its PersonalPoints program for 2022 is definitely an improvement upon the old color plans in my opinion.
The ability to pick and choose your ZeroPoint foods at a more individualized level outweighs the fact certain foods may have gone up in points a little.
Besides – rollover points, weeklies, and the ability to earn extra points each day makes up for it!
If you're interested in trying out the new program, you can join here and take the quiz.
Please follow and like us: