If you want a great instant pot healthy chili recipe, I have come up with one that is pretty darn good (at least in my opinion).
Chili is one of my favorite things and has always reminded me of Halloween. My mom used to make a big pot of chili every single Halloween and we at it before we went trick or treating. It was like a tradition.
Now every fall I feel like I need to make chili at least a few times! And one of the reasons I like making it is because it makes enough to have leftovers throughout the week. I really don't have the time to cook every day, so for me it's perfect.
It's also one of those dishes that seems to get better after you reheat it! I hate having leftovers of stuff that isn't really good the next day and sometimes it will sit in my fridge until it goes bad… (horrible, I know).
This recipe is specifically made EASY – NO CHOPPING! ONE pot!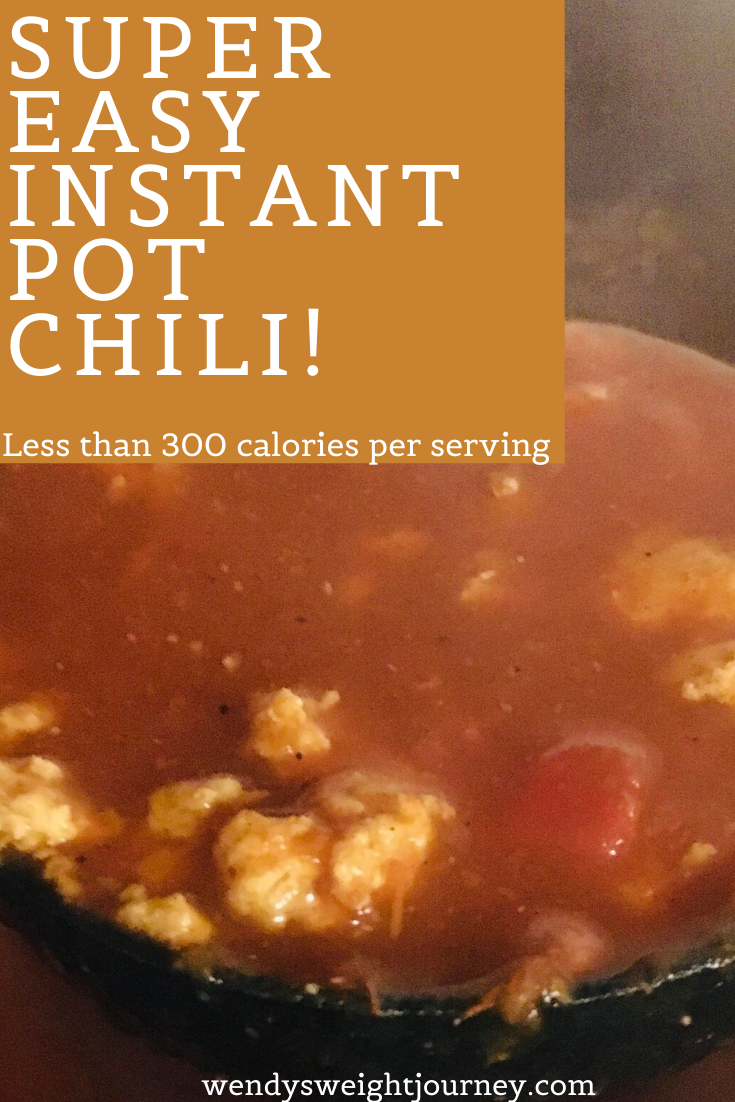 I use garlic and onion powder instead of chopping them up. I know, some people will totally frown upon that but for me, it works and I don't really care so why go through all the effort? I'm basically the only one eating this anyway!
I also am using an instant pot for this chili recipe because it's easier. Yes, you CAN totally make this on the stove, or in a slow cooker. But I like the fact I can brown the meat in the instant pot (less dishes) and it cooks SO FAST! I can have this ready within 30 – 40 minutes total, whereas if you're cooking over the stove it takes hours for the flavors to come together!
I've made this several times and it's always turned out great, so I decided to share the recipe.
NOTE: You can adjust the broth/water depending on how thick you like the chili.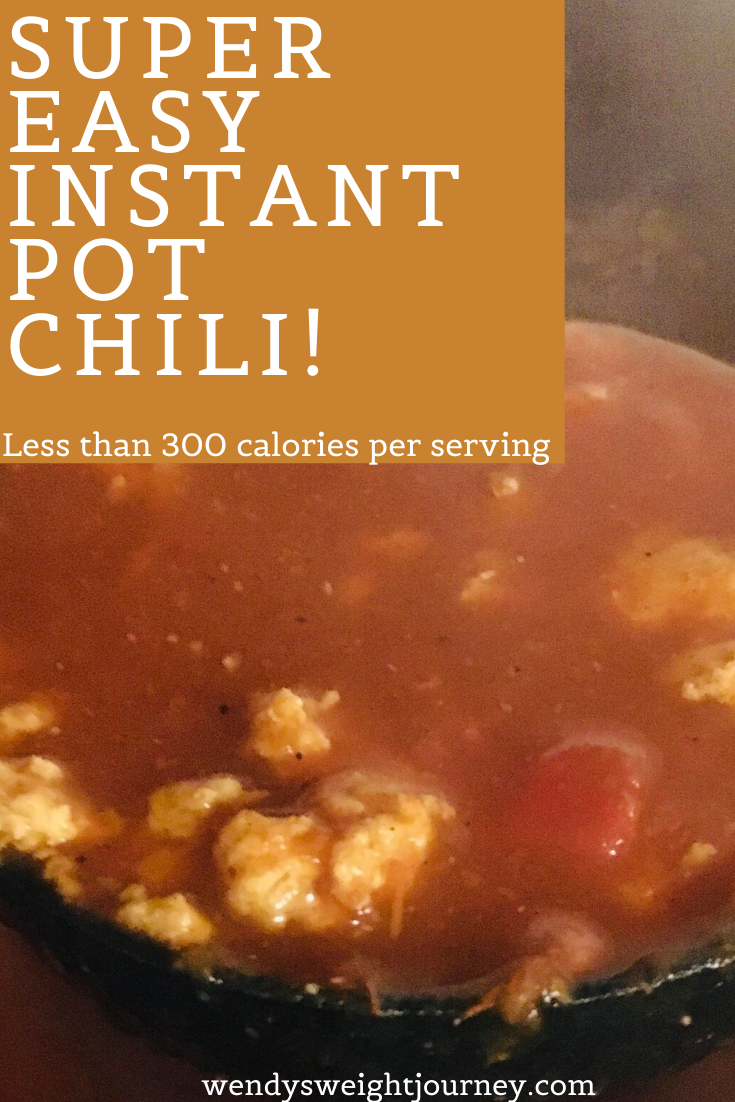 Instant Pot Healthy Chili
super easy chili recipe that involves no chopping and ready in less than 40 minutes
Ingredients
1

lb

Lean Ground Chicken (or Turkey)

2

cans

chili beans (or any beans you prefer)

48

oz

crushed tomatoes

8

oz

tomato paste

2

cups

chicken broth

2

cups

water

2

Tbsp

chili powder

1 1/2

tsp

cumin

1

tsp

onion powder

1

tsp

garlic powder

salt and pepper, to taste
Instructions
Set instant pot to saute function and brown meat, make sure to spray the bottom of the pan with cooking spray or use a little oil. Drain.

Add all of the other ingredients, stir. If it looks too thick, add more water. Seal lid and set to pressure cook for 5 minutes. Let the pot natural release for 10-15 minutes.

Stovetop: Follow the same steps as listed above, but cook and let simmer for 1-2 hours (or more!)

Crockpot: Add already browned chicken or turkey to the pot with the rest of the ingredients, cook on high 2-4 hours, or low 4-6 hours.

That's it! Enjoy!

SUPER EASY!
Does cook time vary?
Chili is one of those dishes that the longer it cooks, the better the flavor. A 5-minute pressure cook followed by a 15-minute natural release is sufficient, however you can let it keep warm in the instant pot for up to 2 hours and the flavor will continue to develop.
For stovetop, you want to let it simmer for at least 1 hour, but 2-3 hours will develop more flavor.
How long you cook just depends on the depth of flavor you want – for more flavor, let simmer for longer. In any case, I think it always tastes better the next day!
Nutritional Information:

Serves 8. Per serving this chili only has 282 calories per serving if made with lean ground chicken.
With 22 grams protein and 8 grams of fiber, it fills you up!
WW Freestyle points – 2
Please follow and like us: