I wanted to review the Weight Loss for Idiots program to give people a better idea of what it was about and if it'd be a good fit for them or not.
This is actually a relaunch of a much older digital diet system (formerly Fat Loss 4 Idiots). This product, like many others within the industry, makes pretty bold claims.
It states that you can lose 9 lbs every 11 days! and that if you just shift your calories to the right foods, you can boost your metabolism to lose weight.
But is that really true? Is it worth paying $49 for this weight loss system or is this just another diet scam?
Quick summary: Weight Loss For Idiots will work if you follow it correctly, just like any other diet works – it restricts calories (but the claim you'll lose 9 lbs every 11 days is largely untrue for most people). This diet is pretty restrictive and is more so a "quick fix" to lose a few pounds rather than a long-term solution, in my opinion. You can find it here.
What is Weight Loss for Idiots?
Weight Loss for Idiots is a digital diet guide and meal generator program sold via Clickbank.
The main appeal of this diet is you get access to their meal generator, which will mix around different types of foods based on your preferences and give you an 11-day meal plan, with each day consisting of 4 small meals.
After 11 days, you'll go on a 3 day reset where you eat what you want, providing you follow the rule that you stop eating before you get full.
This diet uses the theory of calorie shifting
First, it's important to realize that calorie shifting (also known as metabolic confusion or calorie cycling) is really more so a general term for the practice of switching up calories, and not really an exact method in and of itself.
This takes some dedication to follow because you have to plan out your higher calorie/lower calorie days, and then track your food intake each day.
Weight Loss for Idiots is based on this idea of calorie shifting, but uses a specific method of cycling between lower calorie days for 11 days, then doing a 3 day reset where you eat higher calories.
You're provided with a complete meal plan, so you don't really have to think about what to eat or even track your food.
Something to note is that this diet seems to focus more specifically on macronutrient shifting – switching up your carbs, proteins, and fats you eat in a given day or meal, rather than just focusing on calories alone.
Backed by science? … sorta
The best scientific study to date that looked more in-depth at calorie shifting diets put participants on a similar 14-day cycle – 11 low-calorie days followed by 3 days of eating more.
Similar to this program, the participants also ate 4 small meals per day.
It concluded that the people who followed a calorie shifting diet experienced more satiety and were more likely to stick to the diet compared to others who follow a more simple calorie-restricted diet. Although in terms of weight loss, they were similar.
You can find the actual study and results here.
However keep in mind this study was not done on people using the Weight Loss for Idiots system, just those using a similar calorie shifting eating pattern.
Looking more into this, there's not much scientific evidence that calorie shifting works better than any other reduced-calorie diet would for weight loss, except that some people may stick to it easier since it can feel overall less restrictive due to higher calorie "cheat" days.
Just like a steady reduced-calorie diet, calorie shifting still results in an overall calorie deficit, since certain days you'll consume fewer calories to make up for days that you eat more.
Weight Loss For Idiots meal plan
Here's a sample meal plan from the old Fat Loss 4 Idiots program, which is now Weight Loss for Idiots: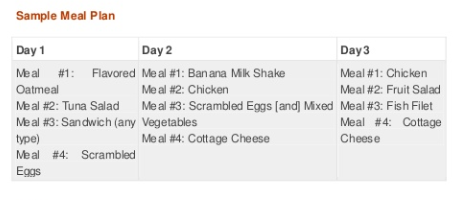 Keep in mind, this is just a sample. Members will get access to a diet generator program which they can select from a list of foods and select preferences so set meals will be given to them to eat during the 11 day period.
You can eat your meals in any order you choose, (you can have meal #4 for breakfast, and meal #1 for dinner, if you want) but you can only eat the foods listed for each meal.
There is an approved list of condiments and drinks you can select from as well.
This diet focuses on high protein and low-fat foods, and while it doesn't eliminate carbs, it focuses on lower carb foods and cycles through meals with higher carbs.
Overall, it's pretty restrictive and most people would find this boring. In my opinion, this is more of a "lose weight quick" before a wedding or event type diet and not really a sustainable, lifestyle change.
The silver lining is between each 11-day cycle, you get 3 days of going off the diet plan (although you still can't overdo it or you won't really lose weight).
But does it overly complicate calorie shifting?
The confusing thing is, according to the guide, it sort of lumps in this carb/protein/fat shifting into the same thing as calorie shifting.
However, according to all the research I've done on this over the years, calorie cycling/shifting is really just about shifting your overall caloric intake from day to day and not specifically about carbs or protein.
But Weight Loss for Idiots puts a lot of emphasis on eating the right kinds of calories for each meal and even goes so far as to say you can't lose weight if you mix up the wrong calories together or eat too much at a meal.
That is NOT true.
All the evidence (scientific, peer-reviewed research studies) to date are pretty conclusive that weight loss is about an overall caloric deficit – which is the underlying reason why any diet works.
I mean if you cut out all junk, sweets, processed foods, and sugary drinks and only eat 4 small meals per day that consisted of whole, natural foods, you'd probably lose weight without following a super-specific meal plan.
So the way this diet is structured seems to overly complicate this general idea and make it confusing.
Is there anything good about the Weight Loss for Idiots diet?
Since this diet focuses on eating natural, whole foods, and encourages walking for weight loss, it does have some decent things going for it.
It's also appealing that you don't really have to think much – there's no calorie or carb counting, no complex meal prep, and no complicated exercise routine (just walking).
You also don't have to worry about purchasing special food, it's all just basic, affordable foods you can find at your grocery store.
You just print out your 11-day meal plan, do your grocery shopping, and you're good to go.
It's pretty simplistic.
It's also nice that you get 3 days where you can go off plan and eat other foods, although you still need to follow the rule that you stop eating before you feel full.
The last thing is since it's sold on Clickbank, you can get a refund if you're not satisfied as long as you make sure to request it from Clickbank's customer support.
What's wrong about this diet?
Even though you get a 3-day break in between, it's pretty restrictive during the 11-day diet cycle. The foods can get boring and lack variety.
I can't see anyone doing this for the long term, but maybe as a way to drop some pounds quickly before a vacation, wedding, or another big event.
Although, most people aren't going to find they actually lose 9 lbs every 11 days unless they are dropping a lot of initial weight at the beginning and have a significant amount of weight to lose.
But that is the case with most diets when you start – you will initially drop a lot of extra water weight.
The Bottom Line
While I do see the benefit of a calorie cycling approach (I lost my first 40 lbs this way) I think Weight Loss For Idiots has some misinformation and would be difficult to stick to long-term.
But if you're looking for a program that'll let you lose a few quick pounds without having to really think hard about it (plus no counting calorie/carbs), and one that doesn't require preportioned meals or a complicated workout routine, perhaps you'd find the diet worth it.
You can find the Weight Loss for Idiots program here
If you want to follow a more sustainable diet plan that's more realistic for everyday life, consider looking into something like Eat Stop Eat, the Half Day Diet, or Weight Watchers.
Please follow and like us: