Weight Watchers (WW) and Jenny Craig are probably two of the most popular and long-standing commercialized diet programs. They've both been proven safe and effective in clinical research studies, and are even recommended by doctors.
But in the battle of Weight Watchers vs Jenny Craig is one really better than the other?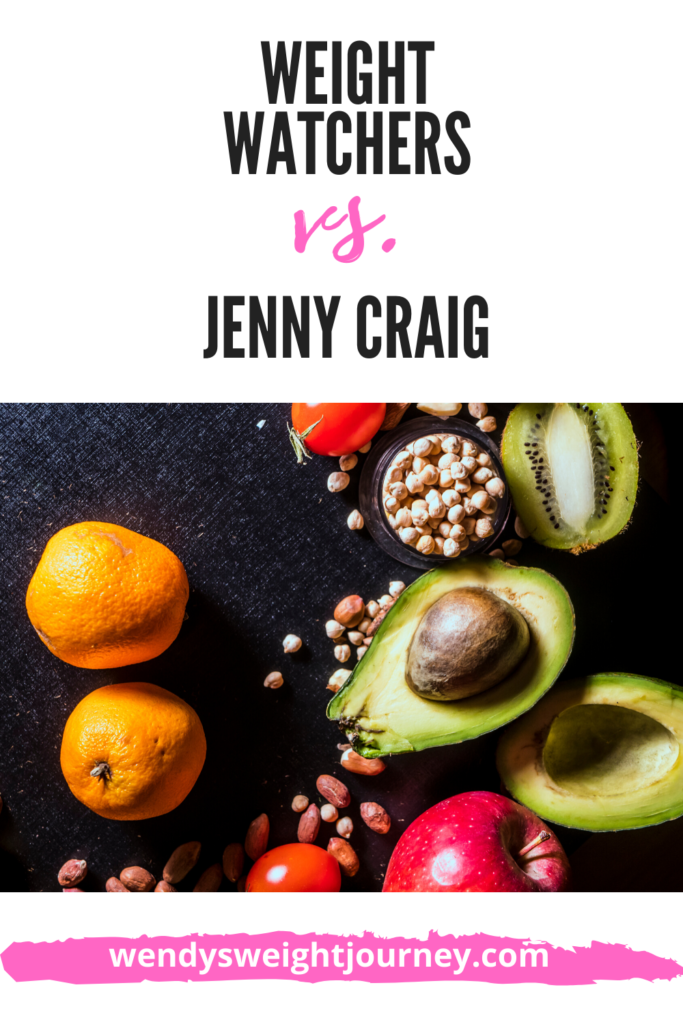 Ultimately, the Weight Watchers program is the better option for the majority of people simply because it is much more affordable and it provides a ton of flexibility. A typical digital-only subscription costs less than $20 per month, while Jenny Craig costs several hundreds of dollars each month and requires that you eat their pre-packaged food.
However, that doesn't mean Jenny Craig should be completely ruled out. It's still a diet plan that has been proven to work well, and for some people, it may be worth it.
Weight Watchers vs. Jenny Craig, at a glance
Jenny Craig
Weight Watchers
Cost
Varies, but typically between $400-$800/mo
$19.95/mo for digital-only
What is it?
low-calorie diet approach, includes meal replacements
low-calorie diet approach, w/points tracking
Flexibility
Must eat their pre-packaged meals
You can eat any food you want, you just need to stay
in your daily point range
Tracking
No counting calories/points
Yes, must log your points
Restaurant Friendly
No
Yes
Additional coaching offered
Yes
Yes
Is it low carb?
No
No
How fast do you lose weight?
1-2 lbs per week
1-2 lbs per week
Deals
Check out current offers here
Get 55% off Weight Watchers here
What is WW?
Weight Watchers is one of the oldest commercialized diets that has actually been around since the 1960s. The program has evolved a lot throughout the years, but it's based around the idea of healthy eating and moderation.
This diet does not consist of delivered, pre-packaged food – members can eat the food they want, including from literally any restaurant.
But to keep you accountable, you'll need to track your food with their point system.
Points are different from calories because they take into consideration that all foods are not equal. They also weigh saturated fat, sugar, and protein into the equation.
The Weight Watchers program provides you with meal ideas and recipes, as well as tips and tricks to stay healthy and eat within your points. There's also a large community you'll have access to on the app.
If you sign up for meetings, you'll also get a group and leader for extra support.
What is Jenny Craig?
Jenny Craig has been around since the early 1980s and is one of the most popular prepackaged food diets.
The idea behind this diet is strict portion control. Unlike Weight Watchers, there's really no guesswork involved. All your meals are packaged for you in specific portions, so you don't have to track anything.
If you get the complete plan, you won't need to do any grocery shopping either since all your food is sent via Jenny Craig (except for some fresh fruit and dairy products)
The portions may be smaller than what you're used to, but the food you are eating is actually real and not a strange concoction of chemicals or just protein shakes (like with other popularized delivery diets such as Medifast).
Food – how does it differ from Weight Watchers to Jenny Craig?
First of all, neither of these are inherently low-carb diets, and both focus on moderation.
However, Jenny Craig focuses on strict portion control and eating several small meals per day. They make this easier for people to follow with their pre-portioned meals.
Weight Watchers is more focused on general healthy eating, but you have the flexibility to choose how much or little you eat at a time, and how many times you eat per day. The only restriction you have with WW is your daily point limit.
Since you also get extra weekly points and Fitpoints (points for being active) with WW, you have even more freedom to eat more each day, or just "splurge" on occasion.
With Weight Watchers, you'll need to plan and shop for your own food. This makes it pretty flexible and easier to work with if you have a family too.
The extra flexibility might not feel structured enough for some people, but WW does a good job of providing help with meal and food ideas if you need guidance.
With Jenny Craig, you are paying for them to send you a week's worth of pre-portioned meals at a time. They have different options depending on how much of the food you want to be delivered. (You can choose as little as just your breakfast and lunch, or have them send all your meals plus snacks).
But even with the most expensive plan, you still need to purchase some fresh fruit and dairy products.
If you live alone or don't cook for anyone else, it might fit into your lifestyle better than someone with a family.
However, the flexibility with Weight Watchers is key to its popularity and success.
To get a more clear idea of what the food you get from Jenny Craig is like, you can watch this girl vlog a week's worth of her food…
(disclaimer: I have not tried Jenny Craig personally, so I have no experience with their food. I found this video on YouTube and it felt much more genuine than a JC commercial).
But do they work? Research says they do
You might be interested in know that both Weight Watchers and Jenny Craig came out winners in this long-term study that examined 32 commercialized diets on the market.
The study concluded that those who followed these programs lost more weight than those who just received educational materials and controlled their own diets. It also stated that doctors may consider referring patients to either of these programs who are looking for weight loss solutions.
In this particular study, participants in Jenny Craig lost a greater percentage of their body weight than those who followed WW, however, it's also a much more strictly controlled (and expensive) diet.
Both of these programs can work to take you to a healthier weight and even beyond (they both have maintenance programs and teach you healthy habits to keep the weight off).
Price – which is more affordable?
Hands down, Weight Watchers is clearly much more affordable than Jenny Craig. A digital-only subscription regularly costs $19.95 per month, but they frequently run promotional offers (check current deals here).
Even if you opt-in for weekly meetings, the price point is still under $50 per month.
With Jenny Craig, the price isn't super clear-cut because it depends on the cost of food. Everyone's food is different depending on their specific daily needs (and their location is a factor, too).
But according to their website, the price typically equates to less than $25 per day (and between $21 – $27 per day for those in Canada).
The lowest tier plan that consists of breakfast and lunch is $12.99 per day.
So taking those factors into account, you're looking at a price range from anywhere around $400 – $800+ per month.
| | | |
| --- | --- | --- |
| | Weight Watchers | Jenny Craig |
| Low | $19.95/mo | Around $400/mo |
| High | $54.95/mo | $600 – $800/mo |
Here's the weekly price that was given to me if I were to choose to follow their complete menu plan: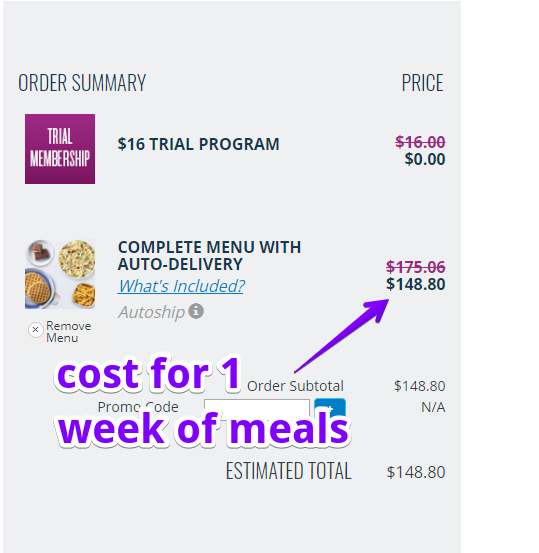 At first, I was confused as to whether this was a monthly cost, but further research says you pay the price per week for food (so for me, it would be x4 this amount per month).
But the cost does vary, so if you are more interested in specific cost you would need to fill out your personal details with Jenny Craig or call their customer service line.
It may seem like a big financial commitment, but you may feel better knowing that they actually offer a money-back guarantee during the first week if you aren't happy with it.
Since you are paying for meal delivery, meal prep, and all your food with Jenny Craig it does make sense that the cost is much higher.
But even with the need to purchase all your own food on Weight Watchers, you'll still probably be able to spend much less per month.
For most people, they'll find Weight Watchers to be a much more budget-friendly diet.
The Bottom Line
Despite their differences, Weight Watchers and Jenny Craig actually are similar in the fact they're not extreme diets. Both focus on moderation and neither cut out entire food groups.
At the end of the day, it's all about eating less and that is what both of these programs aim to help you achieve.
Even after you reach your goal, both of these diets offer maintenance programs that are designed to help you keep the weight off for good.
While Jenny Craig may be a great fit for those who can afford the convenience, Weight Watchers is overall a better option for most people simply because of the low-cost point and flexibility.
Get 55% off a Weight Watchers subscription from this link
Please follow and like us: