I wrote an earlier post about how I was going to try intermittent fasting – more specifically, the 16:8 fasting method combined with the Weight Watchers program.
Finally, after some hesitation, I've been following through for an entire month. I have some recordable results as well as some insights to share with anyone who is curious or may be interested in more about how this actually works.
However, this month certainly had an unusual twist, as my state was put under "lockdown" orders from the governor due to the COVID-19 threat. Not that it directly impacts my diet and weight loss efforts, but I did have to figure out how to adapt and keep motivated under these unusual, stressful circumstances.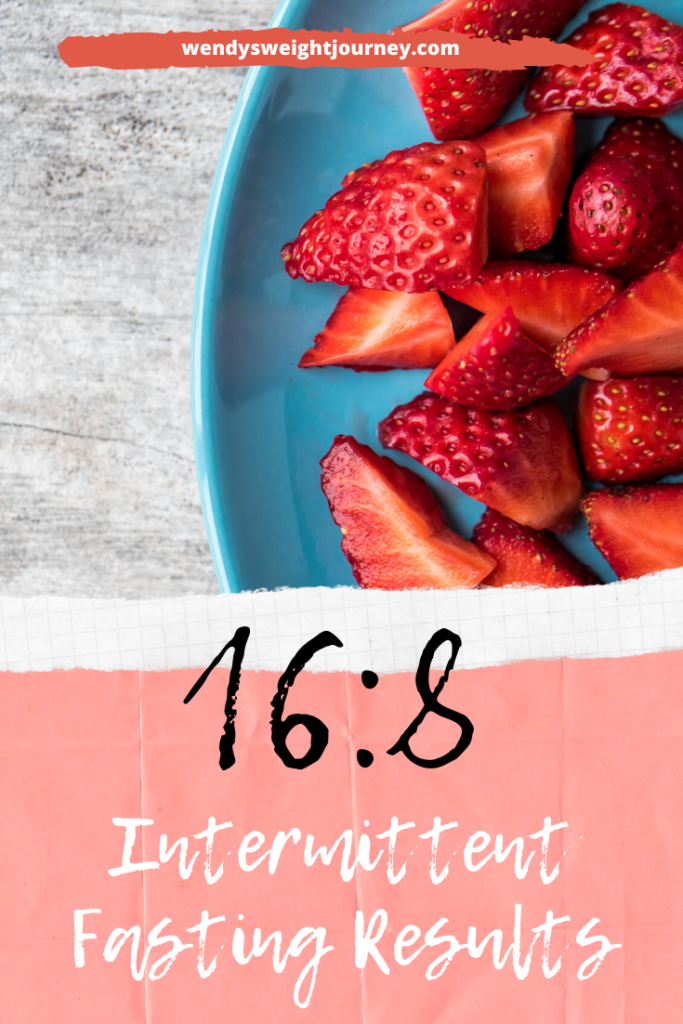 1st-month results: 3 inches from around my belly and 10 lbs gone! I am not done and will be updating this post each month.
What is intermittent fasting 16:8?
So just some basic background for those that may not be super familiar with this method for fasting (if you already know, just skip ahead).
Intermittent fasting is the act of restricting eating to a certain period of time, rather than typical fasting which you may not eat for over 24 hours (or There are several different methods for how you can do this, but 16:8 is one of the most popular because for many people it's the easiest.
When you follow the 16:8 method it simply means that you only eat for 8 hours during any 24 hour period. So you're fasting 16, eating 8.
You can set the 8-hour eating window to whatever works for you. I found doing a fast from around 10 am – 6 pm or 11 am – 7 pm, worked well.
There are a few theories behind why this works. The first is that because you're only eating during restricted hours, you're naturally going to be eating less. Fewer calories = weight loss.
Another reason is that when you don't eat for a long period of time, your insulin levels will fall. This allows your body to break down fat cells to release stored sugar, and help burn off more body fat.
After following intermittent fasting 16:8 simultaneously with WW for a month, this is what actually happened…
I started out thinking I could fast from 10 am – 6 pm every single day, but that didn't actually happen. I had to relax the rules a bit to make it more realistic and something I knew I could actually stick to.
So instead, this is what worked…
"Coffee Hour" – 9 AM.
I found it easier and less stressful to have a few cups of coffee before my 10 am (or 11 am) meal.
You're not supposed to drink anything but black coffee during a fast, but I cheated and added some no-sugar-added hot chocolate mix to it. Technically this would be breaking the fast but considering it was only around an added 70 calories, I let it slide.
(I read anything above 50 calories breaks a fast, so I was being a bit lenient)
8-hour eating window: First meal: between 10-12 AM – Last meal: between 6-8 PM
I realized it was not realistic for me to stick to such a strict set schedule, so I moved it around by an hour or 2, depending on the day. If I couldn't get dinner in til 7 or 8 pm, I would try to hold off on eating until 11 or noon the next day.
I also had a handful of days that I did not stick to the 16 hour fasting time, and I didn't stress about it. Overall, I was doing it on most days.
Food rules: Eat what satisfies me, don't go crazy
Something happened over this month that made me realize it might not really be necessary to track every little thing I ate while I was doing IF 16:8.
During the second part of this month, when the COVID-19 crisis really hit home and we got put on a lockdown order of sorts, it sent my stress levels through the roof.
I started letting my daily food logging slip, but I didn't use it as an excuse to go on an off the rails free for all. I still mostly stuck to my normal eating routine and the 16-hour fasts. I had a few stress-related snacking incidents, but they happened within my eating window.
Despite this, I still had pretty good results in the end.
Tracking with WW… Why?
So I know one of the main benefits with intermittent fasting is you do NOT have to track your food or anything, you're just supposed to eat normally.
But for my first "experiment" I wanted to track to keep myself accountable.
But also, I wanted to see how much I was actually able to eat (and if it'd stay within my WW points). I actually spent the entire first-week tracking calories AND Weight Watchers points, just out of curiosity.
I decided that even though I would be tracking, I was not going to be incredibly strict and limiting. If I went over my points, it wasn't the end of the world. I would not stress about having to go into my weekly and fit points, because even if you use all of them, you're still following the plan correctly.
After all, I wanted to test and see if this whole intermittent fasting thing would actually work and have any sort of added benefit beyond just following the WW program.
If I went through all this and still didn't lose weight, I would then know to tighten the reigns on the food.
(By the way, I follow the Green plan, so I have more points)
A look into how much I was eating
Weeks 1-2
Day 1: Calories: 1,263 WW Points: 39
Day 2: Calories: 1,602 WW points: 57
Day 3: Calories: 1,632 WW points: 39
Day 4: Calories: 2,232 WW points: 67
Day 5: Calories: 1,692 WW points: 46
Day 6: Calories: 1,905 WW points: 65
Day 7: Calories: 1,669 WW points: 44
Week 1: Avg. daily calories: 1,713 Avg. daily points: 57
So my normal daily points allowance is 44, plus 42 weeklies. That works out to 50 per day if divided equally.
With Weight Watchers, you also get fit points which are calculated based on activity. So even though I was technically 49 points over this week, my fit points balanced it out so I was almost exactly on target.
Despite the fact I normally would try not to use fit points, I considered it OK during intermittent fasting.
My average calories were just over 1,700 which is actually 100 less per day than MyFitnesspal recommends for me to lose 2 lbs/week.
Week 2 was similar, with average daily calories at 1,850 and 52 avg WW points (I tried to eat more low point foods – fruits, veggies, etc so that's why the calories were increased with a slight reduction in average daily points)
Weeks 3-4
So this is when things got interesting. COVID-19 hit and we got put on a "stay home, stay safe" order (which is still in effect). The stress of this really got to me, and I found it more difficult to focus on tracking my meals.
Although I DID still stick to the 16-hour fasts, I was too stressed out to deal with tracking everything I ate. I just tried to remain consistent with my eating patterns and eat as normally as I could.
1st-month results? 10 lbs and 3 inches around my belly GONE
Considering I maxed out my Weight Watchers points during the first 2 weeks (using weeklies AND fit points), and then did not even track during weeks 3 and 4, I found these results to be rather impressive.
I am not done with intermittent fasting and plan on keeping up with it for the next few months.
I will continue to post updates here as I progress.
March 2020: -10 lbs (-3 inches from stomach)
April 2020: Update at the end of the month!
Major takeaways from this experience
#1. I didn't actually have to track at all (…what?)
The initial food logging I did during the first 2 weeks made me realize that it was not that difficult to stay around my points (and calories) if I truly stuck to the 16-hour daily fasting.
Since I was basically only eating 2 meals now without any nighttime snacking, I could eat what was satisfying without worrying so much.
While I did max out my Weight Watchers points, I stayed within a good calorie range for weight loss.
Because the constant food logging takes a lot of extra energy, I decided the fasting was enough to deal with for now (on top of the stress of quarantine). I knew it worked without tracking (as long as I stuck to normal eating) so I wanted to keep it as relaxed as possible.
#2. It actually made me less hungry
This one surprised me… I rarely felt that true gnawing hunger. This isn't to say that I wasn't hungry at all, but it was nothing like I'd feared.
How was it possible I could be absolutely starving after not eating for 7 hours on a normal day of no fasting, yet through this, I wouldn't eat for over twice as long and feel OK? It baffled me.
It almost felt like the longer I didn't eat, the less hungry I was. I think the coffee also helped pull me through in the mornings.
#3. Eliminating nighttime snacking is a game-changer
So I've been on-again, off-again with this weight loss nonsense for a really long time and one thing I've always struggled with is snacking. It's always been my downfall. Especially the late-night, after-dinner munchies.
Yet somehow, after I finally forced myself to get on board with this 16:8 fasting deal (I won't lie, it was difficult to get started) I found it much easier to control.
Since I knew I was fasting, I would just tell myself I could wait til the next day, then eat what I wanted. It was like knowing I could just eat during my allowed window without having to obsessively worry about every little thing I consumed was very comforting to me. It really helped cut down that urge and control my overall eating.
This is only the beginning!
This is only my experience after doing this for a full month, and I am not done. I'm finding this fasting thing much easier than I thought it'd be, so I'm excited to see how things progress.
There were some unexcepted curve balls thrown at me this month, but I am proud of myself for sticking to it and marching forward despite everything.
Although I'm not near my final goal yet, I'm done to a much more comfortable weight that I was at the very start of my journey.
Updates to come!
Please follow and like us: