Optavia, formerly known as Take Shape for Life, was rebranded in July of 2017. It's one of five subsidaries of the Medifast company.
I see a lot of articles focusing on the business aspect of this company, but I want to focus more on the actual diet. Does Optavia work, can you really lose weight following this diet?
In short, yes you can lose weight if you actually follow Optavia's diet plan due to the laws of thermodynamics. Their 5:1 plan, which they recommend most people start off with if they have a lot of weight to lose, is basically an 800 calorie per day diet. Anyone would lose weight eating that little, no matter what they ate. This is way below medical advice to follow a 1,200 daily minimum for healthy weight loss.
However, I can't see most people sticking to this diet past the first month or maybe two. Costing around $400/month, it's extremely expensive (I think them trying to say it'll save money on your grocery bill is BS) and you're eating so little and so restricted that it's hard to stick with for a sustained period of time. Most people aren't going to want to keep purchasing the products each month at such a high cost. If you truly stuck to a diet between 800-1,200 calories a day, the grocery bill for one person would be nowhere near $400!
Recommended: See how I'm losing 100 lbs without following a "diet"
Optavia's Weight Loss System: How it works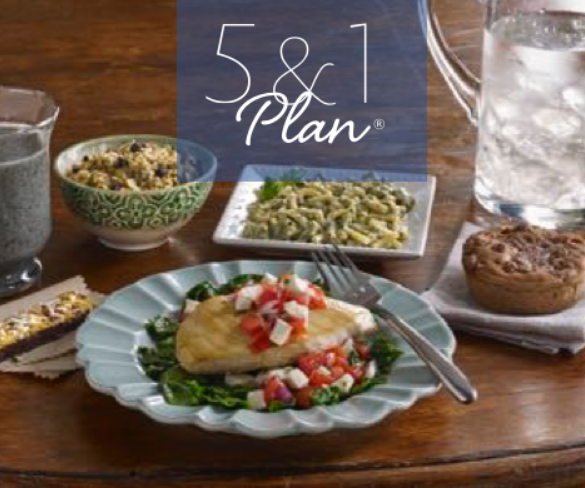 Optavia has 3 weight loss plans:
Okay, so let me talk about the actual diet and how Optavia works.
5 & 1 plan: 5 fuelings and 1 lean and green meal (approximately 800 calories)
4 & 2 & 1 plan: 4 fuelings, 2 lean and green meals, 1 healthy snack (approximately 1,000 – 1,100 calories)
3 & 3 plan: 3 fuelings and 3 lean and green meals (approximately 1,200 calories per day)
The 5 & 1 plan is recommended for most people in the weight loss phase, especially if you have a significant amount of weight to lose. The 4 & 2 & 1 is recommended if you are very active or have diabetes, or if you have only a little weight to lose. The 3 & 3 plan seems to be what they suggest for transitioning into a lifestyle change.
Fuelings
These are mostly what you will subsist on while on this diet. It's prepackaged snacks and convenience meals which are all around 100 calories each. They have a ton of snack/dessert type bars and shakes, and then cereal, oatmeal, mashed potatoes, mac n cheese, and soups.
Lean and green meals
Optavia defines a lean and green meal to include 5-7 oz of meat, depending on how lean it is, and three servings of non-starchy veggies. It can also include up to two servings of healthy fats depending on how lean of meat you choose. The calories for these meals is around 300.
You are provided a guide on meat and vegetables to help you build your own meal, as well as a dining out guide that has a list of restaurants and the meals you could order if you want to go out to eat.
You can buy the ingredients and cook whatever you want for these meals (assuming they're approved foods) or you can buy a few select lean and green meals from Optavia's website.
Healthy snacks
You can buy snacks from Optavia or pick your own at the grocery store. They have a snack guide to let you know what is OK to eat – but it's things like whole grains, fruits and certain non-fat dairy (very small portions).
Optavia ingredients
You can find the ingredients and nutritional info for all their products on their website. I pulled a few to give examples: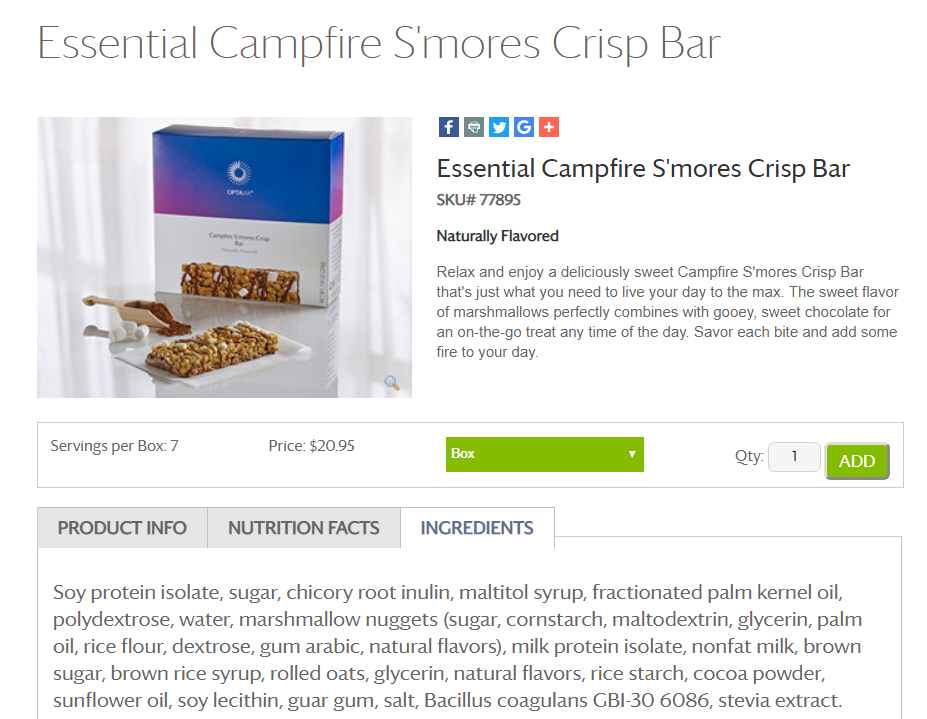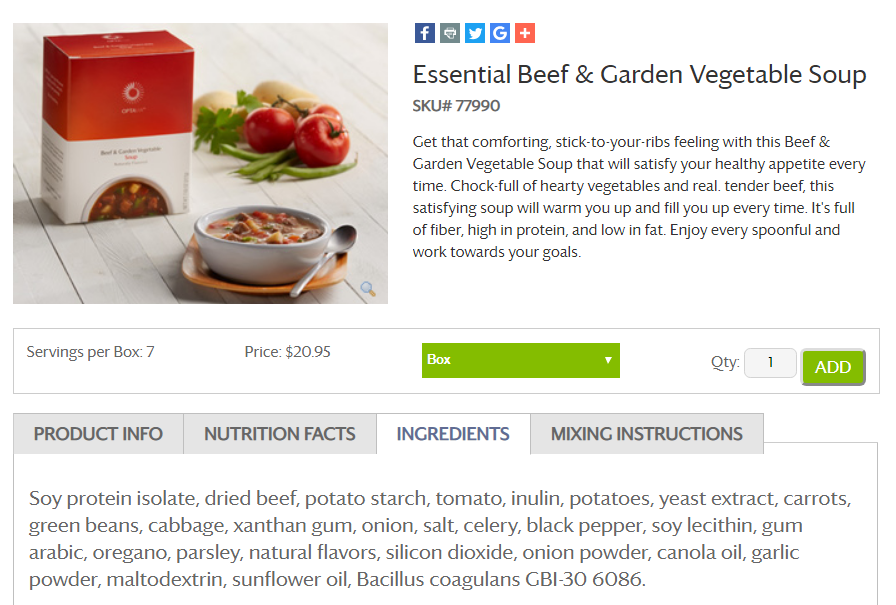 They all of the main ingredient soy protein isolate, which is not a unique ingredient to Optavia at all and you can actually find it in many products already at the grocery store including things like protein drinks, powders, and veggie burgers.
Many of their products also contain chicory root, which is a source of fiber but can cause intestinal issues in some people.
Bacillus coagulan GBI-30 6086 is a probiotic that's added to all their fuelings. Probiotics are generally harmless and can help digestion in normal people, but they can be harmful to people with underlying medical conditions.
So will you actually lose weight on Optavia?
In the short term, anyone could lose weight on Optavia, but that's just because they're following such a low-calorie diet. I don't think there's anything that special about Optavia's food – you would lose just as much weight eating healthy real food as you would with their bars and shakes.
I get the appeal of these pre-packaged diet plans. It's easy to follow and doesn't require a lot of planning or thinking – you just grab and go. But I don't think it encourages long-term sustainable habits. To me, it's not really about the fact they're processed foods – it's just the fact they're incredibly overpriced versions of things you can already buy at the grocery store. Most people aren't going to be buying Optavia for the rest of their lives – they're going to transition back to eating real food again.
Learning to make better choices in everyday life and putting together meals from real food is an important piece of the puzzle to losing weight and sustaining it long-term.
The company claims their coaches help with the transition back to real food after you've lost the weight, but the reality is most people aren't going to stick with this diet that long. When you have a diet that's so restricted and so expensive, most people will give up and go back to their old eating habits.
Side effects of Optavia
There are some side effects of this diet which aren't well discussed but I do think it's worth mentioning.
Gallstones – there's a pretty significant risk of developing gallstones for people who are extremely overweight and lose weight very fast (10-25% of people will). When put on a diet of 800 calories a day, you will drop weight VERY quickly if you are morbidly obese.
Intestinal issues – gas, bloating, and stomach upset are common complaints. This could be due to different ingredients in Optavia's products such as stevia sweetener, or the chicory root inulin added for fiber. Some studies suggest it could even be caused by increased levels of lead in their products.
How much does Optavia actually cost?
With this program, you pay for your food each month which costs around $400, depending on the kit you purchase. You can also individually purchase the food and build your own box for the month. They tell you to buy 22 boxes to last the month – and they're each just under $21 a box. So if you did it that way, it'd be $462.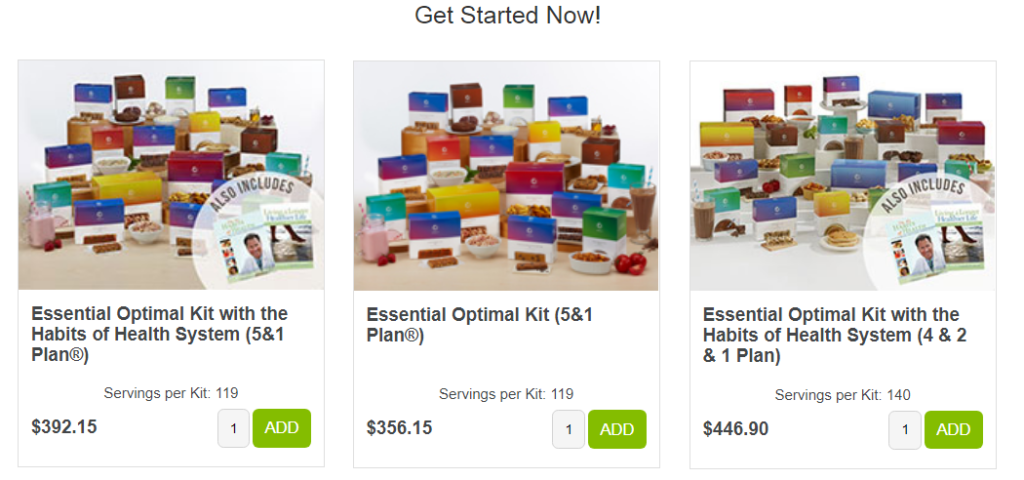 After you purchase the food, you get support from your coach for no additional cost. This is the person who sold you the Optavia program, so how helpful and supportive that person is to you could be widely variable just depending on who it is.
Will you save money on groceries?
The high cost of this program is often justified by claiming you can save a ton on your grocery bill each month so it makes up the difference, but I find that hard to believe.
First of all, you will still be eating at least one real meal per day plus a snack (and additional meals if following the 4 & 2 or 3 & 3 plans). So you still have to grocery shop for things like meat and veggies, plus any healthy snacks.
Secondly, if you were truly sticking to a diet between 800 – 1,200 calories per day of healthy foods the grocery bill wouldn't be anywhere near the cost of Optavia's food. Sure, it's easy to spend a lot more than $400 per month on a family or if you're loading up on impulse purchases. However just for a single person, especially someone following a diet so low in calorie, it just doesn't add up.
Foods like eggs, beans, potatoes, oats, and rice are all cheap staples! The highest cost would be meats, fruits and veggies but even then it wouldn't be that much. Even if you bought similar items at the grocery store to what Optavia had you eating, which is mostly protein/dessert bars and protein shakes, it would cost a mere fraction of the $400 monthly cost for Optavia's program.
But… aren't they a pyramid scheme?
I don't know if I'd go that far, although I will say I'm not a fan of the MLM model because I think it takes advantage of desperate people.
According to the FTC, the two classic signs of a pyramid scheme involve inventory loading and lack of product sales. In some cases, there isn't really a product at all.
Inventory loading is when people who buy into the opportunity are forced to buy tons of product up front (costing them a fortune, and the company knows it's more than the vast majority will ever be able to sell), but this isn't the case with Optavia as coaches aren't required to buy inventory up front and all sales are done online and shipped directly to the client.
Lack of product sales refers to products being sold to the general public (people who aren't already part of the marketing scheme). Are the only people buying Optavia also becoming coaches and selling Optavia, or do normal people who have no interest in the business opportunity become clients and follow the diet to lose weight? That's a fact I couldn't substantiate about Optavia, so I'm not sure if that's the case or not.
However, if you closely look at Optavia's business model, they do put a lot of emphasis on product sales, and the rewards for this are greater than a lot of other MLM companies. Still, the real opportunity lies within recruiting new coaches and moving up the ranks.
Optavia Compensation Model

Coaches get a base 15% commission per sale, which increases with certification status (3% bonus) and volume of products sold.
This model emphasises product sales and rewards continuing education and certifcation of their coaches, allowing them to earn a 3% bonus – so they can earn an 18% commission rate minimum.
In addition, they offer bonuses for coaches who can keep up with a consistent volume of monthly sales. The greater the volume, the greater the reward. (this ranges from an extra $250 – $1,000 per month)
They also after an additional $100 bonus to coaches who can bring in a certain volume of sales within their first 30 days.
Coaches are also rewarded for certification and helping their clients along with their diet. The model emphasises sales, support and encouragement enough so that recruiting is not the sole focus.
Building teams
Even with the focus on product sales, they still do encourage building a team for maximized profits. Technically the more members you recruit, and the more members those people recruit (and so on) the more money you will be making.
Their business model also encourages you to build a team in which members have achieved a higher rank as well.
I can see with this model how members of a team could feel pressured by their coach to make sales and recruit more members. Even clients could feel pressured by their health coach to start selling Optavia by promises of making easy money from home.
There's no special training or education required to be a coach, all you have to do is purchase the $200 coaching kit and start selling the system to others. Of course, they do have a certification you can take to become a better coach and earn higher commissions, but even then these aren't medical experts, dietitians or therapists.
If you're considering becoming an Optavia coach, I will just warn you that it isn't as easy as you might think to make money.
Final thoughts on Optavia
It can be tempting to try an easy fix for weight loss. Sure, in the short term anyone will lose weight when put on such a calorie restricted diet. That is assuming you follow the program and don't cheat! However, due to its extremely restrictive nature and astronomically high monthly cost, most people just aren't going to stick with this for very long and thus, will probably go back to their old eating habits and gain the weight back.
I'd suggest saving yourself some money sticking to a program that emphasizes lifestyle changes and allows you to eat real food, like Weight Watchers. Or you really don't have to join a program at all – even just tracking calories and getting more exercise is a great way to drop pounds. Fad diets are tempting because they seem like a quick fix, but study after study has proven diets don't work and sustainable lifestyle changes are the best way to lose weight.
If you need some help with motivation, find out how you can actually get paid to lose weight!
Please follow and like us: