When you're desperate to lose weight, a pill might seem like an easy solution to help speed up the process. But in the case of Hydroxycut – does it really work?
I did my own testing to see if it even made a difference at all. The results might surprise you.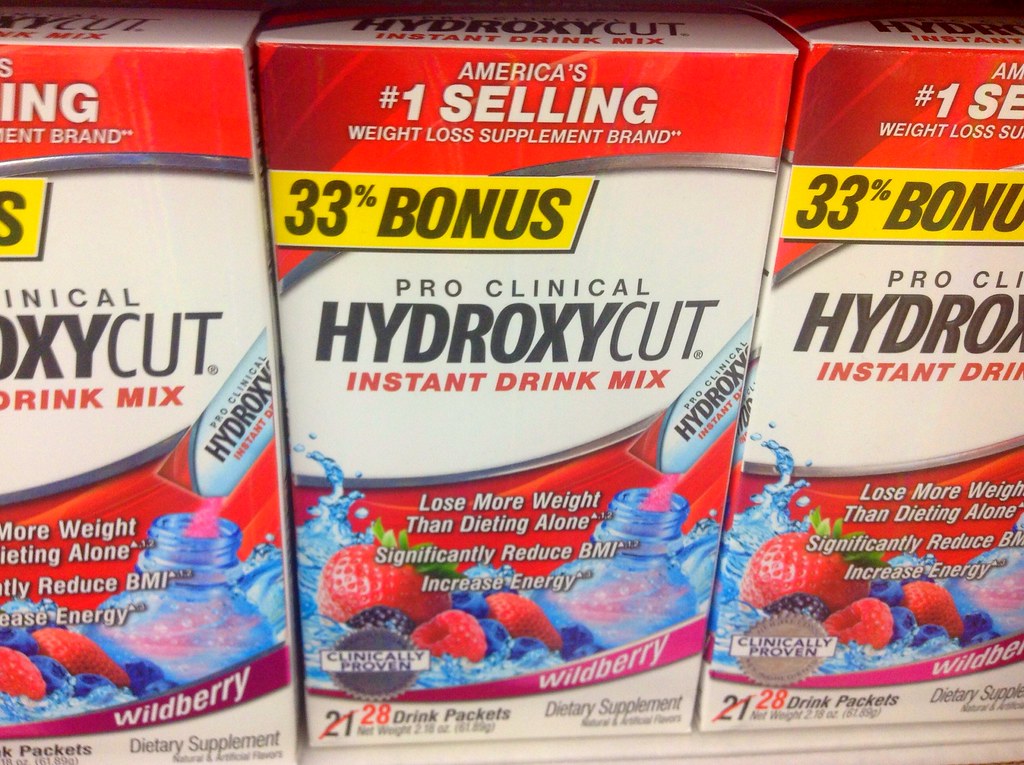 What is Hydroxycut?
Hydroxycut is a brand of weight loss products that are marketed as the #1 selling diet pill in America. They have several different products, including pills, gummies, water mixes and even protein bars.
With all the hype, you'd think the claims would be backed by solid medical drug testing. But after doing further research, I realized that really wasn't the case.
How can Hydroxycut help you lose weight?
Hydroxycut is basically a stimulant. The ingredients in their products vary, but most of them include some combination of caffeine and a few other less potent stimulants.
Here's a list of the 6 common ingredients that are contained (in varying combinations and amounts) among Hydroxycut's products:
Caffeine
Wild olive extract
Komijn extract (cumin)
Wild mint extract
Lady's mantle extract
Green coffee bean extract (contains caffeine)
The main active ingredients vary depending on the particular Hydroxycut product. All of these are known to be stimulants, however, the effectiveness has not been proven in all of them.
So the way that Hydroxycut supposedly works is by giving people an energy boost. Having more energy can certainly help you be more active and motivated, and in some studies, caffeine has been shown to increase metabolism anywhere between 3 – 11%.
The more energy you have, and the faster your metabolism, the easier it is to lose weight.
The catch is that the with caffeine, the effects are only temporary. The more accustomed your body gets to the drug, the more you need to get the same effect. So if you're already a caffeine junkie, you won't get much benefit.
And after you've been taking these pills for a while, your body can get used to the large doses and your body won't react the same.
However, other ingredients in these products, like Komijyn extract (cumin) have also been proven to help with weight loss in certain studies.
My personal experience vs Hydroxycut's "clinical studies"
Hydroxycut is NOT something I have taken on my current weight loss journey, but I have used it when I was younger.
I never had the expectation that it'd be a miracle pill, it was recommended to me by a friend and I thought I'd give it a try. I had already lost about 10 lbs before I started taking the pills so I thought maybe they could help along with my current diet and exercise.
Prior to taking them, I was averaging about a 2 lb per week weight loss. At the time, I was counting calories and getting plenty of exercise.
The first few weeks I took Hydroxycut, I actually lost closer to 3 lbs per week. Now at the time, I was still using an old-style analogue scale, so my weekly weight loss numbers weren't exact. (If you've never used one, you know it's much more difficult to tell exactly how much weight you're losing each week)
It's probably worth noting that I was the type of person that didn't really use caffeine aside from occasional energy drinks. So suddenly taking large doses of it had a pretty big effect on my body.
But after a few weeks, the weight loss slowed back down to around 2 lbs per week again.
While they did give me a little boost, it was only temporary and nothing sustained diet and exercise wouldn't take care of in due time.
Eventually, I stopped taking them since I wasn't losing any more weight than I was before. Also, they just made me feel incredibly sick, dizzy and nervous.
Clinical Studies
Taking into account my personal experience, and the science behind weight loss in general, I have a hard time finding much credibility in the clinical studies for Hydroxycut.
There are 2 studies on Hydroxycut's website that "prove" their products work. Keep in mind, though, that neither was published in medical journals and were actually funded by the makers of Hydroxycut.
One study lasted for 12 weeks, which found placebo takers lost 1.7 lbs during that time while those taking the real thing lost an average of 20 lbs.
The other study only lasted for 8 weeks and participants were asked to cut calories and take the pills (half of them given the placebo). Hydroxycut takers lost an average of 16 and a half lbs, while those in the placebo group only lost an average of 2.12 lbs over the 8 weeks.
Again, there really is no solid evidence to back these studies. They were 2 very small studies that were funded by Hydroxycut, so there's a huge possibility they were biased or completely falsified.
I find the results didn't coincide with my personal experiences taking them… at all. Yes, I experienced a small boost (about an extra pound per week, for a few weeks) but it was a very short-lived effect.
In the span of about a month (or so) I lost about 3 additional pounds, compared to when I wasn't taking them. After about 3 weeks, the weight loss slowed down again. But I was STILL losing a credible amount without the pills at all.
The studies seem to suggest people who don't take these pills barely lose any weight at all, but those who do can lose significant amounts. That is not the reality.
Coffee or caffeine pills could have a similar effect
The reality is that caffeine is the most potent stimulant in these products that is backed by studies that show it can actually improve your metabolism.
But if it's just caffeine that is making these pills at all effective, do you really need to take them?
You can consume caffeine for way cheaper than in the form of Hydroxycut supplements. Coffee is not expensive, and drinking a lot of it would also give your body the same effect.
And while I don't recommend it, another option is caffeine pills which are much, much cheaper than Hydroxycut. (I have some very awful experiences taking caffeine pills, so I really truly advise against it)
Remember that weight loss supplements aren't regulated by the FDA
Weight loss supplements like Hydroxycut aren't drugs – they fall under the category of dietary supplements which aren't regulated like normal drugs.
If you take the time to read the Q&A portion about dietary supplements on the FDA's website, you'll know there is actually very little regulations put on dietary supplement manufacturers.
Federal law does not require dietary supplements to be proven safe to FDA's satisfaction before they are marketed.

For most claims made in the labeling of dietary supplements, the law does not require the manufacturer or seller to prove to FDA's satisfaction that the claim is accurate or truthful before it appears on the product.

Source: FDA
So basically they can put out whatever they want with no evidence it's safe or that it works, then wait until people start dying to do anything about it…
FDA Recalls
That's pretty much what happened with Hydroxycut. It was recalled 2 times in the past because the formulation just wasn't safe for people. There were several deaths associated with the formula post-2004 and one pre-2009.
The first time in 2004 the pills contained Ephedra, a wildly potent stimulant which was actually highly effective at promoting weight loss but found to be deadly in some people.
The second time the formulation contained substances that harmed the liver (Hydroxycitric acid), and linked to 1 death. So, Hydroxycut simply reformulated the product and put it back on the market.
Since 2009 there have been no recalls and it still manages to sell very well.
There haven't been any recalls since, so the current formula is probably pretty safe. But there's not any hardcore evidence that they're as effective as they claim.
The Bottom Line
There's really no official scientific evidence proving they work other than studies funded by Hydroxycut. I did personally experience a slight boost, but it was minimal and the effects were temporary.
If you read the product reviews on Amazon or other sites, you'll see a split of people either claiming it's amazing or it's crap.
So take it for what it's worth. Honestly, I think too much hype. This is not an effective, long-term solution for anyone.
Moderating what you eat and getting enough physical activity is what will help you keep weight off for the long term.
Do you have any experience with any Hydroxycut products? Feel free to share down below!
Please follow and like us: