Now that I've been following the Weight Watchers Freestyle program for a while I wanted to give my personal review and opinion on it. I'm no stranger to Weight Watchers and have done the program years back and lost quite a bit of weight. While I have regained weight over the years, it has nothing to do with WW being a bad program. I wholeheartedly would recommend it to anyone.
In 2018 they completely revamped their points system and seem to be taking a bit different approach – even rebranding themselves as just WW instead of the infamous "Weight Watchers" as everyone knows them by.
There are a lot of people who don't like the new program and many who are having a hard time losing weight following WW freestyle. Is it because there's something fundamentally wrong with the program – does it set people up for failure?
What is Weight Watchers, how does it work?
The thing I like about the Weight Watchers program is that they're NOT just another diet. The program doesn't preach to not eat carbs, or sugar, or fat, or eat like a caveman or only eat grapefruit, any other crazy diet fad that you may have heard about.
What WW Freestyle does do, however, is encourage eating healthy, whole foods and limiting highly processed foods (high in sugar and fat) through their points tracking system.
As you follow the program you'll learn how to practice moderation as well as find healthier alternatives to foods you enjoy.
Before I get into how the Freestyle program is different, let me quickly go over the basics of how Weight Watchers works.
Weight Watchers uses a system of points to track food intake – every food is assigned a certain number of points and everyone gets a daily limit of how many points they can eat. The number of points you're allowed to eat just depends on many factors like age, gender, weight, height, etc.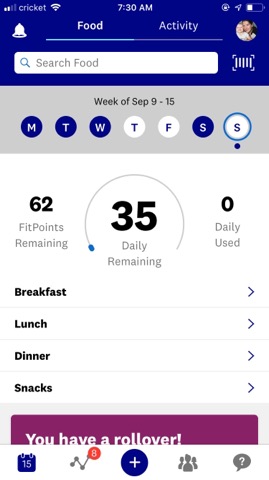 In addition to daily points, everyone gets a weekly points budget that they can use however they want (or not use at all).
If you are active and workout, you can also earn extra points called Fit Points. You can use these if you want, but you don't have to.
WW Points vs calories
WW points are a bit different than calorie counting, especially with the new Freestyle program (which I will discuss in more detail below).
Unlike calories, points take into consideration the nutritional value of food, and foods that are higher in fat and sugar and that you might think of as "bad" foods are much higher in points than those that are healthier.
You're strongly encouraged to eat your daily points, but if you don't eat them all, up to 4 points will roll over into your weekly points budget. (This will reset week to week)
Weight Watchers Freestyle – how it's different
When WW rebranded themselves and changed gears with their Freestyle system, they were trying to switch from being known as just a weight loss program, to a program that focuses more on healthy eating habits.
How Weight Watchers Freestyle ultimately works is by putting you in a caloric deficit to lose weight. Most people who actually put in the work to follow the program will see results.
With the Freestyle program, WW made a few changes. Everyone got less daily points, and many foods were assigned a higher points value! Especially the types of foods that you might think of as being "bad" and high in fat and sugar – candy, chips, chocolate, etc. As well as many foods you might consider "healthy" as well – butter, oils, peanut butter, and even bread.
However, the changes also brought an expansion of their zero points or "free" foods – there are now over 200 foods on the list. With the Freestyle program, you can have zero point foods like skinless chicken breast, beans, eggs, fat-free plain greek yogurt, fruits and obviously veggies.
Tracking your food intake with points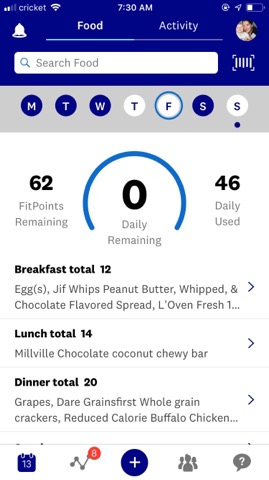 So when you join WW, you will download an app on your phone which lets you track the food you eat. If you've ever used Myfitnesspal or Loseit! Or any other calorie counting app, it's similar. Except food is counted with point values instead of calories. (You can still track your food on their website too if apps aren't your thing).
Tracking food with the Weight Watchers app is super easy, especially after you've done it for a few days/weeks. It saves the food and meals you eat, so you can quickly swipe or click to track the foods you eat often. You can also easily scan new foods with the barcode scanner. (I really like to do this while I'm at the grocery store!)
You're only allowed to eat so many points per day depending on your weight, age, gender, height, etc., with an additional weekly point allowance.
Super processed foods high in fat and sugar and low in nutritional value are very point heavy, so you can't eat a whole lot of those without running out of points!
You kind of have to incorporate zero point foods into your diet in order to even eat enough calories to stay satisfied.
So the difference between the older Weight Watchers system and Freestyle is this…
With WW Freestyle, you have a lot of freedom to eat foods that are good for you, and much less freedom to eat the foods that are "bad".
The program encourages healthy eating by making many foods that are healthy and tend to fill you up completely free or zero points, and "penalizing" many foods that aren't so healthy and making you pay the price (in points) to eat them.
So you can eat the foods you want, even "junk", but the point system forces you to follow moderation.
Personally, when I switched over to Weight Watchers from just calorie counting, I had a rough transition. Even with all the free foods, I felt like I was so restricted with what I could eat! It definitely wasn't the Weight Watchers program I remembered from the past, which allowed much more freedom to eat foods I wanted and stay within points.
A lot of foods I liked to eat were SO high in points, that I was eating up my daily points and felt like I was barely eating anything (I tracked calories vs WW points initially just to get an idea of how they compared).
However, once I learned to include more zero point foods – eggs, fruit, veggies, beans, etc, as well as switch certain things I was eating to lower point items, I realized I could eat more than enough food while following the program (and still lose weight, too).
Weight Watchers is also more than just tracking points

Something that's unique about the Weight Watchers program is that it's not just an eating plan. While you can of course just subscribe to their digital program and just track your points, you can also choose a membership that offers a support system.
If you sign up for the workshop program you'll be able to attend meetings each week. Many people find Weight Watchers meetings the key to their success because it adds accountability if you have to show up to a meeting and weigh-in each week! But the meetings also provide support and are a great place to get ideas, talk about struggles and meet new people. They have WW meeting locations all over the place, but you can check the locator on their website to see if there's one near you.
In addition to the digital and studio program, you can also opt to have a coach. This is, of course, the most expensive, but some people might need that extra support of a personal coach.
The best thing is you can pick the program that's right for you – you're not forced to spend extra on attending the meeting or hiring a coach if all you want is the app to track your food.
But can you actually lose weight on Weight Watchers Freestyle with all the zero point options?
Zero-point foods obviously aren't zero calories, but they're foods that are very hard to overeat (for most people). This is because they're lower in calories and high in nutritional value with things like protein and fiber, so they fill you up.
The WW Freestyle program (in weight loss mode) is scientifically designed to put your body in a calorie deficit to lose weight even if you don't track zero point foods in your diet. (Going to add here that WW also offers a healthy habits and maintenance tracking mode, for those that are already at their goal weight and looking to maintain).
You're still supposed to practice moderation, even with the free foods. Eggs might be free, but you probably shouldn't eat 6 of them at breakfast.
Most people won't be tempted to binge on fruits, veggies, beans, chicken or eggs because it'll make them full before they've had too many calories. They provide nutrients, protein and fiber that make you full, and they aren't specially formulated in a laboratory to make you want to eat more. (Now if we're talking about sweets, chips or pizza that's a different story…) The point is, most people aren't going to have a problem with overeating the types of foods that have zero points.
The point system also makes up for all the zero point foods it lets you eat with heavily pointing less healthy foods, and not giving you a huge point budget to work with.
However, ultimately calories do matter and if you are eating too much you won't lose weight, even if you are eating healthier food.
WW Freestyle isn't designed to set you up for failure – it's designed to teach you how to eat healthy and properly while limiting your fat and sugar intake. If you follow the program, you kind of just have to get a feel for things and learn to do what works best for you. If you find yourself not losing weight on the program, you need to take a step back and re-evaluate just exactly how much you are eating.
If you're interested in developing healthy eating habits, losing weight and keeping the weight off using a plan that is sustainable, WW Freestyle is a great program
I heard somewhere that if your "diet" gets harder to follow over time, that means you're using willpower and it's not sustainable. If it gets easier, you're doing something that you can actually maintain.
That is how I feel about the WW Freestyle program – the more I do it, the easier it gets. It teaches healthy eating habits that you can maintain for the rest of your life. That should be the ultimate goal in any weight loss program, otherwise, you will put the weight right back on.
That being said, the new Freestyle system is not for everyone. But I think it's at least worth a shot because a lot of people are having success with it, myself included.
If you're interested in trying it out, check out their website for the latest pricing and special offers.
If you need some extra motivation to finally get started losing weight, you can read about the program I'm using that pays me to lose weight.
Please follow and like us: