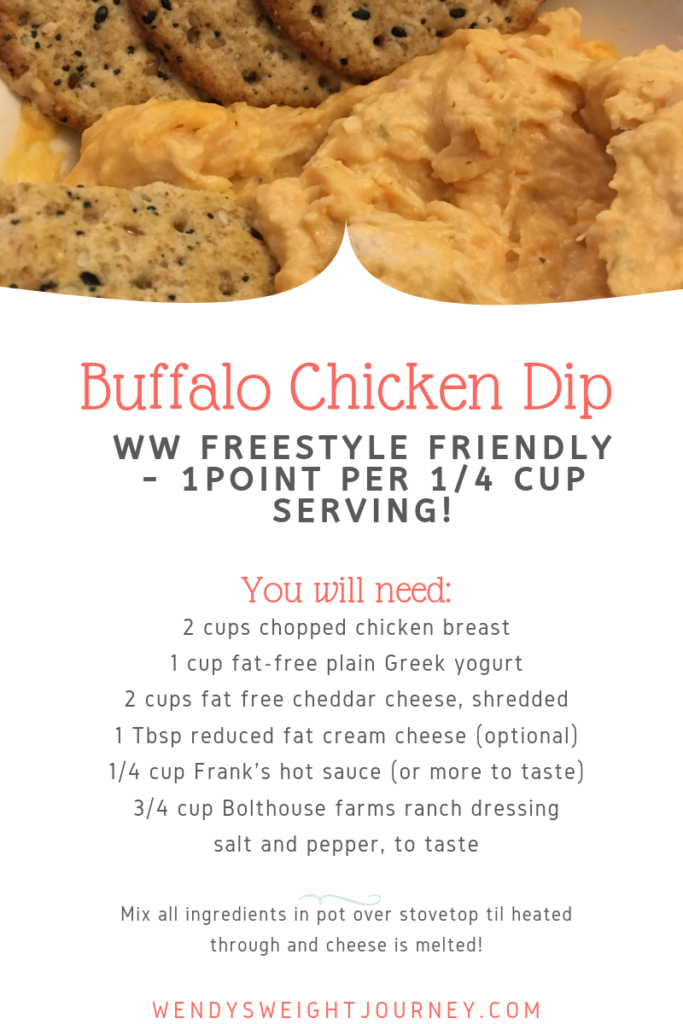 If you're a fan of buffalo chicken dip but following the WW freestyle program (or watching your calories) you probably know it's not a dip that's traditionally super low in calories or points – it's full of cream cheese, cheese, ranch – everything super good, fattening and high calorie! But I have been messing around with the recipe recently to try and make a buffalo chicken dip that's more Weight Watchers (WW) friendly and alas I figured out something that actually works quite well and tastes pretty darn close to the original.
The first time I ever had buffalo chicken dip I pretty much fell in love. It's just the perfect comfort food to me. But it's so high in fat and calories that it's never been something anyone would think to be diet-friendly, exactly.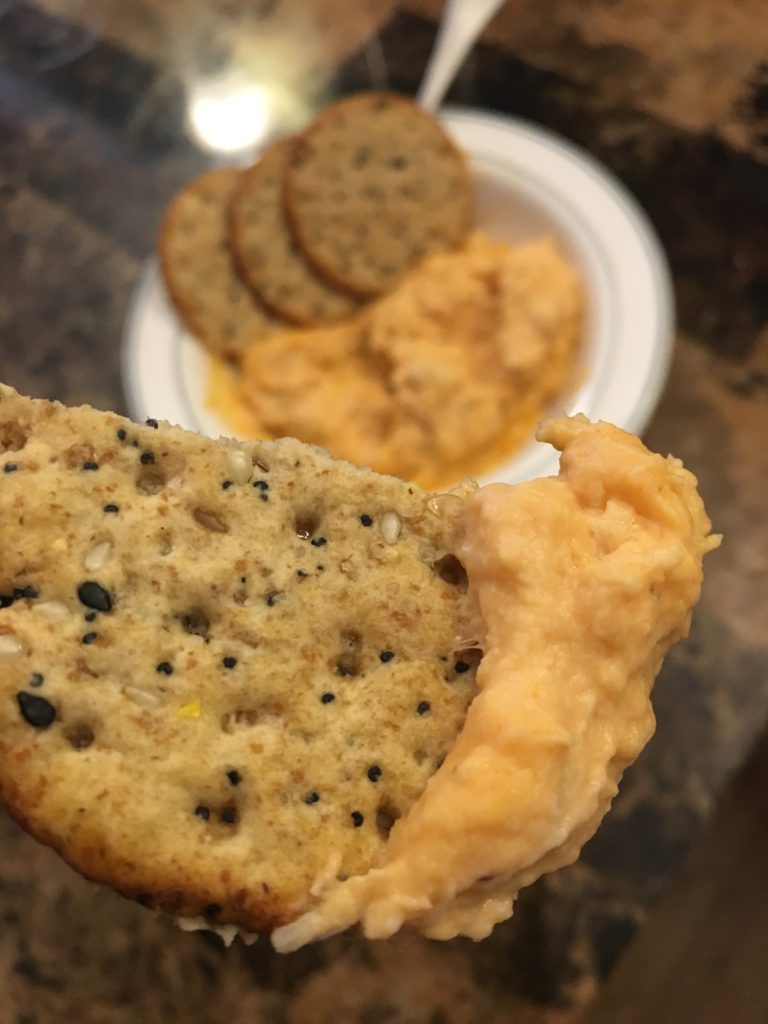 But then there's the wonderful world of WW Freestyle – where you can eat lose weight eating anything you want as long as you stay within your points budget. When I started following WW I got pretty excited and went to put in the recipe to figure out how many points it'd be – and I was kind of shocked at how high in points it was!
So I decided with a few substitutions you could probably make something just as good, right? I actually got the idea after I discovered this great ranch dressing that's yogurt-based – Bolthouse farms brand. There's a lot of ranch in the dip, so I thought to substitute that would knock off quite a bit of fat and calories out.
Another key component is traditionally cream cheese – but hey, fat-free Greek yogurt is 0 points on WW! And it's great to use in cooking! So I used that in place of the cream cheese (mostly) but still added just a tiny bit to thicken it up.
And what? Fat-free cheddar cheese is ZERO points? At least, for a serving. Another substitute added to the list!
So, with the yogurt ranch dressing, fat-free greek yogurt and fat-free cheddar cheese it pretty much cuts out MOST of the fat and significantly reduces the calories of this dip!
So maybe you're thinking- well, gross. It can't be good like that! I think it is pretty close in taste. If you use reduced-fat cheddar cheese instead of fat-free, it's even closer (you'll just have to adjust the calories/points accordingly). Add in the hot sauce, some salt and pepper and bam it's basically just like you're eating the original.
I like to eat it with crackers (Grainsfirst crackers are super yummy and only 2 smartpoints per serving!) but any crackers will do. Tortilla chips are great with this dip too. Celery is another good one! (and zero points, too)
What's the Recipe + The Secret to Making it Taste Good
So, the secret to this reduced fat and calorie version of the buffalo chicken dip is you should use a really good type of chicken. With the regular stuff, you can get away with using canned chicken and it still tastes pretty good, if you are going to make this version I'd highly recommend using something a bit better tasting – I like to use rotisserie chicken breast.
You could also prepare the chicken yourself, but I just like rotisserie because it always tastes so good and isn't dry (I usually dry out chicken too much when I cook it at home). Although probably dryness is less important in this recipe since you'll mix it with wet ingredients… so do whatever works for you!
Buffalo Chicken Dip Recipe – 1 SP on WW Freestyle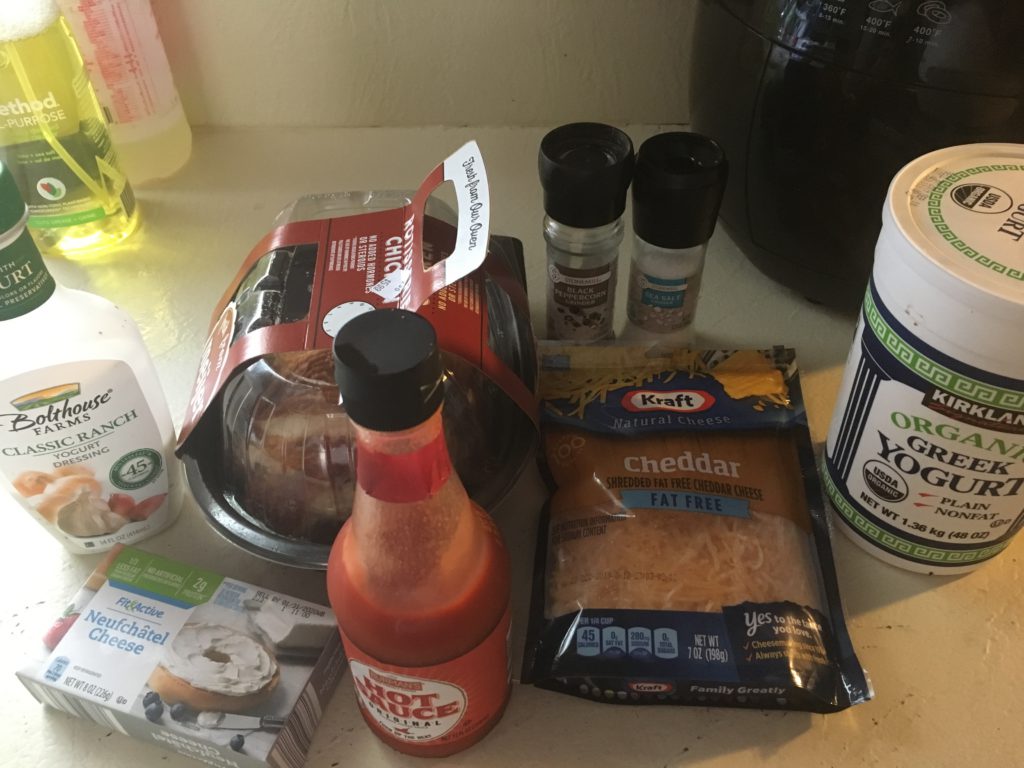 Ingredients
2 cups chopped or shredded chicken breast, rotisserie works great (skin removed for 0 WW points)
1 cup fat-free Greek yogurt, plain (0 WW points)
3/4 cup Bolthouse Farms ranch dressing
1 Tbsp reduced-fat cream cheese
1/4 cup Frank's hot sauce (or more, to taste) (0 WW points)
2 cups fat-free cheddar cheese, shredded (4 pts for 2 cups)
salt and pepper, to taste
Directions
Mix cream cheese, yogurt, ranch and hot sauce over stovetop til heated and smooth.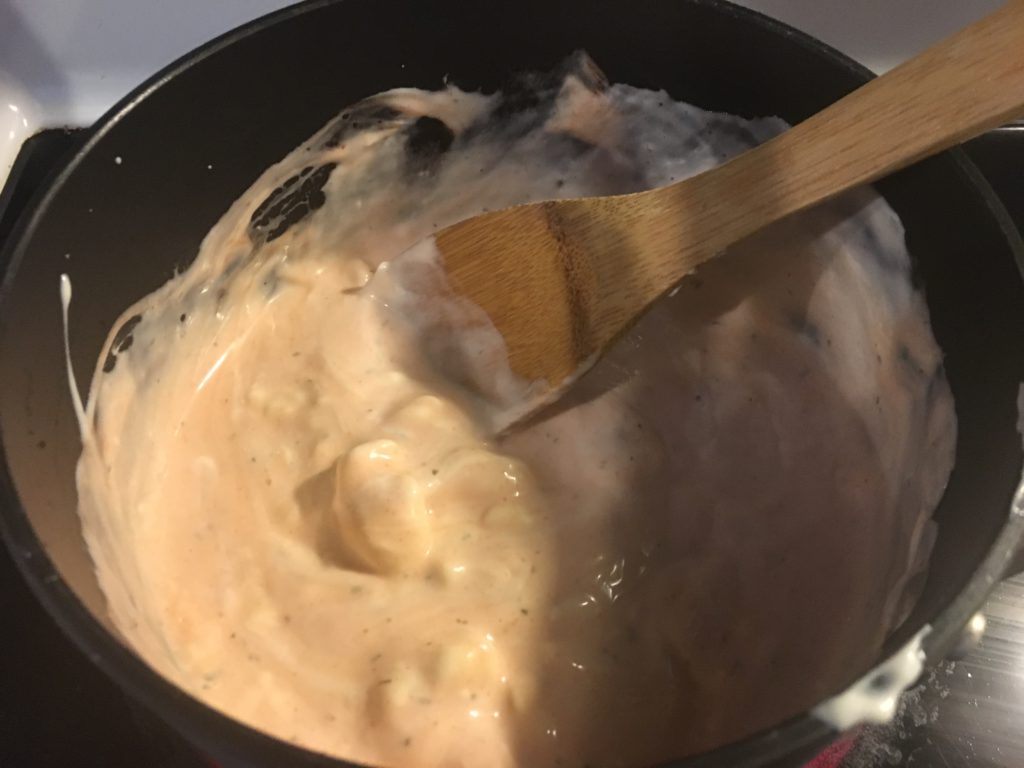 Add cheese, stir until melted then throw in chicken. Heat through. Add salt, pepper and any additional hot sauce to taste.
Don't forget to taste, taste taste!
Make sure you taste while you cook! I had to add more hot sauce, salt and pepper to get it just right. If you like spicy, you might want to just go for 1/2 cup of the hot sauce. 1/4 cup is enough to give it flavor, but it doesn't have a lot of kick to it (which is how I prefer it). If you're unsure – start with 3 Tbsp and then taste, increase 1 Tbsp at a time until it's the right level of spice.
Sidenote – you don't have to use Frank's hot sauce (I actually used Aldi's off-brand) but you can also just use whatever hot sauce you prefer. Frank's and the Aldi's knock off are 0 calories and 0 points, but if you use another kind you might want to double-check the nutritional info/point value.
Sidenote #2 – you can leave out the cream cheese if you want – I just added a tiny bit to thicken it up. If you don't put it in, the texture is initially a little bit different than the original version but if you stick it in the fridge and reheat later, it thickens up.
Also, using reduced-fat cheese is fine but it does affect the points!
Weight Watchers Smartpoint values + calories
Now, this recipe is the exact combination of ingredients I used to make it 1 smart point per 1/4 cup serving. If you have 1/2 cup, it's still only 2 points! However, if you alter the ingredients in any way you'll have to double-check the points!
1/4 cup – 1 smart point, 88 calories
1/2 cup – 2 smart points, 176 calories
1 cup – 5 smart points, 352 calories
You can eat it with anything that sounds good! Crackers, tortilla chips or celery are all good options! Enjoy!
Comment down below and let me know if you've tried it!
Please follow and like us: