Soups are one of my favorite things to make now because they're easy, healthy, lower-calorie, and taste even better reheated. This means I can make a batch and eat it throughout the week without feeling like I have to "meal prep" food that is going to taste gross after sitting around for a while. This easy, healthy chicken tortilla soup is just the ticket and actually one of the best recipes I have come up with on my own.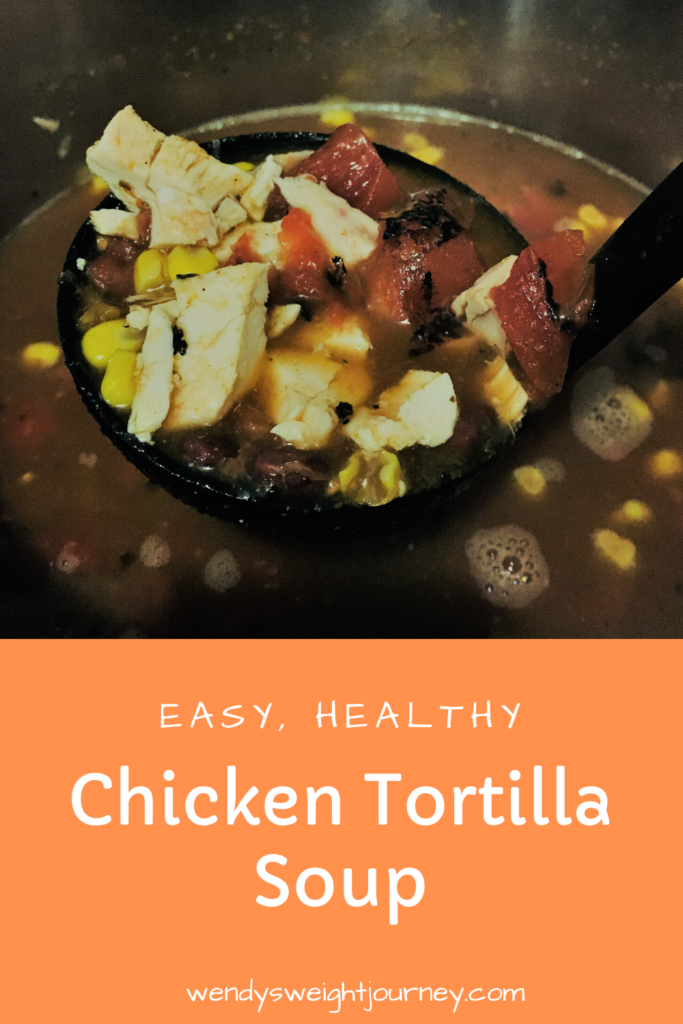 I don't typically cook directly from a recipe, especially when it comes to soup. I just use recipes to get an idea how it's made, then do my own thing. Typically I feel recipes online don't ever call for nearly enough broth – what is up with that?!
The recipes I found for chicken tortilla soup online only called for like 2 cups of broth – that is not nearly enough for an entire batch of soup! I had to increase it to at least 6 cups (I used a 1:1 ratio – 3 cups broth to 3 cups water). Because I used "Better than Bouillon" in this recipe, I used 6 cups water.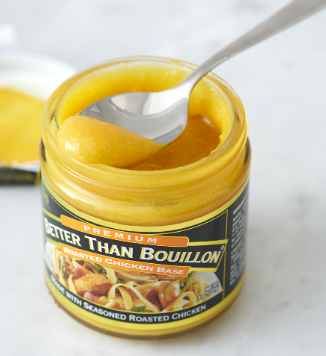 Oh and PS – Better than Boullion is totally my secret to making stuff taste really good. It's so much better than bouillon cubes or boxed chicken broth! So if you aren't the type of person that keeps homemade stock on hand, I 100% recommend it.
While it still tastes fine without it, I just feel like it kicks up the flavor a notch from "good" to "excellent". (I've made this recipe with bouillon cubes and I can definitely tell the difference).
Before I ramble any further, here's the recipe: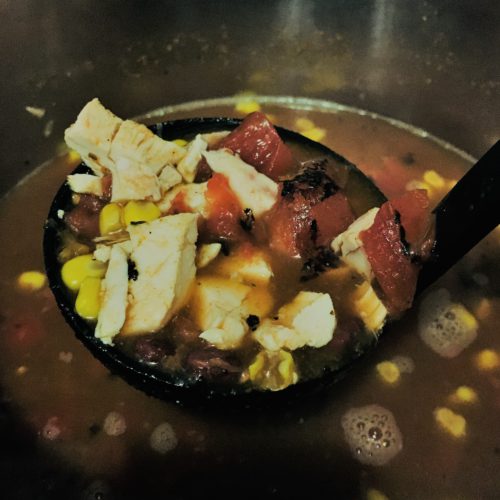 Healthy Chicken Tortilla Soup
Ingredients  
1/2

Rotisserie Chicken

taken off bone, skin removed

6

cups

water

1

Tbsp

Better Than Bullion

(or 3 cups chicken broth) reduce to 3 cups water if using broth instead of better than bullion or bullion cubes)

2

cups

corn

2

cans

black beans

drained and rinsed

1/2

medium

onion

1

Tbsp

Chili Powder

1

Tbsp

Cumin

1

tsp

garlic powder

1

can

Rotel (diced tomatoes and green chilies)

1

8 oz can

tomato sauce

salt and pepper, to taste

1

Tbsp

olive oil
Instructions 
Set Instant Pot to Saute setting, add the olive oil to the pot. Throw in diced onion and saute for a few minutes, until cooked (stir frequently)

Add water, better than bullion, all seasonings, Rotel, tomato sauce, and black beans (make sure they're drained and rinsed)

Put lid on Instant Pot and set to pressure cook for 7 minutes, let natural release for 5-10 minutes

Add corn, return the lid and continue cooking on "keep warm" for about 10-15 minutes (the Instant Pot auto switches to keep warm mode after it's done pressure cooking so you shouldn't have to do anything special)

Add cooked diced chicken and cook an additional 5 minutes or so til chicken is warmed

Serve with tortilla chips and cheese!
Notes
I love to make this in my Instant Pot because it cooks the flavors together much faster, but you can just as easily make it on the stovetop. The only difference is you need to let it simmer for much longer, about 1-2 hours until flavors develop. Remember to add corn and chicken last.
I also adjusted amounts to my preferences and left out stuff I didn't have that some other recipes called for (or stuff I didn't like – I'm really picky).
I have to say – this came out AMAZING! Even my sister, who is a total food snob, thought it was really good! Her only complaint was that it wasn't spicy enough (she likes things HOT) but she added some hot sauce and said it was great.
To me, I do NOT like spicy food so I found it perfect. If you do like spicy, you can just use hot chili powder instead, or add in hot sauce. (or jalapenos!)
Stove vs Instant Pot
The directions I wrote involve making it in an Instant Pot, but if you don't have one it's really no big deal. It can be made on the stove just like any other soup! I just love my Instant Pot because it cooks everything together so fast.
With soup, you need a long time to simmer and develop the flavor. Especially for chilis (and chicken tortilla soup) I'd say at least a good 1-2 hours on simmer! But the longer, the better.
With the Instant Pot, it only takes about 30 minutes total (that includes total time with coming to pressure, cooking, naturally release, etc).
Type of chicken
So, I'm really picky about chicken. I find that usually it just gets too overcooked and there's nothing worse than overcooked chicken. This is the reason I use a pre-cooked rotisserie chicken (I remove the skin) and put it in at the VERY END. This ensures it will stay soft and not overcook.
However, for this recipe you can use any pre-cooked chicken (it would be a great way to use up leftover chicken) it does not have to be rotisserie (obviously). Just add it in at the end!
I like to top it with cheese and put some tortilla chips on the side!
Please follow and like us: