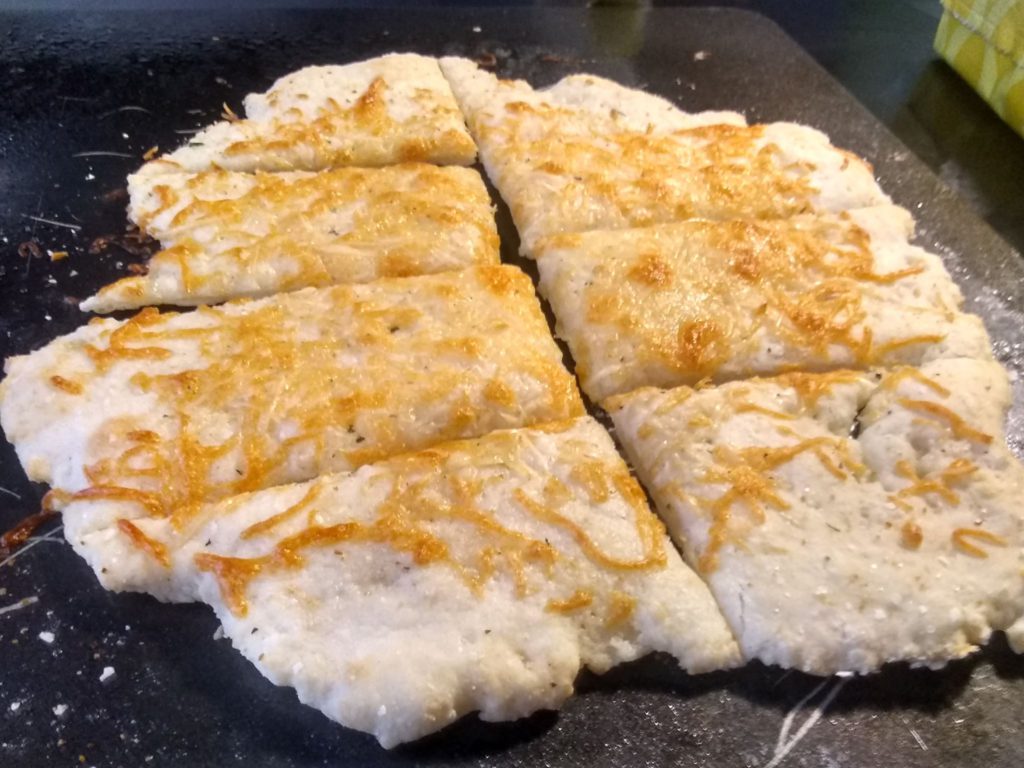 I did not come up with the actual two ingredient pizza dough part of this recipe, I actually can't even remember where I found it. I've also seen it labeled as a Weight Watcher pizza dough. But it's become super popular as a healthy (and easy) alternative to a traditional dough and I've seen it used to make pizza, bagels and soft pretzels although I'm sure there are lots of other things you can do with it!
When I saw it used as a pizza dough I thought it would also make an excellent cheese bread as well, and indeed it does! I hadn't seen anyone else do it, so I tried it myself and it worked pretty well.
Is this two ingredient pizza dough actually healthy?
Well, I guess it depends on your perspective. It isn't low carb so if you are counting those, this might not be a good recipe for you. However, this dough packs more nutrition than traditional doughs because it uses plain Greek yogurt which is actually super good for you. The plain version has very low sugar with TONS of protein to help keep you satiated, while also carrying some b12, potassium, and calcium.
I've tried some crazy pizza dough alternatives like the cauliflower crust, and this dough is way better because it actually tastes as pizza dough should. I find it has a slightly tangy flavor from the Greek yogurt but if topped with a little butter and the cheese as this recipe has you do, it balances it out well.
Considering my favorite cheese bread from the local pizza place is nearly 1,500 calories for the entire thing, and this one is only 462 calories (for the entire recipe) that is a huge difference… and honestly, I think it tastes just as good!
Two Ingredient Pizza Dough – Cheese Bread Recipe!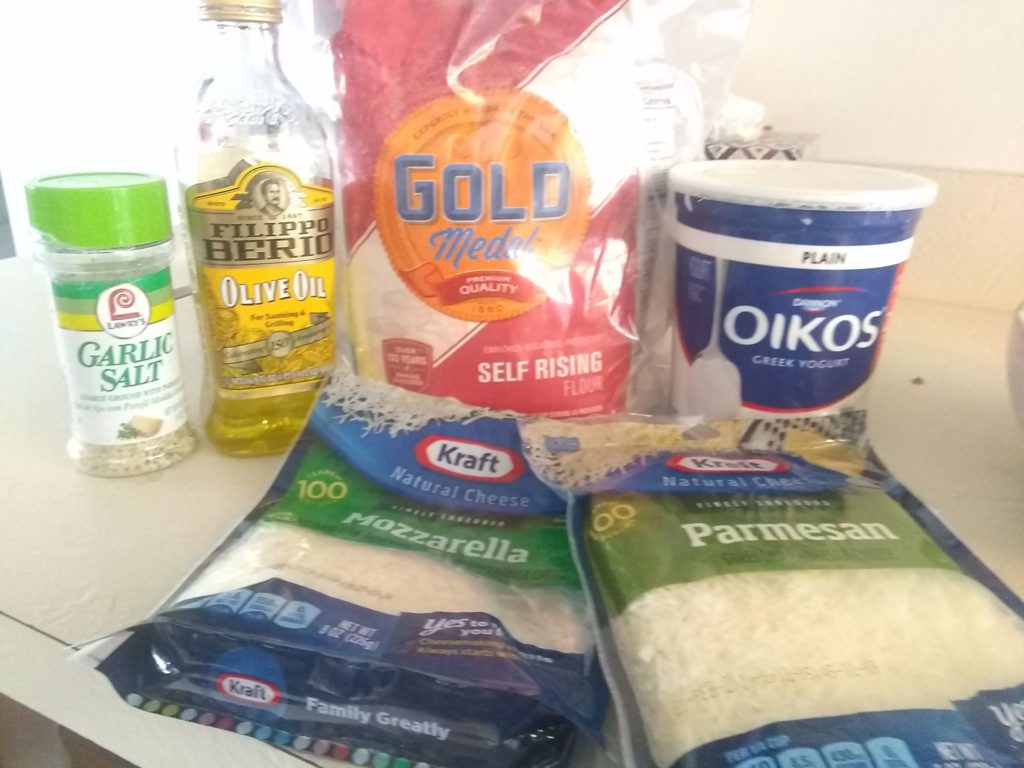 Dough
1/2 cup plain Greek yogurt (can use fat-free, low fat or full fat)
1/2 cup self-rising flour + extra for kneading
If you don't have self-rising flour, you can make your own by mixing 1 cup regular flour with 1/2 tsp salt and 1 1/2 tsp baking powder. Set aside 1/2 cup and save for later! (or just double the original recipe to use the whole cup)
Topping
1 tsp melted butter or olive oil
1/2 cup mozzarella and parmesan cheese mix
garlic salt (optional)
Directions
Preheat oven to 375 F
Mix together Greek yogurt and flour in a bowl with hands until ball forms, then remove from bowl and knead dough on lightly floured surface for 1-2 minutes. You can alternatively do this in a mixing bowl with the dough hook attachment if you have one!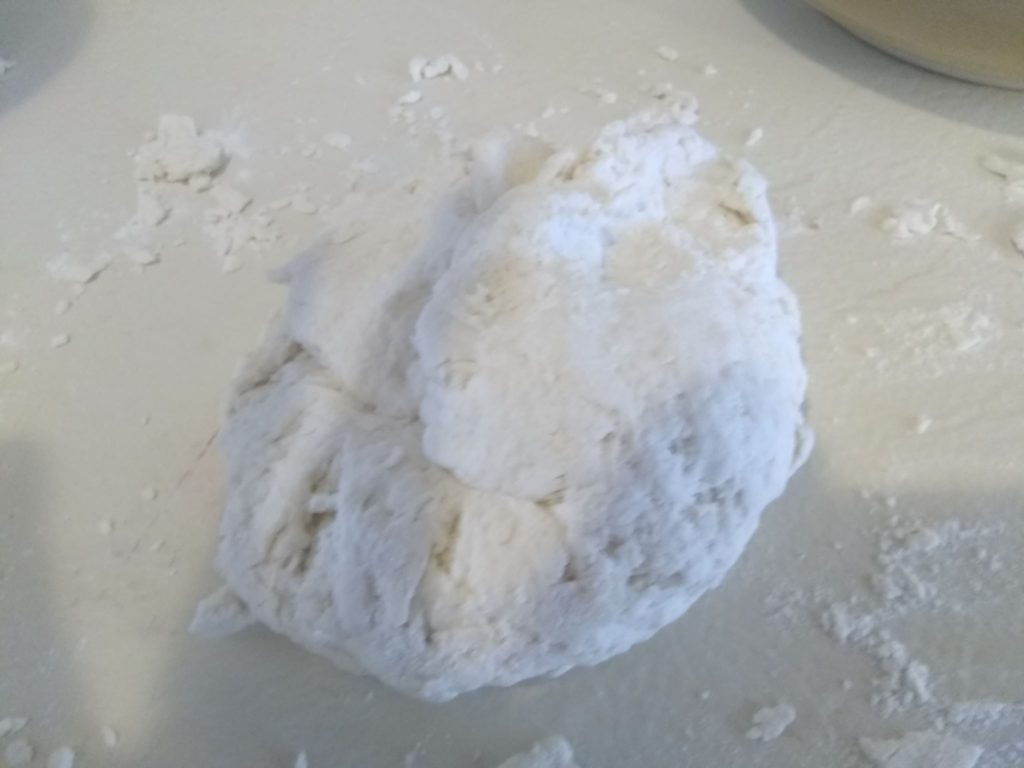 Lightly sprinkle flour on rolling pin and start rolling the dough out to desired thickness. Transfer to greased baking sheet and brush with 1 tsp melted butter, or olive oil. I think it tastes better with melted butter but that's just my preference. Top with the mozzarella and parmesan cheese mixture and sprinkle a little bit of garlic salt if you so desire.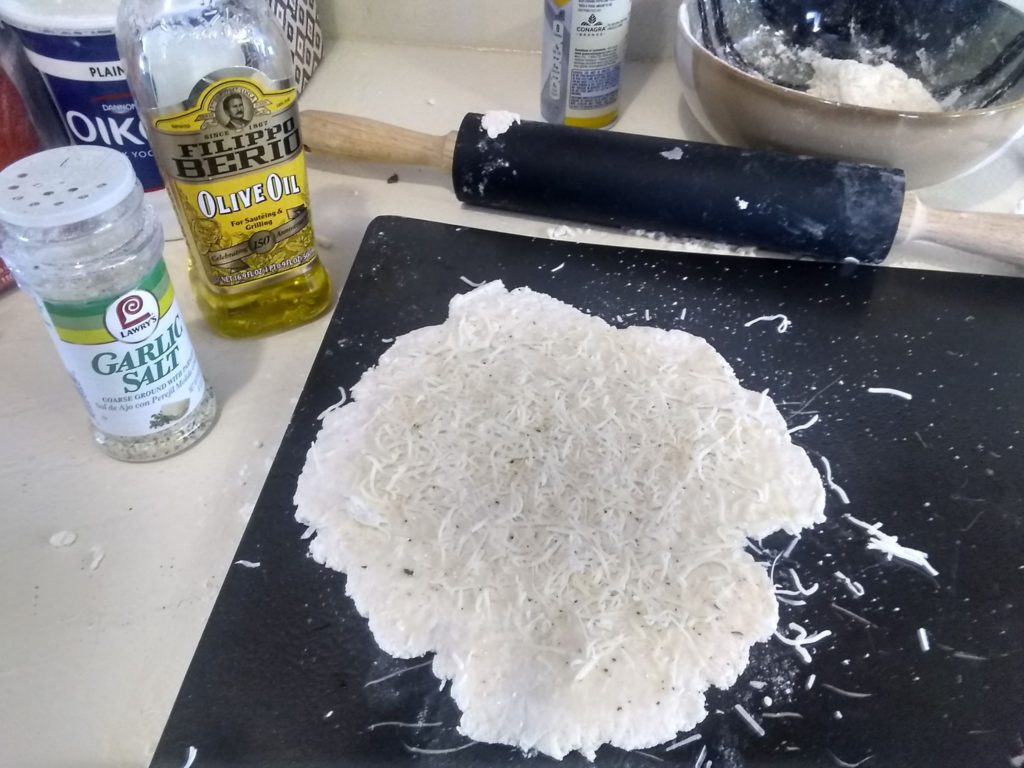 Bake in a 375 oven until starts to turn a light golden brown, approximately 7-10 minutes. Baking time will vary based on your oven so keep an eye on it… and ENJOY!
Nutritional Info:
Nutrition is based on using fat-free plain Greek yogurt (Oikos) and 1 tsp regular butter.
Servings: 2
Calories per serving: 231
Carbs: 25.3 g
Fat: 10.3 g
Protein: 16.5 g
Sugar: 2.2 g
Fiber: 1 g
Please follow and like us: