If you've been doing research into weight loss betting programs – you've probably come across both HealthyWage and Dietbet.
But what really is the difference between the two, and is one better than the other?
Let's take a closer look at HealthyWage vs Dietbet to find out!
HealthyWage and Dietbet are similar weight-loss betting apps, but in my opinion, HealthyWage is better. HealthyWage lets you place a much more customized, personal bet that allows you to profit up to 3x higher than with a Dietbet.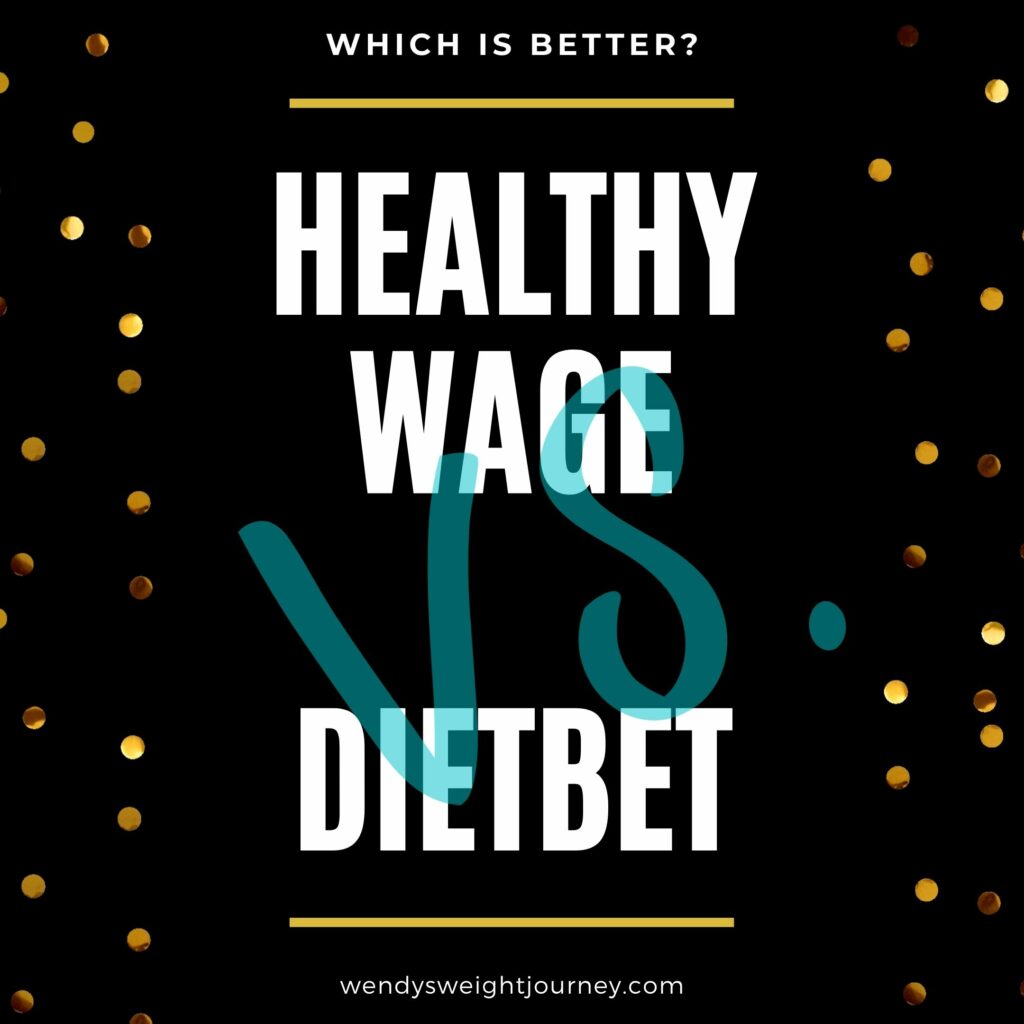 Use the HealthyWage prize calculator to see how much you could win with your own bet (plus grab a 22% prize boost!)
HealthyWage vs. Dietbet: Quick Comparison
HealthyWage
Dietbet
Ability to create
custom, individual
bet
Yes
No
Team Challenges
Yes
Yes
Multiple Challenges
Yes
Yes
Difficulty
Easier, less
challenging
Competitive,
very strict
Can you earn $$
for hosting challenges?
No
Yes
Profit
Win 2 – 3x your
original bet,
guaranteed profit
if you win
Avg win
1.5x bet, but
profit is not
guaranteed
Calculate your
HealthyWage Prize Here
Learn more about
Dietbet
How HealthyWage Works
HealthyWage lets you bet on your weight loss in a few different ways – through a HealthyWager challenge, team challenge, step challenge, or jackpot challenge.
You can enter up to 10 challenges at a time in addition to your HealthyWage bet. (But you also don't need to do a HealthyWager bet to enter the other challenges!)
Feel free to read my full review of HealthyWage here for more details.
Main Challenge: HealthyWager
This is a personal challenge that lets you select your goal weight and time frame. This is highly customizable and the prize money you win depends on how much you bet.
Interested in making a personal bet with HealthyWage? You can play with their prize calculator to figure out how much you could win!
HealthyWager Challenge Rules
Bet has to be at least 6 months, anywhere to a maximum of 18 months in duration
Must wager over $100, but no more than $10,000
Must bet to lose at least 10% of your starting body weight
The nice thing about this challenge is you pick the terms (within their rules) – you can choose how much you want to lose, how much time you need, and how much you want to bet.
Team challenges with HealthyWage
HealthyWage team challenges are more similar to the Dietbet program than the HealthyWager bet.
These are done in teams of 5. You can either start your own team, enter an existing team, or be placed into a team by HealthyWage.
The team that loses the most bodyweight percentage wins the $10,000, but there are also other prizes available.

Jackpot challenges – these can be done in teams or on your own and are based on losing 6% of your starting body weight over 3 months. The entry fee varies by the challenge but must be a minimum of $10.

Step challenges – in this challenge you bet on yourself to increase your daily steps. You will need to sign up for a step challenge through their app and connect your fitness tracker in order for it to work. They use your past daily step data to determine an individual goal for you.

You can enter up to 10 of these challenges at a time. The more you enter, the more you win. But keep in mind winners typically win double their entry fees for all the challenges – so it's really not a huge amount at all.
How Dietbet Works
Now that we've discussed how HealthyWage works, let's move into Dietbet.

Dietbet has 3 different types of challenges you can participate in. For each challenge, you enter in with other people and everyone's bet goes in a "pot".
Each person who wins their challenge gets their money back, plus hopefully a small profit (minus the fees that go back to Dietbet and the person running the challenge).
Basically, your profit amount depends on the percentage of people that win – the more people that lose, the more money you'll profit.
It's important to note that Dietbet takes up to 25% of the pot, so in many games, you're really only splitting 75% of the pot. Consider a $200,000 pot in which Dietbet takes 25% – you most likely will only win a few bucks (if anything), but Dietbet (and the host) take $50,000!
There are tons of Dietbet games each and every month, that is just one scenario!
There are people profiting like crazy from Dietbet, and it's not the people participating in games.
Here's a breakdown of Dietbet's 3 types of challenges
Dietbet Kickstarter
A 4-week challenge in which you need to lose at least 4% of your body weight. The average bet for this is $30 but can be as low as $10 or as high as $100.
According to frequent players, $30-$35 games seem to have the highest profit potential and will be the games you are most likely to see a 1.5 – 2x return.
You can quite likely profit around $15 from these games. Other games you may only win a few bucks, or only get your entry fee back. There's no guarantee as to how much you'll win, each game is a total gamble.
Dietbet Transformer
This is a 6-month challenge in which you need to lose at least 10% of your body weight. You'll need to pay $125 – either upfront or $25 per month.
The transformer challenge is a little more complicated because there are 6 rounds over the course of the 6-month challenge. In order to win the maximum amount, you need to win each round.
In the Transformer challenge, half of the prizes are split amount the winners for the first 5 rounds, and half of it is split between everyone who can make the 10% goal at the end. Winners can expect to profit anywhere from $50 – $200 depending on how many rounds they win.
You must lose 3% of your body weight for round 1, 6% for round 2, 8% for round 3, 9% for round 4, 10% for round 5, and maintain 10% for round 6. Note that the percentages are cumulative based on your starting weight.
Dietbet also states within their rules that you need to lose at least 6% of your body weight by the end of round 5 in order to win the final pot. This is to prevent "unsafe sprints" they don't want to encourage any crazy unhealthy crash dieting at the end.
Honestly, this one seems very specific and it would be hard to meet each and every milestone like they expect you to. Not everyone loses weight the same!
Dietbet Maintainer
In this challenge, you bet $25/month (or $275 upfront) that you'll maintain your weight within 2% of your starting weight for an entire year.
Dietbet currently doesn't have any statistics on average winnings, it must be a newer challenge they don't have any data for yet.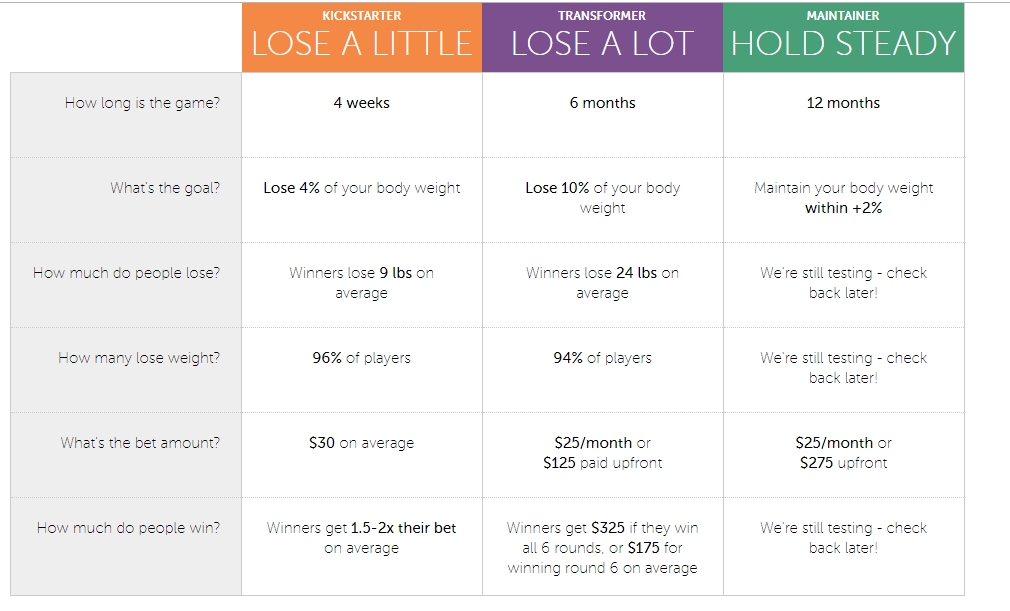 Hosting Dietbet challenges
Another thing you can do is create a Dietbet challenge and host – anyone can do this. You will earn an additional 5-20% of the total pot for each game you host. This is a pretty popular thing for celebrities and weight loss influencers to do. If you have a large following and can get people to join in your game, this is a way to make REAL money with Dietbet.
Look at this 4-week challenge hosted by Instagram influencer Fatgirlfedup

The total pot is $80,460 – if she earns up to 20% of the pot, that'd be around $16,000. She hosts these regularly, as to many other influencers and celebs. They're making a ton while you are either barely making your money back, or winning maybe a few bucks. Definitely something to consider.
What are the main differences between HealthyWage and Dietbet?
While both HealthyWage and Dietbet are popular platforms that let you bet on your weight loss, they do have their differences.
HealthyWage: customized, personal challenge
I like that with HealthyWage, you have the ability to customize your weight loss bet much more than Dietbet with their Healthywager challenge. Dietbet doesn't offer a personalized challenge like the HealthyWager.
I also feel like HealthyWage's challenges are more realistic.
Dietbet: team challenges that are difficult with VERY little profit!
To me, Dietbet's challenges seem like they could be too difficult for many people to win.
For example, if you participate in a Kickstarter challenge, you need to lose 4% within 4 weeks. For a 250 lb person, that is 10 lbs. That's 2.5 lbs a week.
While I'm not saying it's unrealistic, it can be hard.
I can see where this challenge would be easy if you are doing it at the very start of trying to lose weight, as you lose a lot of water weight in the beginning.
But if you try to enter after you've been losing weight for a while it would definitely be harder! (Although, that's my thinking in terms of pure fat loss. Many people say it's easy to "game" their system by weighing in at different times (or after eating/drinking a lot) to artificially inflate your start weight).
HealthyWage challenges = a bit easier
With HealthyWage jackpot challenges, you lose 6% over 3 months. Take that 250 lb person again – that's 15 lbs. So 15 lbs over 3 months is 5 lbs per month. To me, that seems like a much more realistic and less stressful goal.
Also with Dietbet's Transformer, you need to hit a lot of specific goals each month to win the max amount. I understand weight loss should be paced but the percentages you need to lose each month are really specific. Although, losing 10% over 6 months is totally reasonable so I have no doubt most people could do it if they put in the effort.
HealthyWage doesn't set any specific monthly goals when you do a HealthyWage challenge, although they do encourage you to check in periodically with "non-verified" weigh-ins.
Basically, that just means you enter your own weight and no one is checking it.
I like that you can just lose weight at your own pace, and as long as you meet the end goal, you win.
I do like that Dietbet offers a maintainer challenge as that is something HealthyWage doesn't.
Another pro for Dietbet is you can start challenges and earn 5-20% of the total pot. Well, at least it's a pro for anyone who wants to host them. As a participant, it's actually taking away from your total profit.
While you can also start challenges with HealthyWage, I'm unable to verify if you earn a profit from it or not. I believe you only get affiliate profits from referring others to join in on games, but it's much different than the way Dietbet is set up.
Which one is better? I recommend HealthyWage
After doing quite extensive research, I feel much more comfortable with HealthyWage.
I personally like that the HealthyWage program offers a personal, customized bet that allows for the freedom to lose weight in the time you want.
You're also able to win a much more substantial amount than you would from just doing a challenge with Dietbet.
Typically with Dietbet, you are basically just getting your back your money with most of these challenges, plus maybe a small profit. The motivation comes more so from not wanting to lose the money at stake, rather than being motivated because you're going to win a ton of money.
You should also consider the fact that Dietbet and hosts are making a killing with these games while you are either winning your money back or earning a couple of bucks in profit.
While most HealthyWage's challenges are basically the same in that you really only profit a small amount from each challenge, the Healthywager is a little different. You really do have a chance to win a greater sum of money through this challenge.
While yes, you do need to put down more money to win more, you can easily win 2-3x the amount you bet.
With Dietbet, you're NOT guaranteed any profit, even if you win your challenge.
However, one of the advantages to Dietbet is people can make a lot of money hosting challenges if they have the spotlight and can recruit a lot of people to join.
(and grab your 22% prize boost!)
(there's absolutely no fee or obligation required if you want to use their prize calculator out of curiosity!)
Please follow and like us: