The question – how many Weight Watchers points is 1,200 calories? – is one that is often asked. The truth is, however, that there is no clear answer.
Weight Watchers has revamped its points system several times throughout the years, and the current points system is much less equivalent to calories than it has been in the past.
Current points weigh heavily on saturated fat, sugar, and protein, in addition to just the calories of food.
The short answer:
There is no universal way to answer this question because Weight Watchers points are NOT equal to calories. However, a better understanding of how these points work can help you visualize what approximately 1,200 calories of points could potentially look like in your diet.
Here's an example of how calories could translate to points…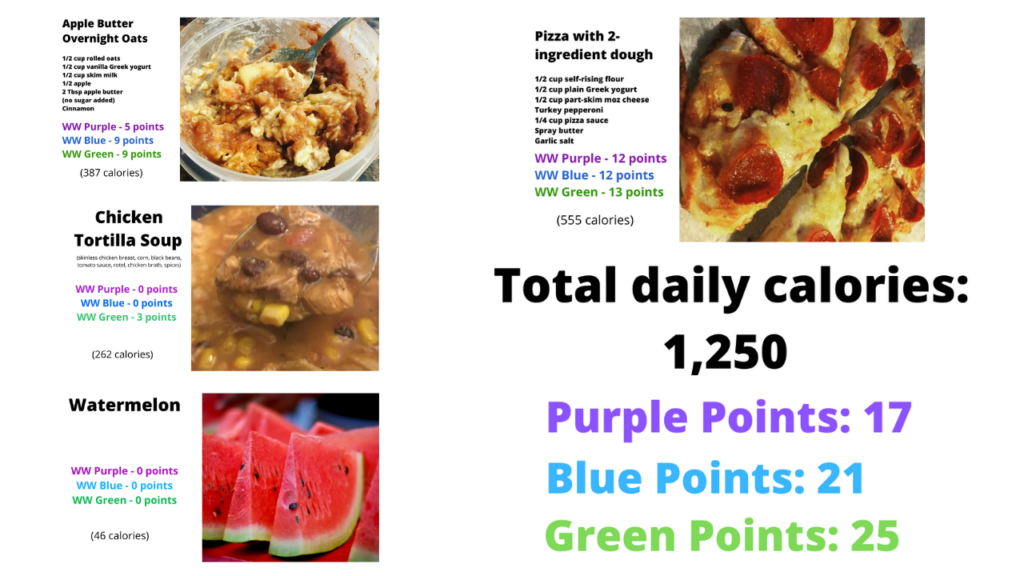 This is just an example, but not an absolute. For anyone who wants a more in-depth explanation, I will get to it a bit later (you can scroll down if impatient).
How WW points work and why they're not equal to calories
The Weight Watchers program doesn't believe that all calories are equal.
Yes, they understand and acknowledge that ultimately calories do matter when it comes to weight loss (calories in = calories out) however, that doesn't mean they should all be treated the same.
Watchers points calculate the value of saturated fat, sugar, and protein, along with calories.
How this materializes is foods that are highly processed/packaged are usually pretty high on the points scale, while natural, unprocessed foods are either zero points or low in points.
For example, Greek yogurt with added sugar and mix-ins (like Chobani flip) is around 7-8 WW points, while fat-free plain Greek yogurt is ZERO points.
And fruit cups packed with syrup have some points, while fresh fruit is all zero.
The calories aren't insanely different, but the points are.
When you join Weight Watchers, you'll get assigned a maximum daily point value. You'll also be allowed additional zero point food items that you do not have to track, so if you eat properly you should not go hungry.
In addition, you'll get weekly points to use however you want, and Fit points for any additional exercise. You can choose to use these some weeks and not others, or not use them at all.
But you can't save them up for months and go on an all-you-can-eat splurge – once the week is over, they're gone whether you used them or not.
Weight Watchers color plans further complicate the calorie situation…
This calorie equivalency question is further complicated by the fact Weight Watchers now has 3 different plan options – Purple, Blue, and Green.
These are actually reintroduced versions of previous plans (Freestyle = Blue, Simply Filling = Purple, and Straight Smartpoints = Green).
With each plan, you get varying amounts of "free" foods that you don't have to track. The plans attempt to account for the variation by adjusting the maximum daily points allowance – you get more points on plans with less free food, and less points on plans with more free food.
So on Purple, the plan that has the most zero-point options (around 300), also has the least amount of daily points you're allowed to use. The minimum is 16, but it could likely be more depending on your personal factors like age, weight, height, and sex.
On this plan, free foods are things like fruits, vegetables (even potatoes), whole wheat/grain pasta, oatmeal, popcorn (sans oil/butter), eggs, lean meats, beans, and a variety of other things.
However, on Green, you get the least amount of zero point foods (it's just fruit and vegetables) but the highest amount of daily points to use – a minimum of 30. But again, that could likely be higher depending on a variety of personal factors.
Example of a 1,250 calorie day on Weight Watchers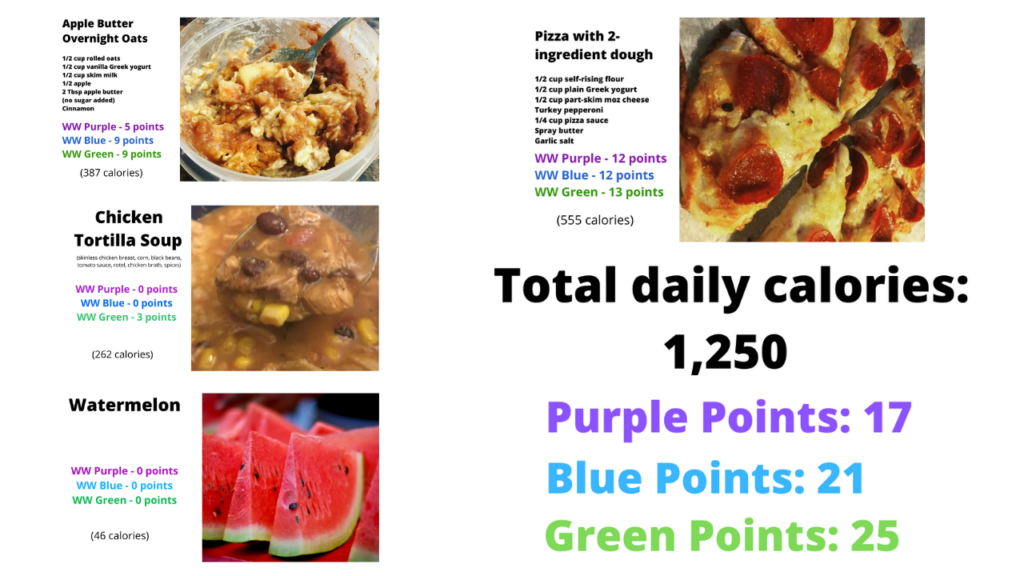 This can give you a glimpse of what a 1,200 calorie day of eating could look like on the Weight Watchers program (with points separated by color plan).
(Ok, technically these meals totaled 1,250 but it's close enough… )
This day included apple butter overnight oats, chicken tortilla soup for lunch, an afternoon snack of watermelon, and a homemade pizza made with 2-ingredient dough for dinner.
Calories vs. Points – 1,250
Purple
Points
Blue Points
Green Points
Calories
Potatoes and Eggs
5
10
16
520
Quest bar/grapes
4
4
4
252
Fish, Potato, Corn
8
11
14
600
Yogurt flip dessert
7
7
7
180
Totals
24
32
41
1,552
You can see the points differ for each plan – it totaled 17 points for Purple, 21 points for Blue, and 25 points for Green.
This is just ONE example, and there are endless combinations of what 1,200 calories could equate to in total points.
Remember there are a LOT of zero point foods on Green and Purple, so if you added in extra free items in addition you could easily consume much more than 1,200 calories on the same number of daily points.
In the example above, even if you ate additional servings of watermelon (or any other fruit), more vegetables, and a larger bowl of chicken tortilla soup – you could keep the daily points the same while increasing calories.
Here's an example of a 1,500 calorie day on WW, with points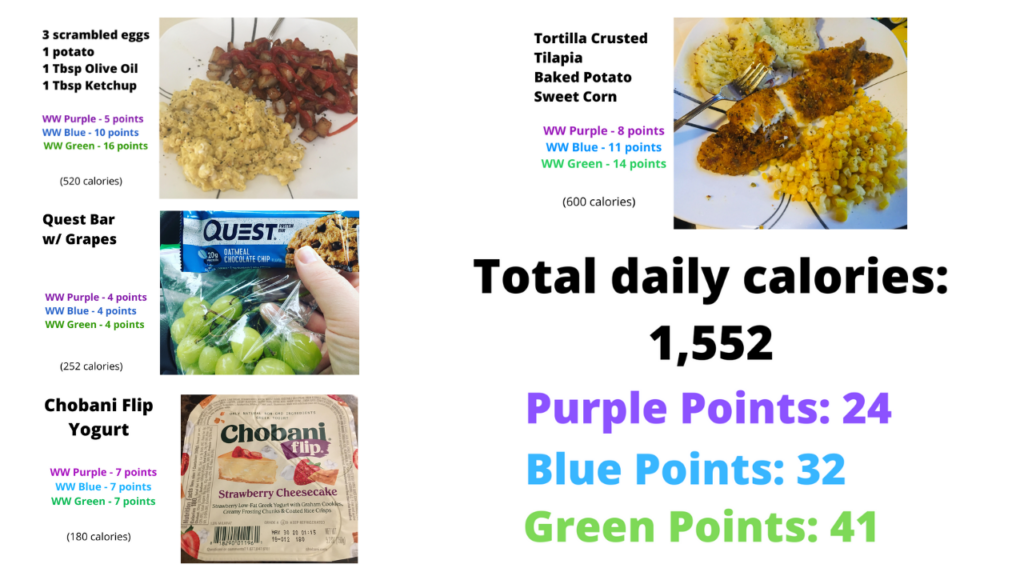 If you were to increase the calories to around 1,500 here's what it could look like. (Ok, again it's 1,552 but pretty close)
Breakfast is 3 scrambled eggs with diced fried potatoes (measured out the oil to 1 tbsp), lunch of Oatmeal Chocolate Chip Quest bar, and some grapes, dinner is tilapia with corn and a baked potato, and dessert is a strawberry cheesecake Chobani flip Greek yogurt.
1,550 calories vs points
Purple
Points
Blue Points
Green Points
Calories
Potatoes and Eggs
5
10
16
520
Quest bar/grapes
4
4
4
252
Fish, Potato, Corn
8
11
14
600
Yogurt flip dessert
7
7
7
180
Totals
24
32
41
1,552
Again, the points vary depending on the plan you follow – it's 24 points for Purple, 32 points for Blue, and 41 points for Green.
You could even easily make changes to this meal plan to reduce the points and calories, like air fry the potatoes (takes away the need for olive oil), eat just 1 or 2 eggs instead of 3, switch to a healthier yogurt with less sugar, and swap the corn at dinner for a light salad or less starchy veggie.
If you did that, you could alter this meal plan to be closer to 1,200 calories and have significantly fewer points.
Personally I think potatoes fried in oil are worth the extra points, and I'm willing to spend them. But if you're not, you don't have to!
The Bottom Line
There is no direct equivalency between 1,200 calories and any amount of Weight Watcher points.
If you follow this program, you may find your calories could vary quite a bit on a daily basis, depending on the type of foods you eat throughout the day. If you eat a lot of fruits, vegetables, and lean proteins, you could come in at a higher calorie amount but still stay within a low point range.
Alternatively, if you eat a lot of "junky" food, you may rack up points quickly without even hitting 1,200!
In either case, the zero point items are designed to fit into your daily eating plan. Even if you don't have to track everything, the majority of people will still be eating less even without worrying about calories at all.
Check out current deals on Weight Watchers membership here
Please follow and like us: