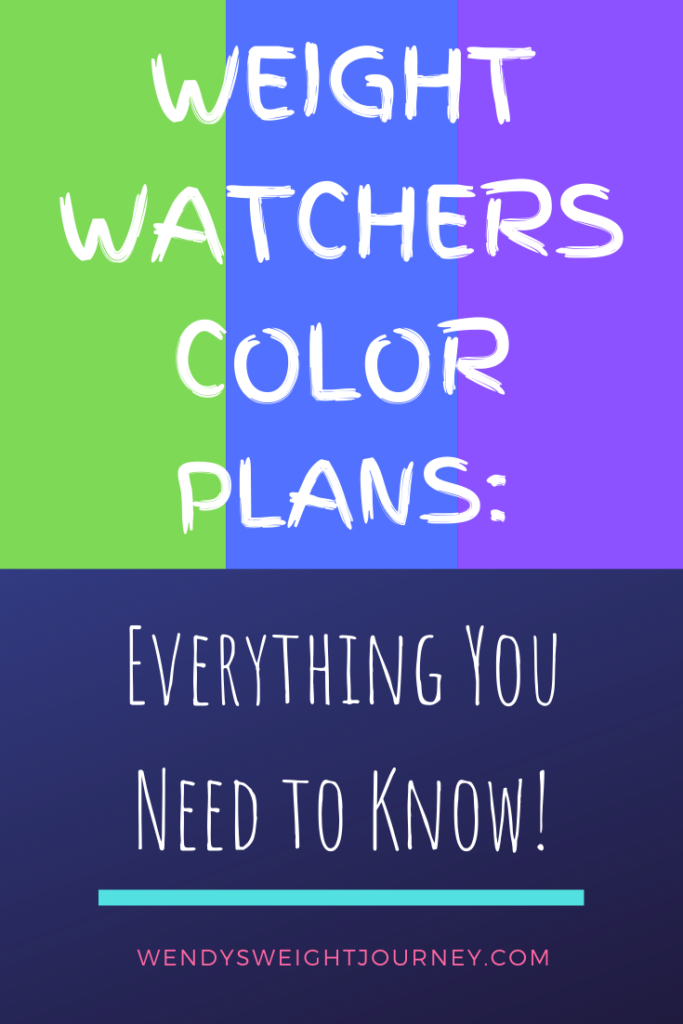 Followers of the WW plan have been asking for choice, and they've finally introduced it with the new Weight Watchers color plans for 2020.
Actually, they have introduced THREE different plans- purple, blue, and green. While none of these are really "new" plans, you'll now have the option to pick which one you want to follow. 
If you're familiar with Weight Watchers (or WW as they call it now) you may know they tend to switch up their plan frequently. They claim they are keeping up with the latest research in health and wellness, but it ends up disappointing many followers. They've finally decided to let their customers choose which plan is the best fit for them.
Weight Watchers Plans Comparison (New for 2020)
| | | | |
| --- | --- | --- | --- |
| Color | Formerly Known As… | Daily Points | # Free Foods |
| Green | SmartPoints Beyond the Scale | 30 minimum | 100+ |
| Blue | Freestyle | 24 minimum | 200+ |
| Purple | Simply Filling | 16 minimum | 300+ |
Daily points listed in the table are minimums but can increase based on individual factors like your weight, sex, height, and age. Typically the heavier you are, the more points you're allowed. As you lose weight, they will decrease your daily point allowance.
Grab 3 free months and pay $0 to start through this link
Weight Watchers Green Plan
The green plan is a reintroduction of their SmartPoints Beyond the Scale plan.
With this plan, you'll get the most amount of daily SmartPoints, but also the least amount of free foods. Fruits and non-starchy veggies are zero points, but things like chicken, eggs, beans, and greek yogurt that were previously free on Freestyle are now going to have points and need to be tracked.
This plan is great if you want more accountability, or if you just want the freedom of more points to eat the foods you want.
Free Foods with WW Green: Fruits and non-starchy veggies, includes unsweetened applesauce, unsweetened fruit cocktails, pickles, salsa, tomato sauce, tomato puree, water chestnuts, and wax beans
starchy veggies with points on the Green plan: potatoes, corn, parsnips, peas, plantains, and squash
Weight Watchers Blue Plan
The Blue Plan is the previous Freestyle plan. This one includes a list of over 200 zero point foods, so in addition to fruits and vegetables, you'll be able to eat things like chicken, beans, greek yogurt, and eggs without tracking them.
This is good for people who don't tend to overeat the zero point foods but still enjoy eating and cooking with them. There's also a freeing feeling that comes with not having to track everything you put in your mouth or a recipe.
Free foods with WW Blue: fruits, veggies (potatoes are not included, but corn and other starchy veggies are), non-fat plain Greek yogurt, lean meats like chicken and turkey if 98% fat-free, eggs, beans, lentils, edamame, chickpeas, fat-free, refried beans, tofu, fish, tomato sauce/puree, salsa
Weight Watchers Purple Plan
This plan is their old Simply Filling plan, slightly modified. With the Purple Plan, you get the most freedom of free foods to select from, but the least amount of daily points. This one includes a list of over 300 zero point foods.
So in addition to fruits, veggies, eggs, lean meats, and beans – you're also going to be able to eat whole grains, like whole-wheat pasta, oatmeal, and even starchy veggies like potatoes.
This plan is great for people who want to eat healthy, whole foods most of the time but still need accountability for extras and splurges.
Free foods on WW purple: includes all free foods from Blue plan, but also potatoes, brown rice pasta, brown quinoa, whole-wheat couscous, black bean pasta, brown rice, potatoes, sweet potatoes, yams, fish (including canned tuna in water), non-fat cottage cheese, oatmeal, air-popped popcorn without oil
Whole wheat bread is NOT included in the Weight Watchers Purple plan.
How many points do you get with Weight Watchers new plan?
With the Green plan, you'll get a minimum daily point allowance of 30 Smarpoints, but this will be adjusted for personal factors like age, sex, weight, and height. (I get 44 daily points with Green)
With Blue plan, you'll get a minimum daily point allowance of 23 SmartPoints which again, will be adjusted for personal factors like age, sex, weight, and height. (I personally would get 34 daily points with Blue)
With the Purple plan, you'll get a minimum daily point allowance of 16 daily SmartPoints, adjusted for personal factors like age, sex, weight, and height. (I personally would get 24 daily points with Purple)
Want 3 free months on Weight Watchers? Sign up here
Food examples with point values for Purple, Blue, and Green
Going over some different foods/meal examples might help you better understand what you'll be getting into with the color plan you select.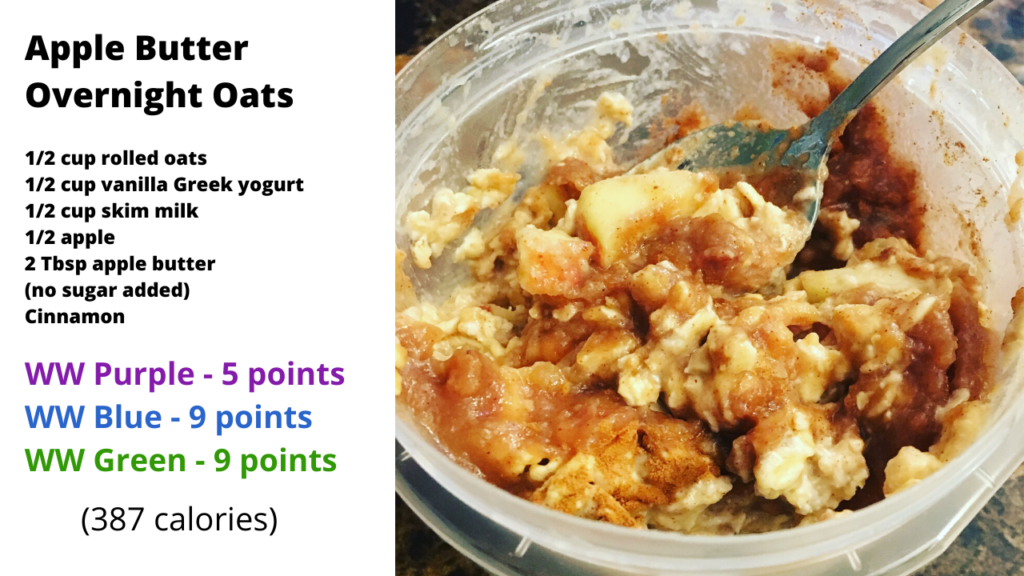 The reason these apple butter overnight oats are only 5 points on Purple, but higher on Blue and Green, is that oatmeal is a zero point food on this plan.
Oatmeal is 4 points for 1/2 cup on Green and Blue, which raises the point value of this breakfast.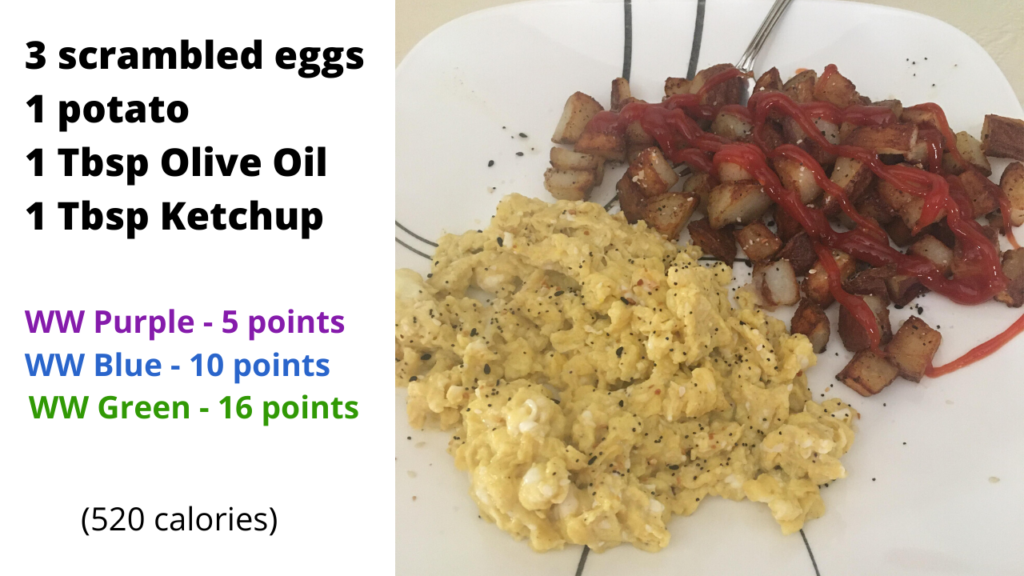 This example shows just how drastically a meal can change in points by the plan you choose.
Eggs and potatoes are both free foods on Purple, which makes this meal relatively low in points for the amount of food.
Eggs are free on Blue, but potatoes aren't, so you have to count those into the total point value.
On Green plan, both eggs and potatoes have points, which is why the overall total is so much higher.
This is the ever famous "2-ingredient dough" that is so widely popular. (It is pretty good, and I've been making it for awhile!) You can find out my exact recipe for this pizza here.
This pizza does not change drastically in points across plans. The only difference is because it uses fat-free plain Greek yogurt in the crust, it lowers the point value slightly for Blue and Purple, which both include plain non-fat Greek yogurt on the list of free foods.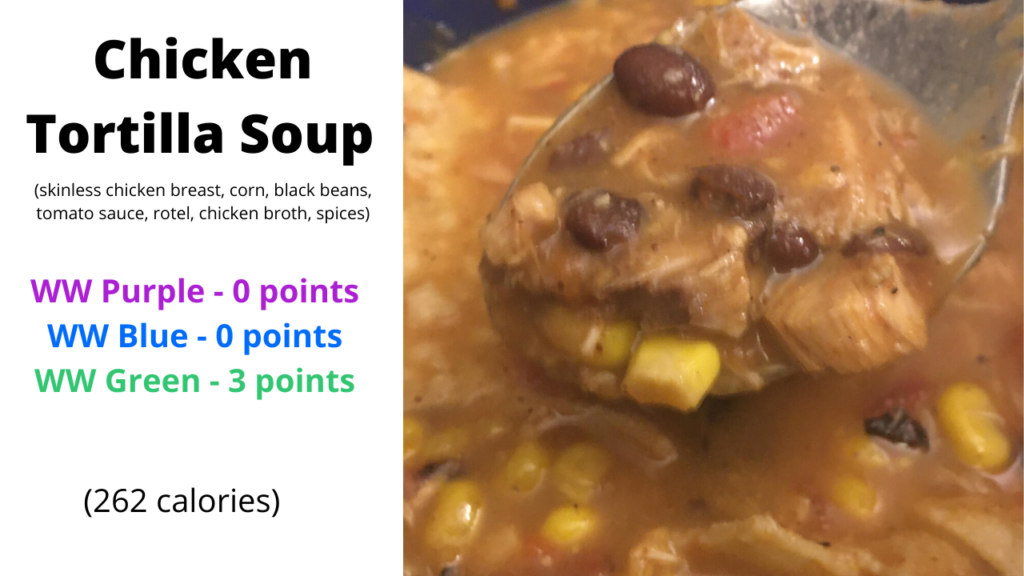 This chicken tortilla soup (recipe here) is actually zero points on Purple and Blue because it is made with pretty much all zero points foods – skinless white meat rotisserie chicken, corn, black beans, and tomatoes.
It does have a few points on Green since black beans and chicken are not free foods, but it's a pretty great low point option in any case!
But not every food point value is different! They still use SmartPoints on all plans
Something important to note is the actual point value of foods doesn't change across plans, they are all calculated with SmartPoints.
The only thing that is different is the zero point foods. So when you calculate the total point value for different meals, like in the examples above, and they include zero-point items that are different across plans, they will change when you switch across plans.
However, if a meal doesn't contain any varying zero-point foods, it won't change. Here are some examples…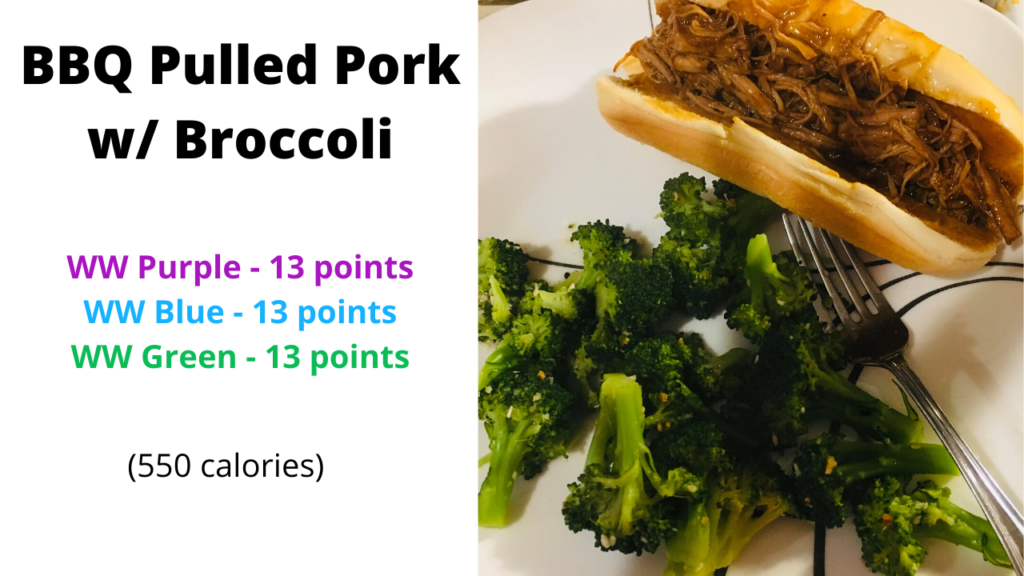 The only zero point food in this meal is broccoli, and since that's free across all plans the overall point value stays the same on Purple, Blue, and Green.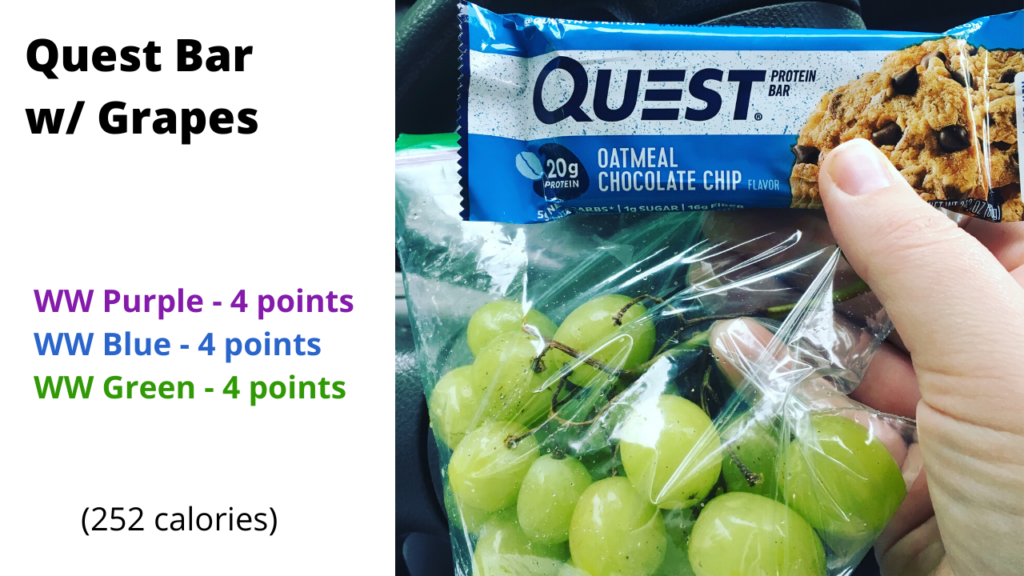 Grapes are free on all plans, so the point value stays at 4 points here for the Quest bar.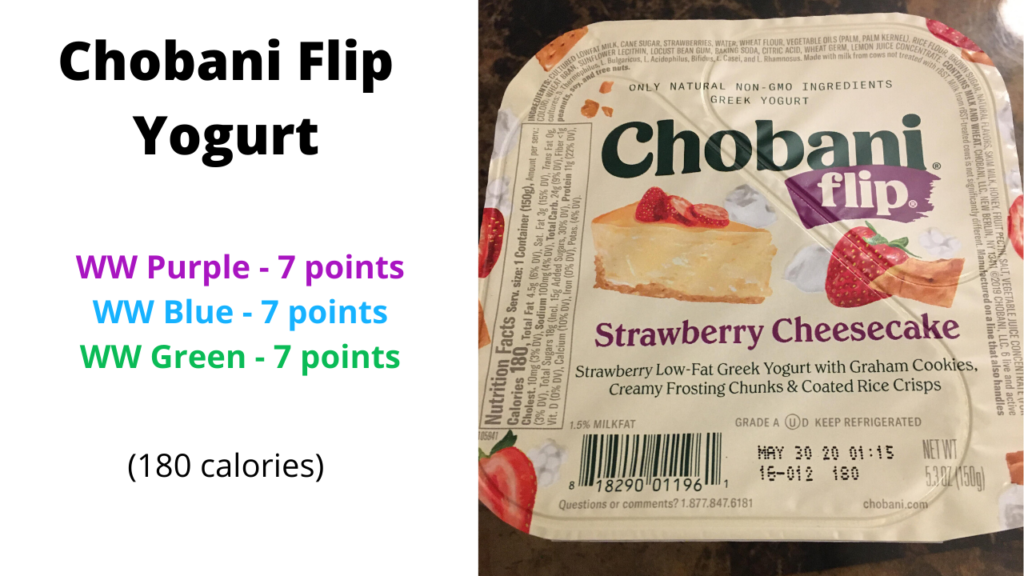 7 points across the board for this Chobani flip Greek yogurt, as it's not a zero-point item on any plan and is just calculated with standard SmartPoints.
Grab a subscription and get 3 months entirely free here
Do you still get weekly points and Fitpoints with the new plans?
Yes, Weight Watchers still adds in an additional weekly points budget no matter which plan you choose to follow.
You'll also be able to earn Fitpoints on any of the plans too. These are additional points you can earn for any exercise you do. If you have an activity tracker like a Fitbit, you can connect it directly to the app and it will automatically add Fitpoints based on your activity. 
Using your weekly and Fitpoints is entirely optional. You can opt to use as many or as few of them as you like each week. 
Which fitness trackers can connect to the Weight Watchers app?
Currently, Weight Watchers connects to Fitbit, Misfit, Withing, Garmin, Mapmyrun, Daily Burn, and Apple Health. If you use a different type of Fitness app or tracker, you'll need to enter your Fitpoints manually if you want to keep track of them.
These will allow Weight Watchers to automatically keep track of your Fitpoints based on your activity, so you won't have to log any points manually.
What about rollovers?
Each day, you can choose to roll over up to 4 unused points to be used either the next day or added to your weekly allowance of points. These reset each week, so you can't save them up for the next week! Blue, Green, and Purple plans all include rollovers.
You can turn off rollovers within your settings if you don't want to use them at all.
Color
Examples of Free Foods
Green
fruits and non-starchy vegetables
Blue
fruits, veggies (not potatoes), non-fat greek yogurt
eggs, lean meats, beans
Purple
fruits, veggies including potatoes, lean meats, beans,
whole-wheat pasta, whole-wheat couscous, brown quinoa,
oatmeal, whole grains, eggs, fat-free cottage cheese
Digital, Studio, Coaching
Despite the plan changes, Weight Watchers is still offering the same 3 tiers of membership.
Digital: This is online only and gives you access to their app to keep track of your daily food points as well as gain access to their community, recipes, and daily tips. You can access this from their website at weightwatchers.com as well if you don't use apps, or prefer doing things on the computer.
Digital + Studio: You'll get full access to digital, but also be able to attend weekly meetings at any location near you. You can attend different meetings to see which is the right fit for you. Depending on where you live, you may have a lot of different studios near you. I live in a medium-sized town, and there are 9 close by.
Many WW users find weekly meetings critical to their success as it provides a greater level of support and accountability. At these meetings, you will get weighed in (optional) and have weekly discussions that'll teach strategies for losing weight, tips, and tricks about food, as well as having some extra support from your leader and other members. 
Digital + Personal Coaching: This plan is the most expensive, but you'll have access to weekly 1:1 phone calls from your coach, as well as unlimited messages with them. 
Which color WW plan is best?
Really, there's no answer as it is entirely dependent on the individual.
If you're not very good at self-control when it comes to food, even if that food is healthy, you may want to opt for Green plan to keep yourself on track and lose the most weight possible.
If you'd rather not worry about tracking everything you eat (and plan to eat mostly whole, unprocessed food) than Purple or Blue plan might be better options for you to try.
The good thing is, you can try each plan to see which you like best. They recommend you give the plan at least 2 weeks to truly test it, but if it's not working for you, you can switch to something different.
You can easily switch your Weight Watchers plan to Blue, Green, or Purple from within the settings of the app or if you're logged in on their website. You can do this under Account—>Settings—>Food plan.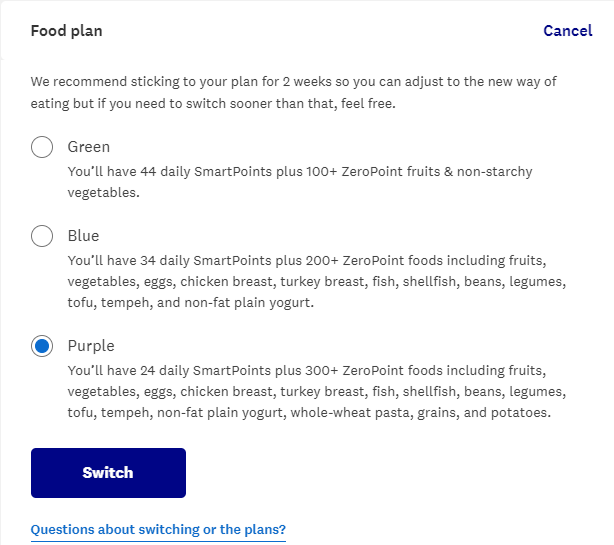 Ultimately if you eat too much, you won't lose weight. So following plans like Blue or Purple, you will need to still be mindful of how much you are eating, even with "free" foods.
Please follow and like us: