Are you debating between MyFitnesspal vs. Noom's food tracking app? Both of these are pretty popular, but they do have some significant differences.
MyFitnesspal has been one of the most popular calorie-counting apps for a long time now, but Noom is a more recently popularized app for weight loss that you may have been hearing a lot about.
I've used both Noom and MyFitnesspal for food tracking, so I thought I'd give a more in-depth comparison for those on the fence about which would be better.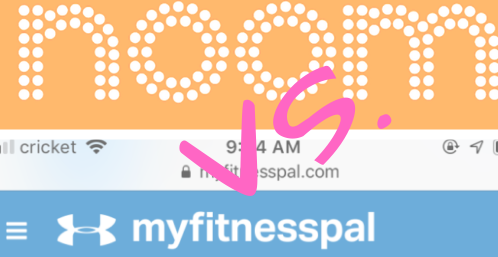 Noom vs. MyFitnesspal – Side-by-Side Comparison
MyFitnesspal
Noom
What is it?
Flexible food tracking tool – counts calories/macros and can
be used with any
diet plan
Customized weight loss program that includes a food tracking tool
that's based on calorie density
Key
Features
★ Calorie tracking
★ Macronutrient tracking
★ Recipe Builder
★ Extensive food database/barcode scanner
★ Advanced charts/graphs
★ Community
★ Calorie tracking
★ Emphasizes calorie-density with color-coded foods
★ Custom coach and group support
★ Daily tasks, lessons, and quizzes
★ Tries to get you to tackle your mental barriers to weight loss
Sync with fitness/health apps
Yes, 50+ different apps
Yes, 10+ different apps
Free version
Yes, most features
are completely free
While you can use basic tracking for free, you must pay to access the core of the program
Accessibility
Website or app
App-only
Premium Price
$9.99/month
$1 for 2-week trial, then
$59/month
What is MyFitnesspal?
MyFitnessPal started as a food tracking website back in 2005, but it wasn't available as an app until around 2009.
The good thing is, the website version still exists so you can use it from any computer without a smartphone. Personally I like being able to log in from a computer if I feel like it. I'm not one of those people that likes to do everything from my phone… so if that sounds like you, MyFitnesspal may be a better option.
But unlike Noom, MyFitnessPal is not so much an individualized weight loss program as it's just a calorie counting/food tracking tool.
You just fill out your parameters, and the app will calculate how much you should eat on a daily basis to lose weight that's anywhere between 1/2 – 2 lbs per week (or maintain).
Aside from the basic guidance on how many calories and macros to consume (protein, sugar, carbs, fiber), there's no curriculum or coaching going on.
It features an extensive food database that even includes items from many restaurant chains, a recipe builder, plus a barcode scanner to easily upload and view nutritional info for any food you have on hand.
It's also, for the most part, completely free to use it. You don't have to pay a monthly fee for access to the bulk of features with MyFitnessPal.
What is Noom?
The Noom food tracking app is designed to help you lose weight, in part, by dividing up your foods into colors – green, yellow, and red.
These colors are based on the idea of calorie density – green foods being bulkier foods that fill you up with fewer calories, like fruits and vegetables, while red foods have high calories in comparison to the amount (like nuts).
Your calories are divided up into eating a certain number from each category – the most from green, less from yellow, and the least calories from red foods.
If you want to use the simple food tracking system from Noom, you can use it for free.
However, unlike MyFitnesspal, the core of the Noom program is a specific paid weight loss subscription, that focuses on "tackling psychological barriers" that prevent people from actually losing weight, according to the company.
You tell them how much weight you want to lose, how easy or difficult you want the program to be (which basically means how fast you'll be trying to lose weight), along with some personal details like age, sex, height, weight, medical conditions, etc, and they'll customize a program unique to you.
In order to use Noom, you must use the app. It's not developed as a fully functioning website at the moment.
The paid version of Noom comes with daily reading materials, tasks, and quizzes, plus weekly support from a Noom coach.
The idea behind this is they're trying to set you up for lifelong success when it comes to making healthy food choices, instead of making you rely on tracking food forever.
Key differences between Noom and MyFitnessPal
These two apps are similar in that they both offer software that lets you track your daily food intake, but they are actually pretty different.
Food tracking
Both MyFitnessPal and Noom track food with calories, but the way they do it is slightly different.
Color coding: Noom uses color-coding – Red, Yellow, and Green – to classify foods into categories according to their calorie density.
Your calories are split up into each and you're given an approximate amount of calories to aim for in each color group throughout the day.
For example, here's a sample of foods from red and yellow categories…
The red category is not just made up of "bad" foods, these would be any type foods that have high calories in relation to volume. For example, high-fat meat, sugary condiments, cheese, and peanut butter.
The yellow category is moderate portions of foods like lean turkey, eggs, beans, pasta, and rice.
Here's a sample of food from green…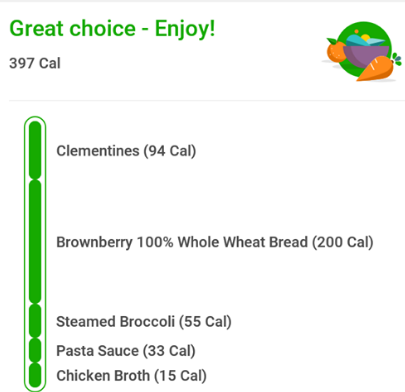 Any fruit or vegetables would fit under this category, as well as 100% whole wheat bread, broth, and other low-calorie foods.
Calorie/macro counting: This is focusing on calories plus the amounts of nutrients you should be getting per day, like protein, carbs, fat, along with fiber and sugar intake.

MyFitnessPal gives you goals to aim for each day to give you a guide as to how much you should consume. These aren't customized to an individual, they're more so general guidelines.
But the general goal of this program is to track your calories, so many people use it for calories alone without heavily focusing on specific nutrition.
If you use the premium version of MyFitnessPal, you can customize your daily goals for fiber, sugar, carbs, fat, protein, etc, to better fit with your specific diet.
Usability
I find both of these programs relatively simple to use and track food. They each include built-in barcode readers so you can easily scan any food you have on hand with a label to get instant calorie/nutritional info uploaded into the app.
I've noticed that MyFitnessPal does have a much more extensive database than Noom. The platform is open source in a way because it lets users upload their own food and recipes to the app's public database.
While it sounds great, the downside is there are a lot of incorrect food facts that were uploaded by users, and MyFitnessPal doesn't seem to moderate it.
When you search for food, you may get a ton of options that don't actually match the correct calories and nutritional information if you look at the label on hand. This is why I typically like to use the barcode scanning feature unless I know the entry is correct.
However, at least with MyFitnessPal, I know if I scan a food I'll get a correct match. When I tried using Noom, I had a difficult time finding food matches. There were several times I would scan a label and the software would tell me it couldn't find an entry, even though I've never had that happen with MyFitnessPal!
Community/Support
Noom is supposed to be heavily focused on support. They provide you with a one-on-one weight loss coach who you meet with once per week, plus put you in a customized support group.
I personally found the coaching less than helpful as it was a bit robotic, and while I didn't experience the group aspect, many users say it's seriously flawed.
You can read more about that within this Reddit thread.
While MyFitnessPal doesn't have any customized support program, they have a pretty extensive community forum that's easy to go in and search for specific threads, find answers, or ask questions.
MyFitnessPal also has a social aspect like Facebook, where you can add your friends and even be displayed a "newsfeed" (minus the politics and memes) that shows things like when your friends lose weight, complete their daily food diary, or go for a walk/run.
Overall, many find the free community support system set up within MyFitnessPal to be superior to the paid version of Noom.
Accessibility
Something I want to emphasize is Noom is app-only. If you don't use apps with a smartphone or tablet, you can't use Noom. While you can use Noom's website to take a quiz and sign up, you can't use the actual weight loss program without their app.
MyFitnessPal was developed originally as a website, and still has one to this day. You can go online and use it entirely to track food and search forums, although it is missing certain features of the app version, like the barcode scanner.
Pricing
The thing that's hard to beat between the two is that MyFitnessPal is pretty much free. While you can opt to pay the $9.99 monthly fee (or $49.99/year) for more customized tracking, you can still use basically all features of this program without paying anything, including the community forum.
Noom is much more expensive, at $59.99/month. Although the price goes down quite a bit if you sign up for any length of time, it's still a much more pricey option.
Just a quick note that there's a pattern of complaint about Noom's billing on the BBB (Better Business Bureau). The company is quick to respond and resolve these claims, so I don't think they're trying to "scam" people, but I do think they need to make changes with the way they handle their cancellations and billing process.
I always recommend for anyone interested in Noom, to pay with PayPal instead of a credit card. You can cancel any billing subscriptions within PayPal directly to be 100% sure you won't be charged again.
The Bottom Line
If you're looking for a basic app to track your food, it's hard to go wrong with MyFitnessPal. If you want the more advanced aspect of a personal coach and unique curriculum that's more tailored to your weight loss goals, many people do find Noom's program helpful (despite the criticisms).
Also check out: Noom vs. WW (Weight Watchers)
Please follow and like us: