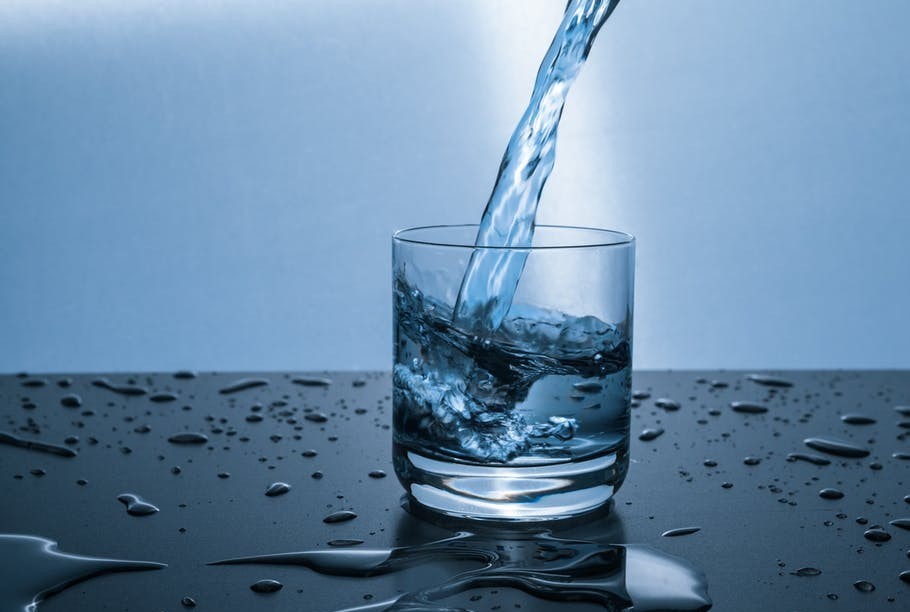 Drinking water can be a major issue for some people. My husband hates water, and he's not the first person I've met that told me that. There are countless articles online that talk about how to drink more water, but I want to talk about the tips to drink more water that I actually have found work best for me, personally.
Drinking more water has a ton of benefits, and helps with weight loss. It keeps you fuller and feeling less hungry throughout the day, so you'll eat less overall. It helps flush out toxins and keep your internal organs healthy and brain running smoothly. Some studies have even shown it helps boost your metabolic rate.
Another huge reason for me to drink more water is that it can help with kidney stones. After having one several years ago, I can tell you I would rather not have another one again. The worst part was, the nurse told me that now that I had one, I have a 50% chance of developing one again. But drinking water can help! The science behind it is because drinking more water increases the amount of fluid going through your system, it helps dilute minerals that crystallize in the kidneys that form the stones. It's not that well researched yet, but it makes sense. It's just another motivating factor for me to keep drinking it regularly.
So I really only have a few tips, but they make all the difference in the world.
Drink ice cold water
Something about ice water makes it taste so much better, that it actually makes me like it and drink more. Water that comes out of the tap is just not cold enough for me, and even water that is in the fridge isn't as cold as I prefer.
Having an ice maker in the freezer helps tremendously with this, as it's super easy to just grab and plop some cubes in your glass while it does all the work to keep the ice refilled for you.
Back when I only had ice cube trays, I would keep an ice container in the freezer and dump the ice in it, then use the trays to make more ice cubes until the ice bucket was filled. At least that way It was easy to grab the ice when I wanted it, and not have to fiddle around trying to get ice cubes out of the trays. It's more work but if you make it a habit it only takes an extra minute or two.
Another thing you could do if you have the extra freezer space or a chest freezer is to buy the big bags of ice at the store and keep them around. This is also helpful if you don't have good drinking water.
Use a Yeti cup
If you've never used a Yeti cup…OMG. These things are a game changer. My Mother-In-Law gave one to me as a Christmas gift last year and it's one of the best things in the world. It's just an insulated cup with a top and sliding lid, but it keeps drinks cold for a good 24 hours. Not just cold, but like REALLY cold. If I make a glass of ice water in one before I go to bed at night, it will still have all the ice cubes by morning and be super cold.
I like keeping water on my nightstand, but I always hated that it quickly warmed to room temperature even if I used ice. The Yeti cup totally changes that. It's also great for taking with you and having your water stay cold on the go.
If you like to drink cold water, this is one of the best things you can get.
Invest in a water filter
If you don't have the best tasting drinking water, investing in a quality water filter can make a huge difference in your willingness to drink more water.
Buy water in gallons or the larger dispenser containers
If you really don't like your tap water (or it's not drinkable) just buy water at the store. I used to live out in the country with well water, which was very hard and nasty tasting, so I just bought water. I liked to buy it in those larger dispensers you kept on a counter, or in gallons. I personally don't like water bottles for a lot of reasons, but two them being they aren't cold enough (can't put ice in them) and the plastic makes the water taste funny to me.
Use flavor mix/squeezes or dilute juice
This is debatable since these things have artificial sweeteners, but I say if it helps you drink more water, then don't be scared to use them. I try not to drink them all the time, but I do use them when I feel like drinking something with a little more flavor. At least it's better than drinking Coke or something, in my opinion. Plus you're still getting all the benefits of drinking water!
If you don't like the idea of artificial sweeteners, another thing you could do is dilute juice or kool-aid type drinks with extra water and ice. This is something I do for my toddler when she drinks juice.. I fill a cup mostly with water and ice, then just pour a splash of juice in it. It gives it some flavor while being mostly water, at least. The key to this is you really want it to be mostly water to make sure you're not drinking too many calories.
---
Okay, so those are the tips I have used that have helped me get more water in on a daily basis. The downside to all of this is you're going to be going to the bathroom a lot more… but it's okay because it makes me feel healthier and flushed out.
Please follow and like us: