I'm going to share a few tools I used that helped me get started on my weight loss journey (and actually helped me stay focused and lose weight). Some of these may seem obvious, some not so much, but they are all items that have helped me make progress, and that I think would help others as well.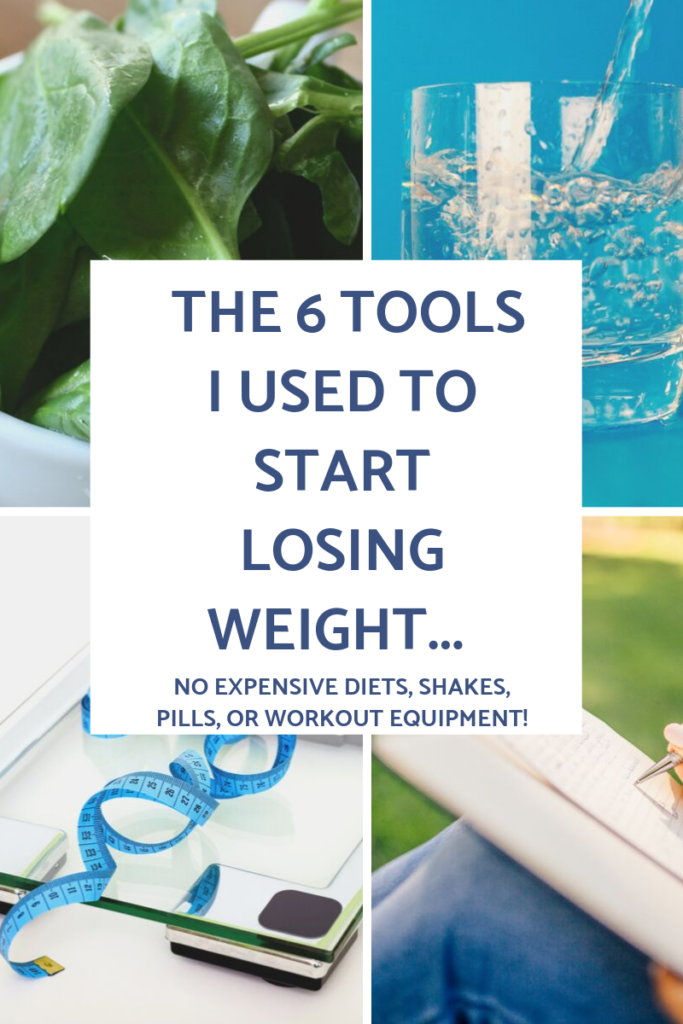 The diet and weight loss industry certainly can make you think you have to buy into some secret system or expensive products or programs to actually lose weight, but it's really not the truth. In fact, most of these things I started with you probably already own, or can get for fairly cheap!
While I do currently follow the WW Freestyle program, I lost quite a bit of weight before that tracking with Myfitnesspal and many of these items are useful regardless of what "diet" you may be following anyway.
#1 – Scale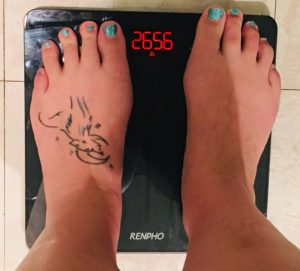 I know that finding the courage to step on the scale for the first time is difficult, but having a home scale is a pretty important tool to gauge progress. I use this Bluetooth scale because I like how it automatically records the weight and stats to an app on my phone and then keeps my weight updated in Fitbit and Myfitnesspal! But a basic scale works just as well, and you probably already have that!
That being said, I don't think it's healthy to get super obsessed with your weight, nor is it the end all be all indicator of success. But it is important to know where you're starting from, and checking your weight once a week, or once every couple of weeks is a good way to measure your progress.
#2 – Measuring Tape
Above all else (even more important than a scale in my opinion) is you'll definitely want a measuring tape so you can take your measurements. I mean, you probably already have one anyway so dig it out and USE IT!
You'll want to measure your upper arms, thighs, calves, belly (which is around your belly button), waist (above your belly, the narrowest part) and chest. You can also measure your neck if you want. Record them with the date. You want to take these once a month.
I know how terrifying it is at the beginning to actually measure yourself and know your true size. It's like reality strikes you. But it's incredibly motivating to see inches falling off your body.
Don't get me wrong, I think it's motivating to see the scale go down too! But it's so easy to get discouraged when the scale doesn't move even though you feel like you're working really hard. Your weight fluctuates depending on many different factors, especially on a day to day basis.
Your measurements don't fluctuate the same, and seeing numbers go down month to month, even if the scale isn't moving much, shows that you are progressing.
If you don't have a measuring tape, you can buy it for under three bucks and you won't regret it.
#3 – Big water bottle/cup
Okay so I'm really not one of those people that preach how you have to drink a gallon of water a day or anything crazy, but it is helpful to stay hydrated. I find drinking water consistently throughout the day helps keep my hunger down and makes me feel better.
If you have trouble drinking water, I find the easiest way for me to do this is to make sure I fill up a large water bottle with water and ice (because I only like to drink water when it's really cold!), and always have it handy. Using one that actually keeps water cold helps me a lot because I hate drinking water room temperature. If you need flavoring, use one of those squeeze things or packets with no calories.
Honestly, when I'm on the go and have a large source of really cold water with me, it prevents me from being tempted to grab a drink at a gas station or Mcdonalds.
If I'm just hanging around home, I like to use Yeti cups! If you don't know what a Yeti cup is, you should check them out. They keep your drink REALLY cold for a long time.
And actually, I bought this "knock-off" Yeti on Amazon and it's basically just as good if you want a cheaper version.
#4 – Activity tracker
If you are trying to lose weight and improve your health, being more active can really help. You don't have to think of being active as doing some workout at the gym either – it can be anything that involves actually moving your body. Walking, playing with your kids, playing fetch with your dog, parking farther away, taking the stairs – all the things you've probably heard before, but it really can make an impact.
And, if getting 10,000 steps a day if that's not realistic for you, don't stress. If you normally get 2,000 steps per day, try getting up to 4,000 at first. Any improvement can have a positive impact. This is where an activity tracker can really help you out and let you know how many steps you're taking, calories your burning, and even your heart rate.
There's something really encouraging about my Fitbit that I can't quite put my finger on – maybe it's being able to look back and see my progress throughout the week, and something about seeing it with data laid out in front of me is really interesting.
Or, if I'm on a hike, or the treadmill, or elliptical, or whatever it is that I'm doing, I can look and see how far I've gone. Sometimes it feels like it's been forever, but I've only taken 2,500 steps. Then I know I need to keep going.
I will admit they aren't for everybody, but if you like gadget-y things they may give you inspiration. I can tell you that it definitely helps me move more and stay active throughout the day, compared to if I'm not wearing one at all.
Fitbit is my go-to brand as I've owned a few throughout the years, but they definitely aren't super low in price. However, they have a ton of different fitness trackers that aren't actually the Fitbit brand, and you can find them for cheap
.
#5 – Food journal or food tracking app
This is one that might not necessarily be a physical item if you don't want since you can easily find an app for tracking your food. But I find tracking my food is extremely helpful for losing weight. It's so easy to forget what you put in your mouth throughout the day if you don't take note of it. It's also very easy to pretend it doesn't count or have calories if you don't keep a record of it (at least for me). I'm still guilty of doing this sometimes, but I do try to record almost everything I eat most days.
I started out my journey recording on Myfitnesspal, which is a free calorie counting app. It's really easy to use and they have an extremely large food database, and you can scan in new foods with the barcode scanner. Best of all it's free!
Although, currently I'm a member of WW (Weight Watchers) Freestyle and track with their app.
If tracking via an app isn't your thing, get yourself a notepad or journal to keep a record of the foods (and portions) of what you eat throughout the day.
#6 – Measuring cups/spoons + food scale
If you don't own measuring cups or measuring spoons, get yourself some! You can even buy them at the dollar store! A food scale is another option for measuring food portions, but it's a little more expensive than cheap measuring cups (although I'm pretty sure I got my scale for under $10).
It can be really helpful to measure out foods to know how much you're actually eating. I'm not the type of person that ever measured out or weighed things like fruit or veggies. But for most other things, especially very calorie-dense things like butter, oil, dressings, coffee creamer, or peanut butter – it's much more critical you do this (at least in the beginning) so you are aware of how much a serving is, and how much you are using.
A tablespoon of things like butter and oil can have around 100 calories, so if you're consistently eating more than you realize that really does add up throughout the day and can prevent you from ever being in a caloric deficit to actually lose weight.
A food scale is an alternative way to measure food, and actually it's even more accurate. It's also less messy because you're not constantly cleaning measuring utensils. This is the one I use.
I find myself using measuring spoons for certain things, and the scale for others but you can do whatever works best for you.
Losing weight does NOT have to be expensive…
Honestly you most likely already have the majority of these items lying around your house. The process of losing weight does not need to be expensive at all.
I'm just trying to be real about how I started losing weight. I didn't hire a fitness trainer, have a personal chef or use a secret fat burning supplement.
I didn't buy into any MLM weight loss diet or program or buy special gym equipment.
And while now, a little further into my journey I do go to the gym to workout, and I do follow a paid diet program (WW Freestyle) – I don't think you NEED to do these things to lose weight.
Especially in the beginning when you're first starting out, just start with whatever you can afford.
Everyone is different and needs to find what works for them.
I think 90% of the battle is being mentally prepared and ready to lose weight. If you're not ready, you can spend all the money in the world and still not be successful. If you are there and it has just "clicked" in your head – you can start with very little and be incredibly successful in your journey.
Please follow and like us: