Hi, I'm Wendy! I'm on a weight loss journey to lose at least 100 lbs without a traditional "diet" approach or quick fix. I'm here to document my entire journey, so come along for the ride 🙂
Hopefully creating this blog will help me become more accountable to myself, as well as inspire others.
How do I plan to lose 100 lbs without dieting?
I think the most realistic approach to weight loss is learning how to eat normally, without restricting certain food groups or giving up the things you love. I don't think I could ever give up pizza, chocolate or ice cream entirely, although I can learn to enjoy them in moderation.
I am going into this with the mindset that it's a lifestyle change, not a temporary solution. I need to learn to eat normally, and not use food as a comfort.
Starting pictures
Technically these are after my first month on the lifestyle change, but I'm sure I don't look that much different yet. So we will just use these as my "starting" photos. I'm pretty embarrassed to be posting these, but I feel that it's necessary to show where I'm starting from.
Front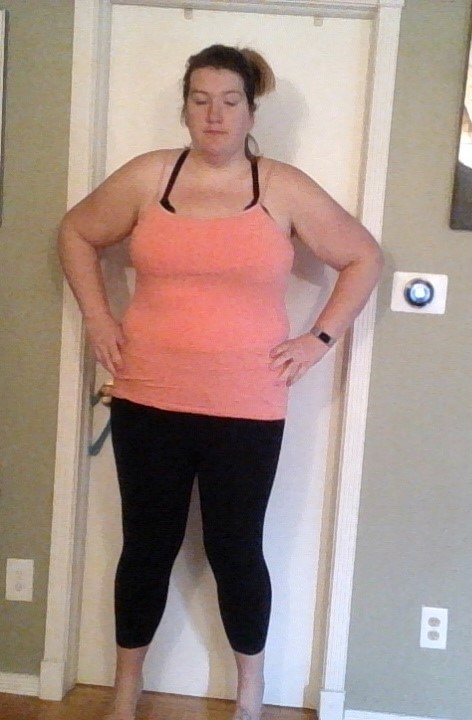 Side
Back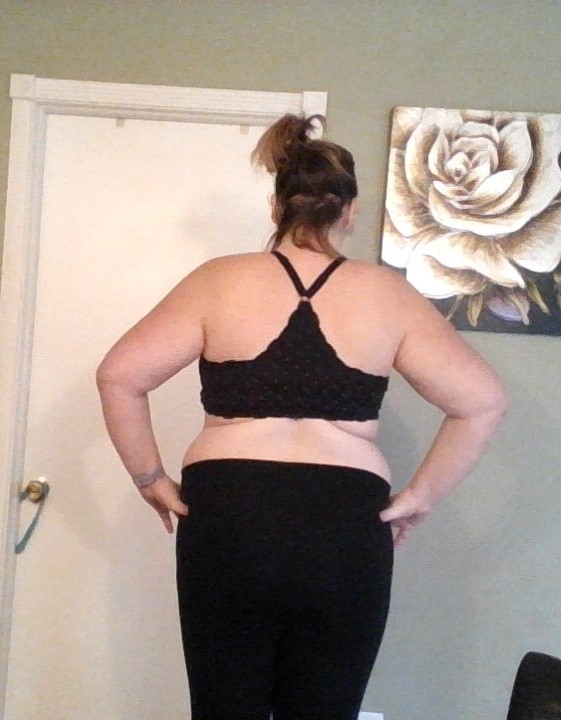 Also excuse the low quality graininess of these photos, taking them with my web camera was the easiest way to do it.
So with that, I really have three main things I am going to do to try and lose over 100 lbs
---
#1 Track with MyFitnessPal
MyFitnessPal is a really cool app that allows you to track everything you eat, as well as tell you how many calories to eat per day in order to lose (or maintain) a certain amount of weight. It also gives you daily targets for protein, fat, carbs, and fiber.
It currently has me eating 2,260 calories per day to lose 2 lbs per week, although it usually increases the amount when it syncs with my Fitbit. I typically eat between 1,800 – 2,400 calories per day, naturally varying it throughout the week.
#2 Enjoy all foods in moderation
Like I mentioned, I don't want this to be a diet. I'm just learning to enjoy all foods in moderation and not use food as entertainment or a comfort source anymore.
I will still eat carbs, fat, and sugar. I will still enjoy food. But I will cook a lot more, and eat out only occasionally. I also will incorporate more fruits and veggies into my diet, as well as try and get enough protein and fiber.
#3 Get 10,000 – 11,000 steps per day
The last thing I'm doing is aiming for 10,000 – 11,000 daily steps. I am using Fitbit to track my steps. I prefer Fitbit over other wearable trackers because I like their software, and I really like being able to be in challenges with my other Fitbit buddies!
Getting this many steps on a daily basis makes my body burn more calories, even though I'm not "working out" at a gym.
And that's it! Essentially I'm taking the advice "eat less, move more" and putting it to work. So far I've lost 12.6 lbs after my first month, and I plan to continue losing over 100 more!
Please follow and like us: