Wonderslim is a very-low-calorie diet that uses meal replacements to help people lose weight fast. If you follow this type of diet, you won't have to do much shopping, planning, cooking, or tracking – it's all pretty much done for you.
One aspect that makes these products attractive is the cost – they are typically more affordable and have better deals than other meal replacement companies.
If you're looking for a better review of the Wonderslim diet, let's look a bit further into the program to see what it's all about and if it's worth investing in.
For some people, it's diets like Wonderslim that work for them. You can find any current deals from this link.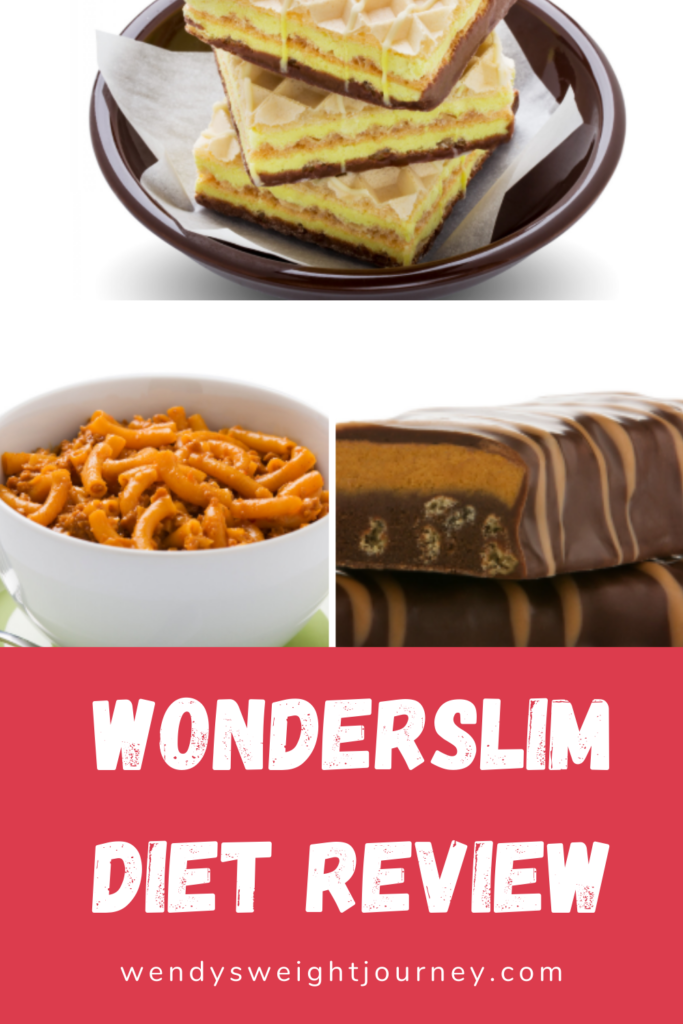 What is the Wonderslim diet?
Wonderslim is a brand of meal replacement products that are currently sold via Dietdirect.com. There are 3 different plan options you can choose from – basic, core, or premium (more about that below).
In the medical community, Wonderslim would be referred to as a type of very-low-calorie diet which causes rapid weight loss. Programs like this are recommended by some doctors to their patients who really need help losing some weight.
The idea behind it is you eat 7 small meals per day, instead of 2 or 3 larger ones. Each snack or meal is typically between 100 – 200 calories.
What this boils down to is you'll be consuming anywhere around 1,000 – 1,200 for most women, and 1,500 – 1,700 for most men.
These are made up of shakes, bars, snacks, and some meals are more "real" food like soups and pasta dishes.
All of the hot food comes in packages and must be mixed with water, so it's all non-perishable. Nothing comes frozen or refrigerated like you'd get with meal delivery programs.
You can shop on their website and purchase any products you want individually, or you can follow one of their recommended diet plans.
Unlike other programs, though, Wonderslim is more of a do-it-yourself and doesn't offer one-on-one support. That being said, they are much more affordable than other programs you might be familiar with.
How to follow the Wonderslim diet
There are currently 3 different diet plans you can follow. While you can browse their website and pick out products individually, it makes more sense to go with a plan, since you'll get the biggest discount.
Basic: You'll be eating 4 of their replacement meals per day, plus your own lunch and dinner. You'll get a discounted price on products and pay about $1.83 per meal.

You'll still need to do some regular grocery shopping with this plan since it only supplements some of your meals.
Core: You'll be eating mostly Wonderslim products – consisting of 3 of their meal replacements, 1 of their soups or lite entrees, and a bar or snack. This plan costs around $1.74 per meal.

You'll also still need to do regular grocery shopping with the core plan, but a bit less than if you followed basic.
With the core plan, you'll still need to do some grocery shopping that would add a bit on to your monthly food bill.
Premium: Basically all of your daily calories will come from Wonderslim products if you follow this plan – 3 meal replacements, 1 breakfast, 1 lite entree or soup, 1 bar/snack, and 1 dessert. this works out to $1.63 per meal.

This plan would only require very minimal groceries as you just supplement with some fruit or fresh veggies. The price you pay for your monthly food from Wonderslim would cover most of your grocery bill for the month.
All you do is replace a regular meal with one of their replacements/snacks, every 2-3 hours. With this type of very low-calorie diet, you're eating often throughout the day (7 "meals") but each one is very small.
The plans include pre-selected meals, but you CAN customize your order
With each plan, it comes with a set number of meal replacements, snacks, entrees, and shakes.
Each will automatically have a standard menu, but when you place the order in your shopping cart you'll be able to go in and edit the meals so you can order exactly what you want.
What are the benefits of following the Wonderslim diet?
Your meals are all planned out and ready to go
You don't have to do much grocery shopping
You don't have to track your food or count calories
The meals contain lots of protein to keep you full
The meals also are fortified with vitamins to meet your daily needs
Studies show very-low-calorie diets result in faster weight loss than more traditional programs
Some people find that having to plan, shop, and prepare all their meals is just too much to keep up with.
On top of that, you have to calculate calories or track the food each and every day to make sure you're sticking to a budget.
I will not lie, it definitely is work! That is why these types of diets are very appealing to some people.
There was even a study done about these types of very-low-calorie diets that showed participants lost more weight than other commercial programs (at least, initially).
If you're looking to shed some pounds really quickly before a wedding or vacation, this is one option for you.
Best Wonderslim food to order
This all comes down to personal preference and taste, but these are some of the popular items I found customers liked a lot:
Cinnamon crunch cereal
Lemon meringue bars
Caramel cocoa bars
Protein wafer bars
Mocha cream shake
Strawberry cream shake
Pancakes
Spicy cheese and pasta
Chocolate mint snack bars

They have a 100% satisfaction guarantee so you can get a refund on the items you dislike
If you don't like a product, they will replace it with another product or refund your money. This makes it much less risky since you don't really know what you're going to like or dislike before you try it!
Just keep in mind this only applies if the packages are unopened or minimally depleted (you can't eat an entire box and get your money refunded, but if you just eat 1 and dislike it, it's ok).
I did talk to their customer service and they were really friendly and helpful. They're also very easy to get in contact with since a chat box pops up with a live representative when you visit the site. (You can tell it's a real person and not a bot)
Is Wonderslim expensive?
There is no denying that Wonderslim products are more costly than regular food you'd buy at the grocery store if you do a side by side comparison.
However, it's worth noting that for these types of replacement food diets, it's significantly less expensive than competitor brands. They also have a ton of different coupon codes so you can save money.
Many people switch over from other replacement meal plans to Wonderslim simply due to the cost difference. (It's currently about $100 less expensive to order a month of meals from this company vs. others).
Another thing to consider is that it's also supplementing or replacing your monthly food bill (depending on the program you follow), so even though the price tag is higher for these replacement meals, you will have a significantly lower grocery bill.
Can you buy Wonderslim in stores?
Wonderslim products seem to be sold exclusively online. The entire range can be found via Dietdirect.com, although they carry some products on third-party sites like Walmart and Amazon.
The Bottom Line
No diet is a one-size-fits-all, and the type of diet you follow is a personal choice. I know diets like Wonderslim are not for everyone, but if you're looking for a more budget-friendly meal replacement system for weight loss, Wonderslim is a good option.
Please follow and like us: