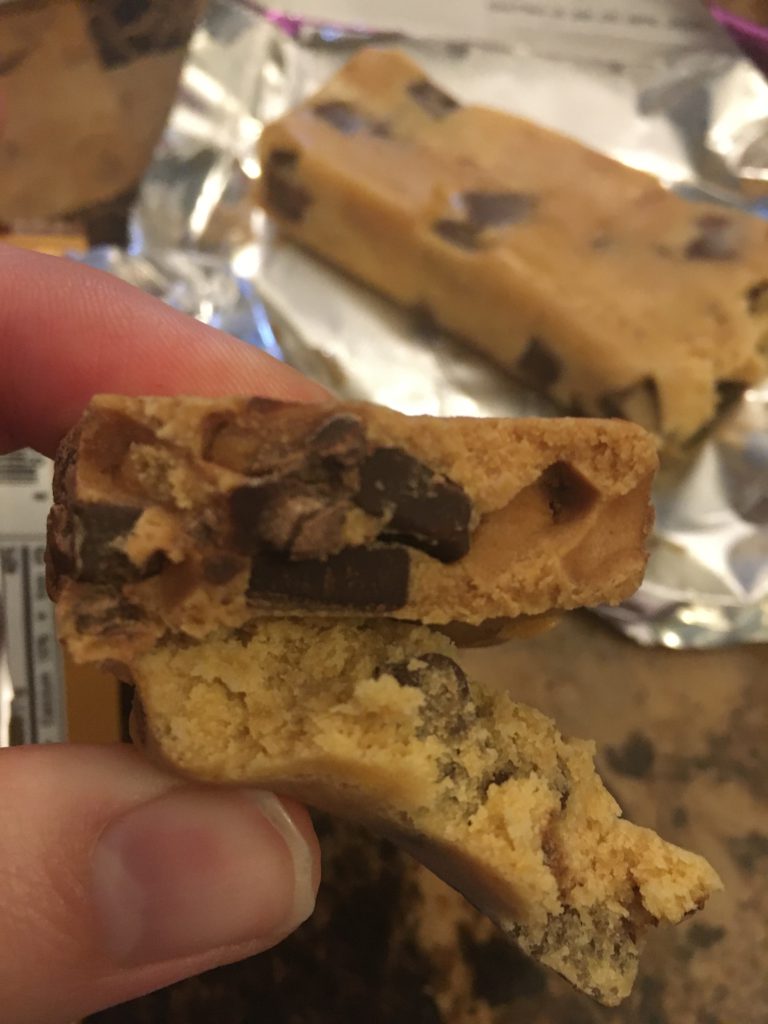 I first came across Quest bars years ago (back in 2015) and I really liked them. However, I have recently discovered Costco's version of these and I thought it'd be a good idea to compare them.
After all – they have nearly identical nutritional profiles but one is less than half the cost! So let this be the battle between Kirkland protein bars vs Quest – is there really a difference? The outcome just may surprise you!
Kirkland vs Quest protein bars – At a Glance
Kirkland (Costco)
Quest
Price

$1 per bar (only available in large boxes)
$2.30 avg retail, can buy single bars
Taste
Great, especially Cookie Dough
(my fav)
Pretty good with the
distinctive "Quest-y" flavor
Texture
A little chewy, but
not hard
Slightly chewy, but
softer than Kirkland brand
Flavor variety
Only 4 flavors available
20+ flavors available
Ingredients
I've heard people say that these are literally the same bars that were manufactured in the same facility and sold under different labels. I know that's true for some things, but looking at the ingredients you can see they are not identical.
Kirkland Protein Bar (Chocolate Chip Cookie Dough) – protein blend (milk protein isolate and whey protein isolate, dietary fiber from tapioca starch, cashews, unsweetened chocolate, erythritol, natural flavors, cocoa butter, sea salt, water, sunflower lecithin, steviol glycosides (stevia).
Quest Protein Bar (Chocolate Chip Cookie Dough) – protein blend (milk protein isolate, whey protein isolate), soluble corn fiber, almonds, water, unsweetened chocolate, erythritol, natural flavors, cocoa butter, contains less than 2% of the following: sea salt, sunflower lecithin, steviol glycosides (stevia), sucralose.
Key ingredient differences
Kirkland
Quest
Fiber
tapioca starch
corn fiber
Nuts
cashews
almonds
Sweeteners
erythritol, stevia
erythritol, stevia, and
sucralose
Nutrition
Nutritionally, they are also very similar. Let's take a look at nutritional value comparison of the Chocolate Chip Cookie Dough flavor: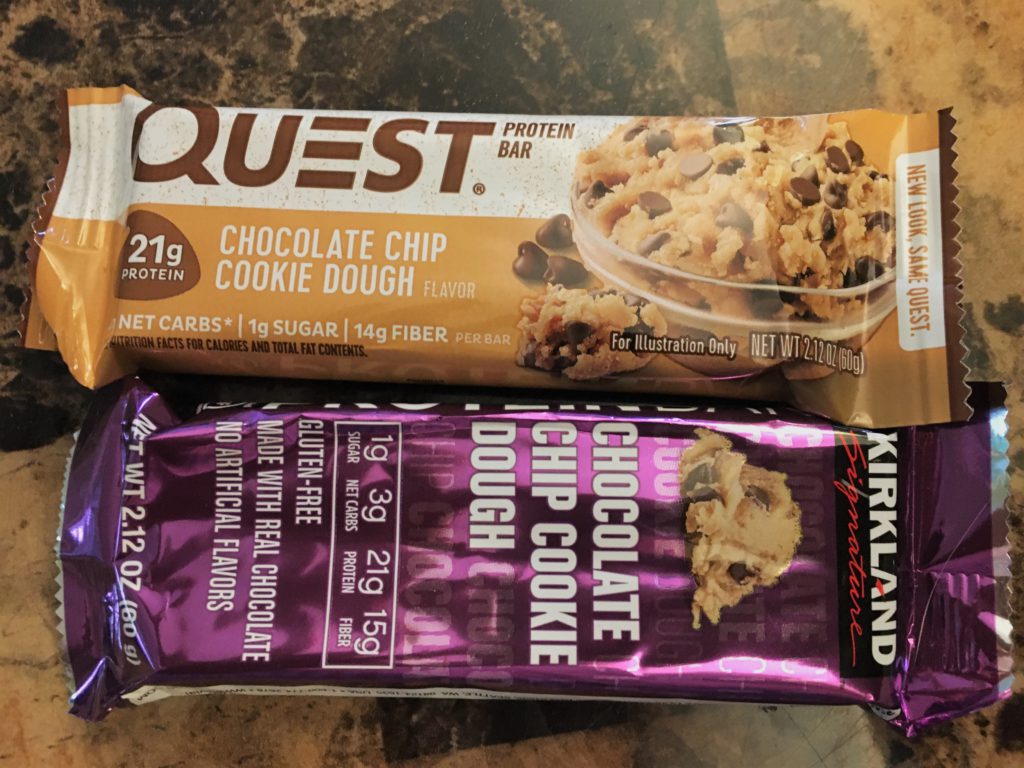 | | | |
| --- | --- | --- |
| | Kirkland | Quest |
| Calories | 190 | 200 |
| Fat | 7 g | 9 g |
| Protein | 21 g | 21 g |
| Fiber | 15 g | 14 g |
| Sugar | 1 g | 1 g |
| Net carbs | 3 g | 4 g |
| Sodium | 190 mg | 190 mg |
Quest has slightly higher calories and fat content for this particular flavor and 1 gram less fiber. (these values may vary slightly between flavors)
Taste/Texture
Texture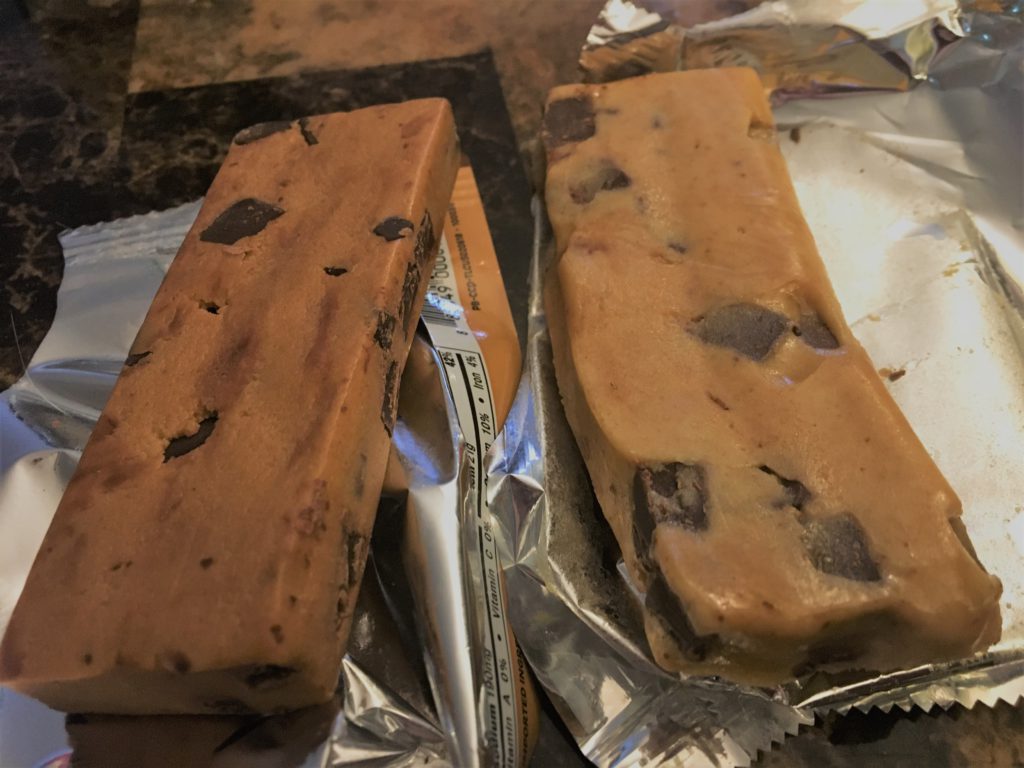 To be honest, it's pretty similar, but I have to admit that I think Quest has a slightly better texture because it's less sticky. Kirkland protein bars are, in comparison, chewier and stickier than Quest. You can even tell from the picture above (Quest is on the left).
However I will say I don't like really chewy/sticky textures and I don't mind Kirkland bars, so it's not bad at all – it's just the only textural difference between brands.
Taste:
This is something that's hard to describe if you've never had either one before. If you have had Quest, the Kirkland is pretty close. It's not overly sweet and tastes entirely different from other protein bars.
However, I prefer the flavor of the Kirkland protein bars. Many people say that Quest bars have a distinct "Quest" essence and I do agree. I can't exactly put my finger on it, but it's there (stronger in some flavors than others).
I will say, the "Quest-y" taste is missing from Kirkland's brand, which probably contributes to the better overall flavor.
Although I do LOVE Quest's white chocolate raspberry and oatmeal chocolate chip flavors, and the chocolate chip cookie dough is pretty darn close to Kirkland's. (I have not tried ALL of Quest's flavors though!)
Flavor Variety
If you're looking for variety, Quest has it beat. They have over 20 different flavors (way too many to lists) while Kirkland only has 4 – chocolate chip cookie dough, chocolate brownie, peanut butter chocolate chip, and cookies and cream. They used to have a cinnamon roll but I don't see it available anymore.
Price
The price difference is pretty significant – Quest bars retail for over $2 per bar (I usually see them for around $2.30 at stores here). If you buy them in a 4-pack, they're slightly cheaper. Sometimes you can get them on a good sale, but I've never seen them for as cheap as Kirkland's brand, which is only $1 per bar!
The downside with buying the ones from Costco is you have to buy them in 20 ct boxes from the store (or 40 ct online). While it's definitely cheaper, it's a lot more to spend at once.
The Bottom Line
I definitely recommend you try Kirkland's brand, especially if you already like the Quest bars (or vice-versa). They're both worth trying for sure. And for having only 1 gram of sugar, it's hard to beat. Especially when they're only 4 or 5 points (depending on flavor) when you're on Weight Watchers!
Please follow and like us: