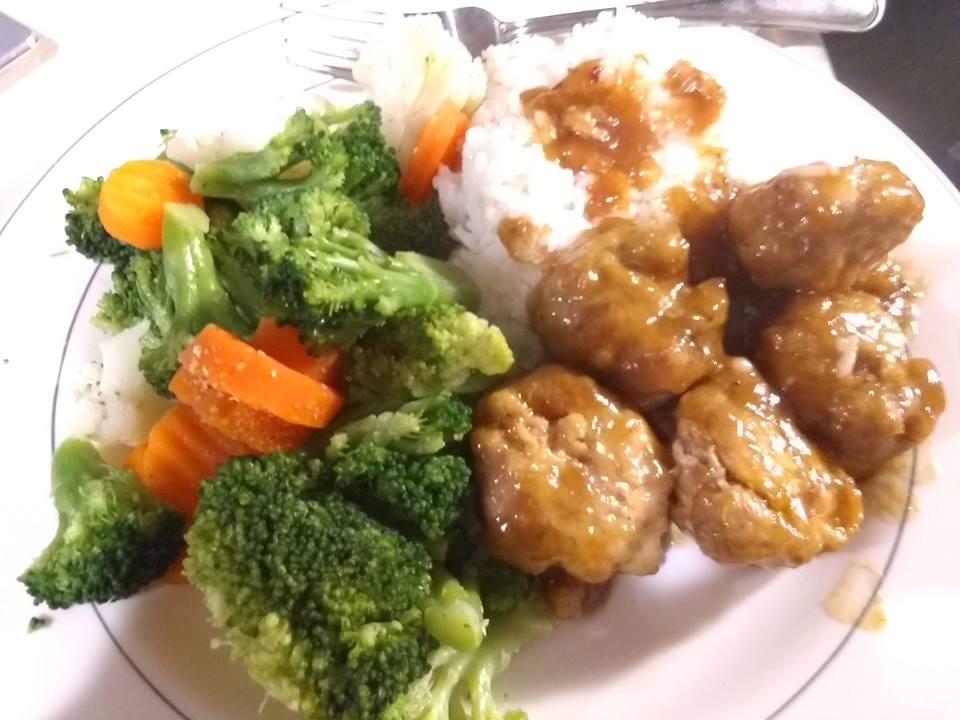 I really much enjoy General Tso's chicken, especially if it's not too much on the spicy side. This recipe for an easy General Tso's Chicken/Pork Meatballs is the perfect flavor combination, and you can easily adjust the spiciness of it depending on your tastes.
Man, Ordering Chinese takeout and going to Chinese buffets used to be one of the things my husband and I did regularly. So I decided I needed to start making Chinese dishes at home as an alternative, but ones that aren't quite so horrible for you. Sure, I can eat classic Chinese food on occasion, but I don't want to have it on the weekly menu rotation.
This General Tso's chicken/pork meatballs is a great alternative to a classic Chinese staple, but healthier and just as comforting.
You can also use this basic sauce recipe and pair it with any other meat you want. I like to cut up chicken breast into chunks and use it with this sauce too!
For the meatballs
1/2 lb ground pork
1/2 lb ground chicken
1 egg
1/4 cup breadcrumbs
1 tsp garlic powder
1 tsp onion powder
1 tsp ground ginger
Mix all ingredients together in a bowl with hands till combined. Form into balls and bake at 350 for 20 – 25 minutes or until done.
Note: You don't have to use the same mix of meats as the recipe calls for. You can use 100% ground chicken if you prefer or want them leaner, or ground pork, or ground turkey… whatever you desire.
For the sauce
1/2 cup water
1/2 cup Sweet Baby Rays Teriyaki sauce (or any Teriyaki sauce you want)
4 TBSP butter (can easily reduce this amount to 1-2 TBSP or use a lower calorie spread/margarine)
2 Tbsp Splenda brown sugar blend, or 1/4 cup brown sugar (this is entirely optional, it still tastes good without any brown sugar or substitute)
1.5 tsp garlic powder
1.5 tsp ground ginger
Crushed red pepper flakes – 1/4 tsp or less for a kick, 1/2 tsp for spicy, 1 tsp for very spicy, or just omit them if you don't like spicy at all!
salt and pepper to taste
1 TBSP cornstarch + 1 TBSP water to make a paste
Directions
While meatballs are baking, whisk together sugar, butter, teriyaki sauce, water, and spices on a medium heat till butter melts. Turn down to low and let cook for about 10 minutes, stirring occasionally.
If after 10 minutes the sauce isn't your desired thickness (it tends to be a bit runny) you can use a cornstarch mixture to help. Mix 1 Tbsp of cornstarch plus a tiny bit of water together in a separate dish, mix together then dump into the sauce. Stir, let simmer for a few more minutes and sauce should thicken right up.
I usually serve it over white rice with broccoli on the side. Enjoy!
Please follow and like us: