I first heard about Sweatcoin in a mommy group I was in on Facebook – some girl shared and said I could get paid to walk. I was kind of excited about it because I do walk a lot anyway. I figured, heck – even if it wasn't great maybe I could eventually earn some cash.
I even looked it up online and there were so many positive reviews – everyone was saying how amazing Sweatcoin was and how you could actually get paid.
For a few days, I was super excited about it and trying to log as many steps as possible. Heck, I was even inviting people to join in too!
However, after the initial excitement wore off let's just say I was highly disappointed and realized this get whole "get paid to walk" app thing was just not going to work for me.
Recommended Reading:
So here's the catch about how the Sweatcoin app works…
The app can ONLY use data from your smartphone's GPS, and it only tracks steps you take outside. Also, the app has to be running on your phone for it to work.
This means that unlike other apps, you can't connect your fitness tracker (like Fitbit).
I don't know about you, but I'm not the type of person that has my phone on me at all times. And for the times I do have it, it's typically in my purse or a backpack, which isn't very good at registering steps. I rely on my Fitbit to collect my step data!
Also, I do the majority of my walking indoors!
It also won't record step data if your phone isn't getting service.
Beyond that, having an app running in the background of your phone at all times isn't ideal and since Sweatcoin uses your phone's location it completely drains the battery.
I had it running while I took a 4-mile hike and by the end, my phone was already in low battery mode!
After downloading the app and trying to use it for a few days, I realized it wasn't as cool as I thought it'd be. I tried going for walks with my phone for it to register steps, only to realize I had accidentally swiped out of the app and closed it during my walk, leaving most of my steps unregistered. Ugh.
It really frustrated me more than anything, so I stopped using it and kind of forgot about it.
How sweat coin currency works…
First of all 1 sweat coin = 1,000 steps (but the app takes a commission, so technically you're given .95 SC per 1,000 steps)
There are different membership levels that determine the max sweat coins you're allowed per day. The upgrade for each membership isn't actual money, but rather the sweat coins you have earned within the app.
Mover – Free
Earn up to 5  per day, 150 per month (5,000 steps a day)
Shaker – 4.75 Sweatcoins per month
Earn up to 10  per day, 300 per month (10,000 steps a day)
Quaker – 20 Sweatcoins per month
Earn up to 15  per day or 450 per month (15,000 steps a day)
Breaker – 30 Sweatcoins per month
Earn up to 20 per day or 600 per month (20,000 steps a day)
At the highest membership level of Breaker, you could earn up to 20 SC per day for walking 20,000 steps a day. It'd take you 1 full year of 20,000 steps a day to earn 7,300 SC.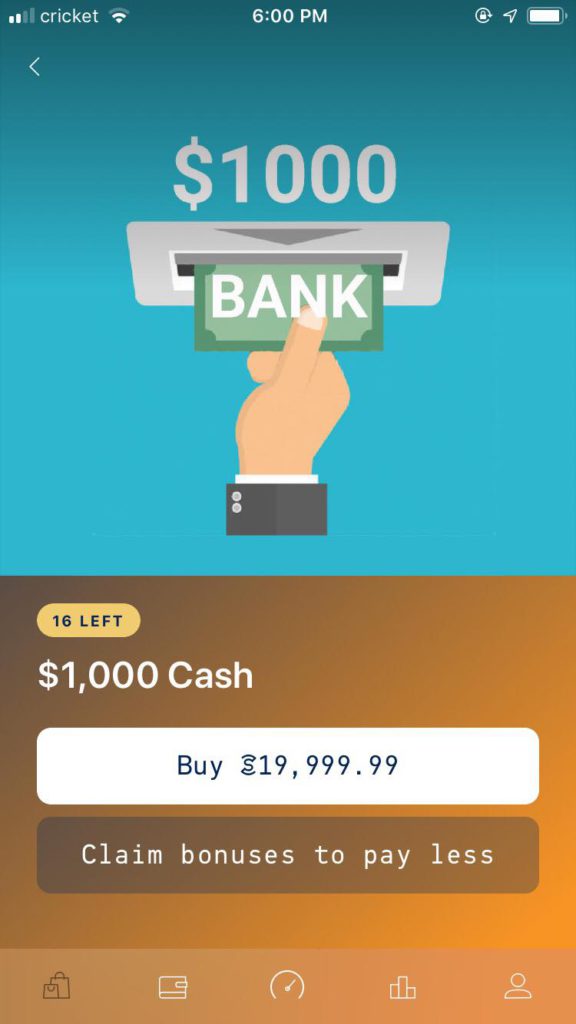 So if the above scenario is true, it'd take several years of consistent use and tons of walking to ever earn that much!
They also have a ton of other "rewards" that aren't really that valuable and in fact, kind of strange. Like free trials, discounts on security cameras, and other things that I can't imagine anyone would cash out for.
Cashing out rewards from invites…
So Sweatcoin offers rewards that require a combination of sweat coins and friend invites. These are more realistic to achieve than trying to cash out 20,000 sweat coins.
When you join, you're given a unique referral link so you can invite your friends and family to sign up as well.
The easiest one is to invite 6 friends, earn 30 sweat coins, and get $6 cash to Paypal. That's simple enough most people could achieve it. (I actually was able to do this one)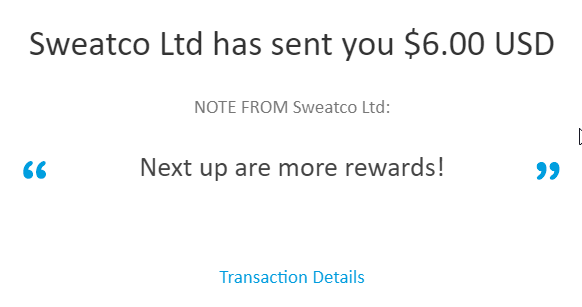 Slightly more difficult, but still do-able, is inviting 20 friends to join and earn 100 sweat coins. You can cash this combination out for $20. (I would have been able to do this too if I didn't cash out the $6 reward first!!! (Sometimes I'm an idiot)
To earn $100 in Paypal cash, you need to invite 200 people and 1,000 sweat coins. This one might be a little more realistic for some people but still difficult to achieve.
To earn $1,000 PayPal cash, you need 10,000 sweat coins and invite 2,000 people! Now that'd be pretty hard.
Now, something definitely worth mentioning is these offers are only redeemable ONCE. It's not like you can invite 6 friends, get 30 sweat coins, cash the $6, and repeat.
They're always changing offers too.
To me, this app is not worth it as I'm hardly "getting paid to walk" with it
In my opinion, Sweatcoin is just not all it's cracked up to be. I'm definitely not saying that the Sweatcoin app is a scam or anything like that – you don't even pay for it and everything you upgrade to within the app is all paid for in "sweat coins" which are their currency (which you earn by taking steps and inviting others to join the app). And they have made some improvements to allow you to get cash via PayPal.
And they even paid me $6! Woo!
But the reality is the only way you're really going to make money with this app is by inviting others to join. Yeah, you still need to walk to earn sweat coins as well, but it's still not really feasible for most people to earn the sweat coins needed to cash out without any invites.
If I could connect my Fitbit to this app, didn't need it constantly running in the background and just could import all the data from that device into Sweatcoin, I'd absolutely use it.
But I really don't want an app constantly running in the background of my phone all the time, wasting battery life and data for a tiny, minuscule reward.
Not that there's anything wrong with Sweatcoin, it's really just not an app for me.
Please follow and like us: