I kind of have this pet peeve with food bloggers and how they make you scroll down for ages to even find the recipe on the page, so I'm going to post the actual recipe for instant pot lasagna soup first thing so no one has to scroll much to find it. 🙂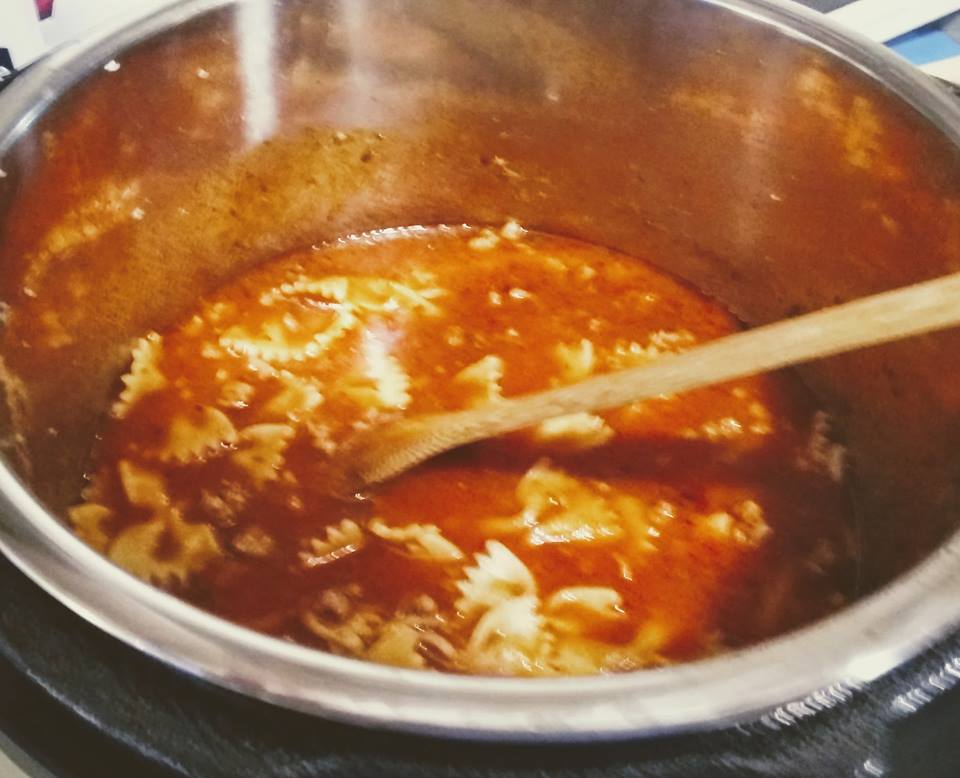 Lasagna Soup Recipe Ingredients
1 lb lean turkey Italian sausage, removed from casings (I used Jenni-O)
2 cups dry bow tie pasta
4 cups chicken broth
1 jar pasta sauce (24 oz)
2 Tbsp tomato paste
oregano
onion powder
garlic salt
black pepper
shredded Parmesan and Mozerella for topping
Directions
For Instant Pot/Pressure Cooker:
Turn Instant Pot on the saute setting and add 1 tsp of olive oil. Remove sausage from casings, add to pot and break up into pieces with wooden spoon. Let brown, then remove inner pot and drain any extra fat. Return pot, add chicken broth, pasta sauce, tomato paste, pasta, and seasonings.
I've never been one to exactly measure seasonings, I just put a few shakes of each into the pot (probably around 1/2 tsp of each) but you can adjust yours to taste.
Close lid, making sure it's set to the seal position and set pressure cooker for 4 minutes. Mine took about 10 minutes to come to pressure (it varies so yours may take less time, or longer)
Let it naturally release pressure (NPR) for about 10-15 minutes, then quick release the rest of the pressure. I take a long wooden spoon and slowly push the valve towards the vent position, letting it release in short bursts just to make sure nothing explodes all over the kitchen. As soon as pin drops it's safe to open the pot.
When you factor in time for browning the meat, letting the pressure build, actual cook time and NPR the total time to make this is approx 30 minutes, give or take
For stovetop:
Brown sausage in a pan with 1 tsp olive oil, let brown and drain excess fat. Add chicken broth, pasta sauce, pasta, and seasonings. Let cook on medium heat until pasta is tender, turn down to a low simmer and continue cooking for an additional 15-20 minutes stirring occasionally.
Top with cheese and enjoy!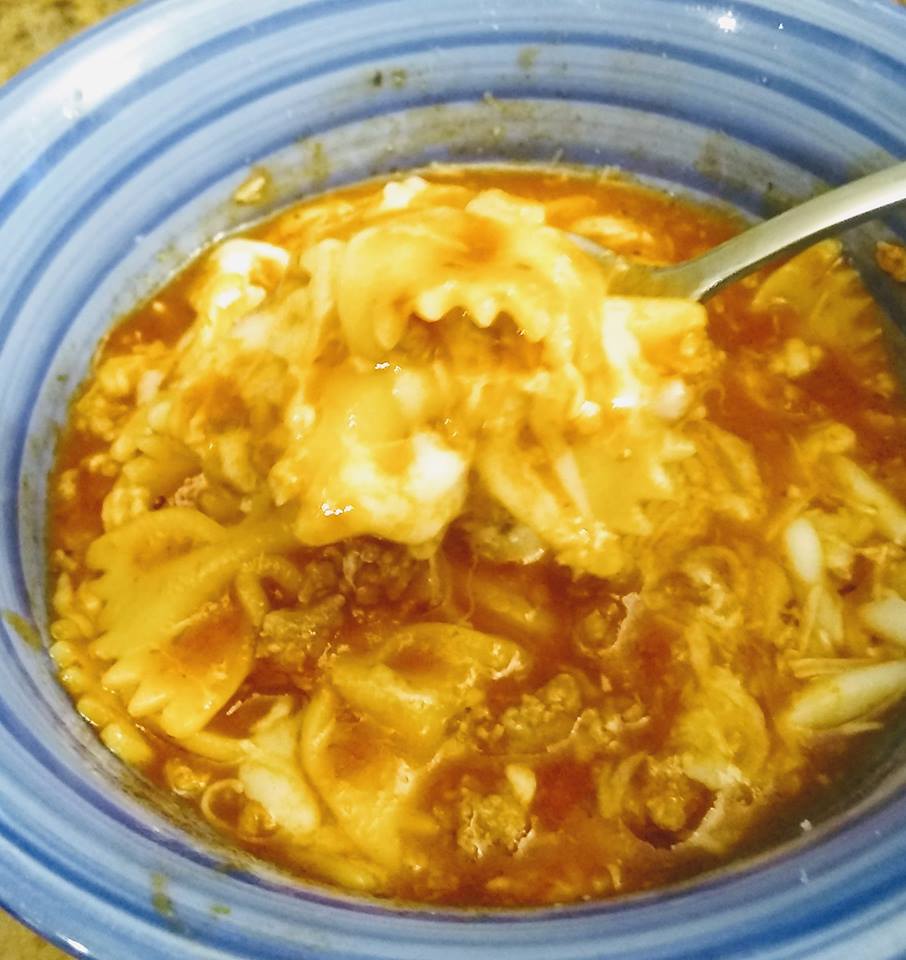 The soup gets thicker the longer it sits, and if you have any leftovers it turns into more of a messy lasagna than a soup… but it's still super delicious anyway. I'm not really a huge leftover eater, but with this, it tastes just as good if not better the next day!
The inspiration behind the dish
I absolutely love lasagna. Because it's also one of my husband's favorites, and we have such a limited selection of meals we mutually enjoy – we tend to make it often.  He loves to make it with tons of cheese, meat, and sauce, which unfortunately means lots of calories.
As I was trying to figure out a way to enjoy lasagna with a bit fewer calories, I came across many recipes for lasagna soup. I thought it sounded like an amazing idea and I just knew I had to try it. Many recipes call for making it in a pot on the stove, which is totally fine, but I just got an Instant Pot for Christmas and have been looking for different recipes to try out in it.
But let me clarify that even though this recipe calls for making it in an Instant Pot, you can basically just follow the same exact recipe and make it on the stove. This particular recipe isn't that much faster or easier to make in the Instant Pot than some others I've tried, however, I like the fact that you don't have to babysit it like you do when you cook on the stove. And one of the most amazing things about a pressure cooker is you can make things in a few minutes which taste as you slaved over a stove all day.
This recipe uses lean meat, and the cheese is entirely optional so the calories are much less than a traditional lasagna!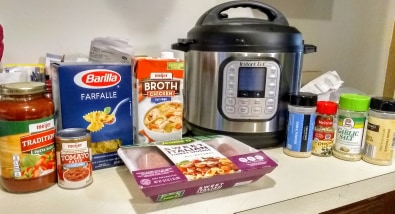 Because you're using lean turkey sausage, the calories and fat are much less than regular ground beef or pork sausage. You could also use even leaner meat, like regular ground turkey that's 99% fat-free, or even ground chicken. In addition, since much of the liquid is chicken broth you can get away with using less sauce.
What slashes the calorie count down, even more, is that no cheese actually goes into the dish at all! And it actually tastes great without cheese, even though adding some to the top makes it taste even better. But by saving it for use as a garnish, everyone can put as much or as little cheese as they want in their dish and you can control the calorie count and fat better.
After cooking over many recipes for this dish, I decided to just throw together my own version customizing to my tastes. It was a little bit of a risk, but it turned out so good!
To minimize dishes, I brown my meat in the Instant Pot on the saute setting, and then just drain any excess fat. It's a little awkward taking out the inner pot to drain, but it's less work than dirtying another dish.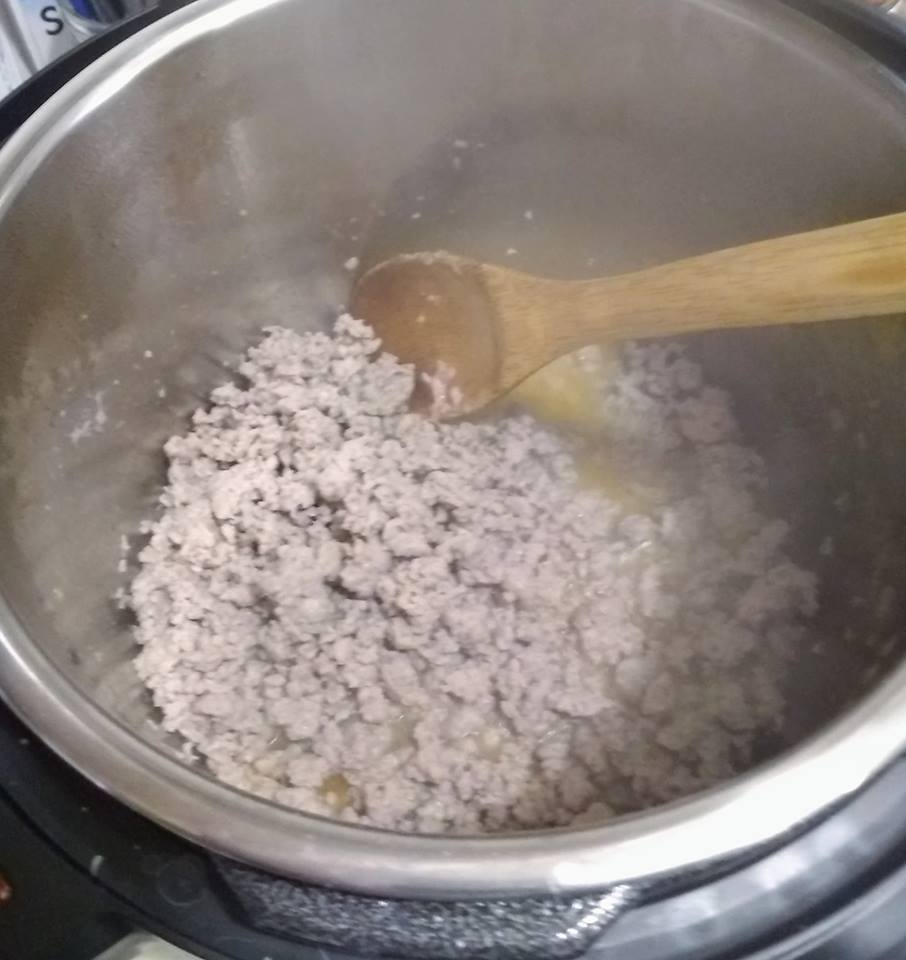 I prefer making this dish in the pressure cooker because it tastes as you cooked it for hours, and you don't have to keep an eye on it or stir like you would on the stovetop. I literally set the time for pressure cooking, then just go and do something else while it builds up the pressure, cooks, and does an NPR. It does all those things without me standing there telling it to do the next thing (and if you're already familiar with using an IP of course you know that) but I just wanted to emphasize how little babysitting it actually requires.
I don't wait for it to do a full NPR, but after about 10 minutes or so I will slowly release the valve to steam with the long end of a wooden spoon (or whatever you have on hand) and let it go in short bursts until the pin drops just to avoid a giant mess. You could also throw a towel over it and then push it over to catch any liquid.
This dish thickens up a lot as it sits, and by the time leftovers come around (if you have any) it really isn't soup anymore but more like a lasagna that's messy. I still think it tastes really good though, if not better than the first day. But if you prefer it more like a soup, you can reheat any leftovers on the stove and add some chicken broth in to water it down a bit.
Calories and nutritional info
This nutritional information for lasagna soup was calculated with the Myfitnesspal app and based on the dish making 5 servings. (With 5 servings, each one is slightly more than 1.5 cups which is a pretty generous amount) It does NOT include any cheese!
Calories per servings: 354
Total Fat: 10 g
Carbs: 40.2 g
Fiber: 4.6 g
Sugar: 11.6 g
Protein: 24.6 g
If you have any questions about this recipe at all, just drop me a comment down below!
Please follow and like us: