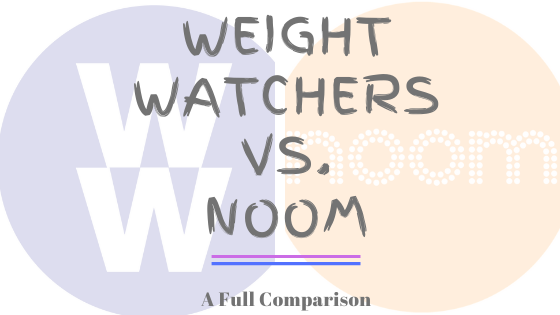 Since Noom advertises themselves as being Weight Watchers for millennials, I wanted to do a comparison between the programs to figure out what that even meant. If Noom was comparing themselves to such a well-known and reputable weight loss company I had to see what the fuss was about – could Noom really be a better program for weight loss than Weight Watchers.
In short, Noom and Weight Watchers take a "non-diet" approach to weight loss. They both teach healthier eating habits while still allowing you to eat the foods you love in moderation. Noom does this through calorie counting and their red, yellow, and green foods; Weight Watchers uses a proprietary points system to track food intake.
Both Weight Watchers and Noom encourage healthy eating habits
Both Noom and Weight Watchers have somewhat similar nutritional advice, although they do differ in some ways.
The main similarity between these two programs is neither one of them is really a diet at all. They are about teaching people how to incorporate healthier eating habits in their day to day lives, without restricting food groups or make any food "off-limits". But they also both have limits, as Noom sets a daily calorie amount and Weight Watchers gives you an allocated amount of points.
Noom vs. Weight Watchers, Quick Guide Comparison
Weight Watchers (WW)
Noom
Food Tracking
SmartPoints –
penalizes food high
in sugar and
saturated fat
Calories, classifying
foods into categories –
green, yellow, red
Foods "off-limits"
N/A
N/A
Support
in-app, in-person meetings,
or personal coach phone
calls & messaging
(plan dependent)
in-app ONLY – no
meetings available
Weigh-ins
Weekly
Daily
Philosophy
Lifestyle change, not a
restrictive "diet",
group support
Designed to attack the
the psychological
reasons behind your
weight gain, so you can
develop coping
strategies and not
track food forever

Price
$19.95/month digital
$44.95/month studio
$54.95/month coaching
(further
promotional discounts
often available)
Monthly plan $59
2 month for $99
4 month for $129
6 month for $149
8 month for $159
Annual plan for $199
($16.58/month for
1 year)
Billing
Monthy
After trial, billed all
up-front
Website
Access
Yes – access their
website through any
computer and track online
No – App ONLY
Free Trial
Often run promotional
discounts, check current
offers here
$1 trial offer through
this link
Food tracking with Weight Watchers
Weight Watchers doesn't use calories – they use a proprietary point system to track food.
Their new Blue plan (formerly Freestyle) has expanded their zero point foods to include plenty of fruits, veggies, legumes, lean meats, and certain non-fat dairy products. Their Purple plan has even more (300+) zero point options. With Green plan, you'll need to track most of the things you consume except fruits and non-starchy vegetables.
While I can't say the exact calculations Weight Watchers uses to set points; calories, saturated fat, sugar, and protein are part of the equation.
The general rule is the worse a food is for you (think high calories, fat, carbs with no nutritional value – essentially junk) the higher in point value it has.
The theory behind their point system is that it encourages people to eat healthier foods that fill them up while limiting junk.
Their point system has changed a lot throughout the years – it used to more closely resemble calorie counting in that you could still eat tons of junk and stay within your points, but their SmartPoints system heavily penalizes foods with sugar and saturated fat.
You can read more about the differences between counting calories and tracking Weight Watchers points here.
Current Offer: Get 3 months free through this link
Food tracking with Noom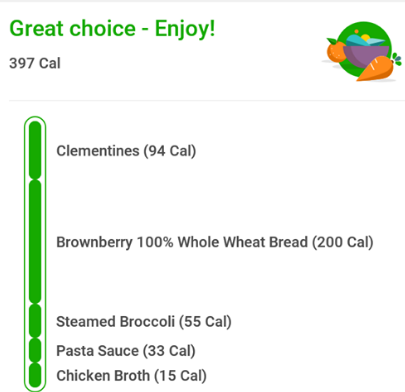 Noom differs from Weight Watchers in that they use calories as the foundation of food tracking. However, they still encourage healthier eating by color-coding foods red, yellow and green. The basis of their system is food density – foods that are lower in calories but still fill you up like fruit, veggies, and whole grains are the "green" foods and should be eaten more than others to help keep you full and eat less.
You're encouraged to eat as much green food as you want (but still stay within a calorie allotment) while yellow and red foods should be more limited.
Red foods aren't just what you would normally think of "junk" food but also include things like peanut butter, oils, and certain meats.
They use the color system not to make you think red or yellow is "bad" but to teach you how much of your daily diet foods like that should ideally make up.
Support: app vs. real life
One of the major differences between Noom and Weight Watchers is how the programs operate. Noom is strictly an app, while Weight Watchers has a more elaborate program that lets you use either an app or website, plus have the option of attending in-person meetings. Now you can even choose personal coaching with WW and have someone to talk to and support you on your journey. Basically, it comes down to virtual support vs. the real thing.
Weight Watchers support system is more real, as you can choose to attend weekly meetings and have the support of your leader and the other members in your group (or a personal coach if you choose that plan). A lot of people find accountability in simply attending the weekly meeting and getting weighed in front of an actual person.
Noom's accountability lies with a personal coach that you are assigned to, as well as a weight-loss group for support. Your coach checks in with you once a week on your progress and offer encouragement and advice. You can turn to your group for additional support throughout the week. Keep in mind this is entirely within the app and nothing that happens over the phone or face-to-face. I would argue the personal coach is a bit "robotic" and not that personable.
Noom tries to gear itself towards millennials because of this strictly app-based approach. If the idea of attending meetings and getting weighed-in in front of people isn't appealing to you, you might prefer the virtual support system of Noom.
Although being a millennial myself I am not a fan of it (I wish they at least had a website version) but then again I might not be the "norm".
But if you aren't looking for support from a weight loss program, Weight Watchers does have an online-only program that's cheaper. You don't get the weekly in-person weigh-ins and meetings, but you can still have full access to their website and use their tracking system.
Need extra accountability to lose some weight? Check out this program that is letting me wager on my weight loss goals and win some money in the process (It's not any type of weight loss program at all!)
Weekly vs. Daily weigh-ins
Noom's course encourages weighing in daily and recording it on the app. They claim that people are more likely to stay on track when they can see the number every day, although I tend to disagree from a personal standpoint.
Weight Watchers encourages weekly weigh-ins, either to be recorded on their app/website or at a weekly meeting if you sign up to attend.
I think weighing in every single day can tend to drive a person crazy as weight fluctuates naturally on a daily basis. When I weigh myself each week, I feel like I am more motivated as I usually can see the number go down rather than witnessing the daily fluctuations!
Psychology
Noom has a set curriculum that teaches people how to re-think their behavior and thoughts when it comes to food. I think they offer some pretty good advice about training your mind to think healthy thoughts and not sabotage weight loss. Although it's not the type of thing that'll work for everyone.
Weight Watchers doesn't have that aspect to their program, so that is something that is unique to Noom and makes it stand apart.
Noom vs Weight Watchers Pricing
Noom offers a free version of their app, which you can use to track your food on a daily basis. You won't get the lessons or support features, but you can still track your food and get their green, yellow and red classifications of the foods you're eating.
They also offer a $1, 2-week trial for their paid version. This has gotten a lot of criticism and complaints from customers saying they can't cancel and are charged anyway, but I personally had no problems cancelling. I would recommend signing up with PayPal rather than a credit card, as you can cancel your subscription charges directly through them. (Read my full Noom review here to get more info on that)
You can try Noom for $1 here
Weight Watchers doesn't have a free version or trial so unfortunately, you have to pay for access to the point tracking system.
Check out these affordable apps like Weight Watchers
I feel like the prices of both of these programs are changing all the time, but I can tell you what they currently are.
Weight Watchers Standard Pricing
Digital subscription: $19.95/month. (current promotion: 42% off 3 months)
Digital + Studio (meetings): $44.95/month (current promotion: 3 months free with contract) ***They are currently not doing in-person meetings due to Coronavirus!
Digital + Coaching: $54.95/month
Weight Watchers often runs great promotional offers, which you can check out here
Noom's pricing (as of 1/31/2019)
So here's the thing about Noom's prices – they have no straight forward price page on their website (at least that I could find, and I looked hard!) You have to answer a series of questions, and then enter your email to see the price… but even then, there are no options to pick from, they just tell you the price and monthly time frame you can subscribe for.
I ended up contacting Noom's customer service to clear up the confusion and ask what the pricing was, and here is the answer I received:
There certainly are many options for signing up with Noom.
You can sign up with iTunes, Google Play or through the app, but they are all monthly subscriptions only.
To sign up for the period of time of your choice, you can select from one of these options on the web:

Monthly plan $59


2 month for $99


4 month for $129


6 month for $149


8 month for $159

Annual plan for $199

You get a better deal for the longer subscriptions.
I should add that within the original email, all the prices included links to sign up for each specific plan on their website. But the thing is, they must have those price pages hidden because I literally could not find the options to sign up for any specific length of time other than what was offered to me after filling out the initial questionnaire.
It's a little odd you can only sign up for a monthly subscription through their app when you have more options on their website, considering they're an app-based product. I also very much don't like the fact I couldn't find any straightforward pricing on their site. Each time I filled out the questions, I was offered a different plan length to sign up for – once time it was 4 months and the next time it was 8 months!
Either way, if you commit to Noom for any length of time it does work out to be less expensive than Weight Watchers if you chose the meeting or coaching program.
You can visit Noom's app (or website) to access their quiz that'll give you your "personalized" plan.
What I like and don't like about Weight Watchers
Things I like:
It's not a diet, no foods are restricted
The weekly point allowance lets you splurge if you want
Variety – you can opt for the digital-only subscription and pay a cheaper monthly fee, or pay more and attend meetings or get a personal coach
CHOICE: Now offering Green, Blue, and Purple plans
It isn't restricted to an app – you can use a computer to log meals, etc on their website
You can pay monthly and make no commitment
Things I don't like:
It's possible to eat too many calories with so many zero point foods being included (with Purple and Blue plans). This isn't true for everyone, but certain people might have a harder time with it.
Their proprietary point system changes a lot seemingly every few years or so (this could be a positive thing since they're trying to change for the better to keep up with the latest health research, but it's also a bit inconsistent if you stick with the program for years and have to switch up what you're doing)
What I like and don't like about Noom
What I like:
They have a free version of the app which lets you track your food
They offer a $1 trial to try out the paid program
It's not a diet, just like Weight Watchers nothing is off-limits
They use calories to ensure you aren't overeating
They provide daily lessons to help you tackle psychological barriers to weight loss
What I don't like:
There's no clear pricing on their site – you can't easily sign up for a specific length of time. I had to contact customer service to have them send me all the options
There's a lot of complaints about billing issues (although I personally didn't have a problem, the volume of complaints is a bit concerning)
Emphasis on daily weigh-ins
Their "coaching" is very robotic
App-only – you have to track all your food and do their daily lessons on your phone
Overall: WW vs. Noom – which one is better?
Noom and Weight Watchers have a lot of similarities, especially since they are both weight loss programs that focus on teaching healthy lifestyle changes for long-term success instead of just being another fad diet. Both of these programs allow you to eat real food and anything you want, within moderation. Check out Noom here for $1
However, if you're looking to get support and accountability along with guidance on how to eat – I think Weight Watchers is just a better program overall. Their point system is unique, and something you'll only find if you pay for their program. Noom basis their tracking on calories which you can count for free – with their app, or another app like Myfitnesspal.
While Noom might be a good program for some, especially if you are the type of person who likes using your phone over a computer. But personally, I don't think it can compare to the in-person support and unique tracking system provided by the WW program.
Do you have experience with either Weight Watchers or Noom for weight loss? Feel free to share down below in the comments section! 🙂
Looking for extra motivation to lose weight? Check this program out and find out how it can increase your chances of success! (It's NOT even a diet!)
Please follow and like us: