So I've heard a lot of information about unofficial, leaked information about the new Weight Watchers plan that is to be released going into 2020.
Update: Here's the official plans, explained!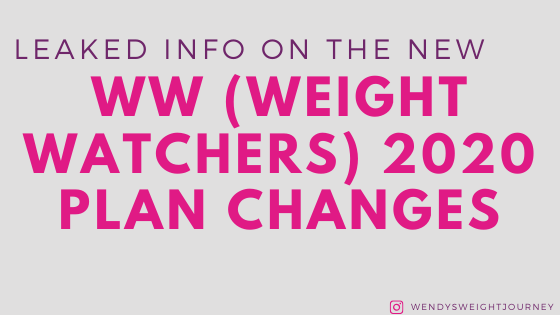 We all know Weight Watchers changes their plan frequently – supposedly to keep up to date with the latest scientific research and studies. But really, who knows – maybe they do it to get more money. However, this information is a new approach that the company has never done before, which makes it interesting.
(And sorry, I know Weight Watchers rebranded themselves as WW, but to me, they will just always be Weight Watchers…)
I've heard pretty consistent information from various sources so while this is NOT officially released information from WW (official release supposedly taking place November 11, 2019) it seems like it's going to be pretty close to the information that I gathered, detailed below.
WW (Weight Watchers) NEW plan going into 2020…
So with the new plan, it seems like members will have the option of choosing between three different plans. They will (supposedly) be able to take a quiz or questionnaire that will let them figure out which plan would work best for them and their needs, though ultimately you get to choose the plan you want.
This is looking good so far since I've always said they should give you the option to pick which plan you want since different plans work better for different people. It seems like they're finally listening to the voices of the crowd.
The three plan options…
---
Blue Plan – Freestyle, no changes
This is Freestyle (current plan), no changes. I already talked about the Freestyle program in detail within this article. However, this plan includes over 200 zero point foods that you don't have to weigh, measure, or track. In addition to fruits and veggies, these also include eggs, lean meats, and beans.
The zero point foods should be thought of as foods you don't have to worry about measuring portions, but you're still supposed to use moderation. It's not "unlimited food". Many people struggle with too many zero point options.
Green Plan – bringing back Smart Points plan (before Freestyle)
On this plan, only fruits and vegetables are zero points. Unlike Freestyle which had a 23 point per day minimum, this would jump the minimum points up to 30 (although many people will get more than that).
This is to make up for the extra things you have to track like eggs, beans, lean meats, etc.
If you have trouble limiting yourself with all the zero point food options, this may be a much better plan for you since it will help keep you accountable.
Purple Plan – like the old simply filling (with changes)
The simply filling plan provided a list of food you could eat whatever you want, no tracking. The list includes all the fruits and veggies, lean proteins, whole grain bread and pasta, oatmeal, beans, potatoes, lentils, and more.
Then you'd get weekly points allowance on top of that if you wanted anything extra.
On the new purple plan, it's rumored to be a bit different, as the simply filling list will be modified and you also get an additional daily points allowance on top of the simply filling food list.
So this is basically like Freestyle on steroids, as you get way more freedom of foods you can eat without tracking. If you have trouble with Freestyle this definitely is not the plan for you.
But I can see how this would be good for people who don't like having to track so much and can trust themselves to eat in moderation.
2020 Update – Read here for more detailed info on plan changes after the official WW release
None of this is official, but it seems like it's going to be something
Weight Watchers has not released this information yet and everything I've heard has been leaked information. However, I've heard about this from several different sources and the information is all basically the same so it seems pretty likely this will be somewhat close to what will actually happen.
For exact details, we will just have to wait and see the official new plan release in November.
I think it's good that they are finally listening to their base. Maybe this will be a good chance for them to get more subscribers on board. I know a lot of people quit Weight Watchers because they hated all the plan changes, so having the option to choose will allow their program to fit with more people.
If you've heard anything different, let me know! But we will all just have to wait and see!
Yes, this is official for 2020! Join WW here and get 42% off!
Please follow and like us: