September 2019 Edition
So I'm going to do a series on this blog about the current snacks I'm having and new things I'm finding to munch on while following the WW Freestyle program.
So obviously there's a lot of really great lower (or zero point) snack options like hard-boiled eggs, string cheese, any type of fruit, veggies, etc but I thought it'd be fun to share some things I've been snacking on that maybe you hadn't thought of before.
Grains First Crackers
I love these! They're healthy for you crackers with the first ingredient whole grains and seeds – not enriched flour like most crackers. They're 80 calories or 2 points per serving (which is 4 crackers) but they're pretty big. So you could easily eat 8 crackers for 160 calories or 4 points if you wanted a bit more substantial snack.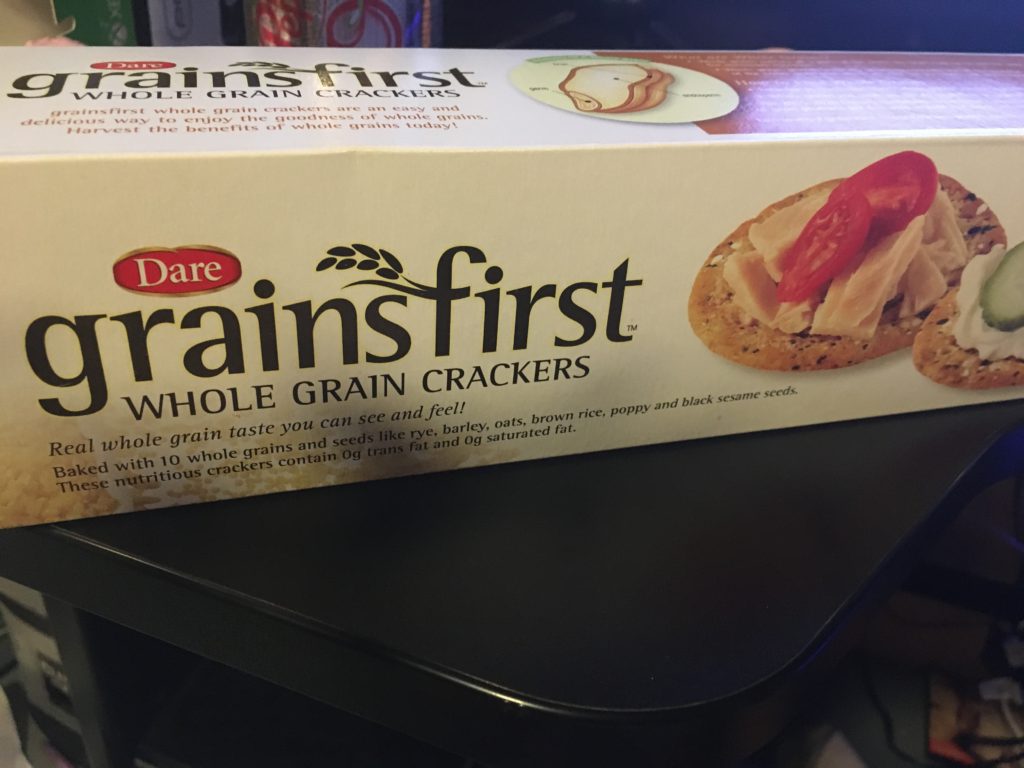 They just have a really good taste to them and are great paired with a 0 point lunchmeat, like fat-free turkey breast or chicken, OR my buffalo chicken dip recipe that's 1 point on WW Freestyle for an entire 1/4 cup!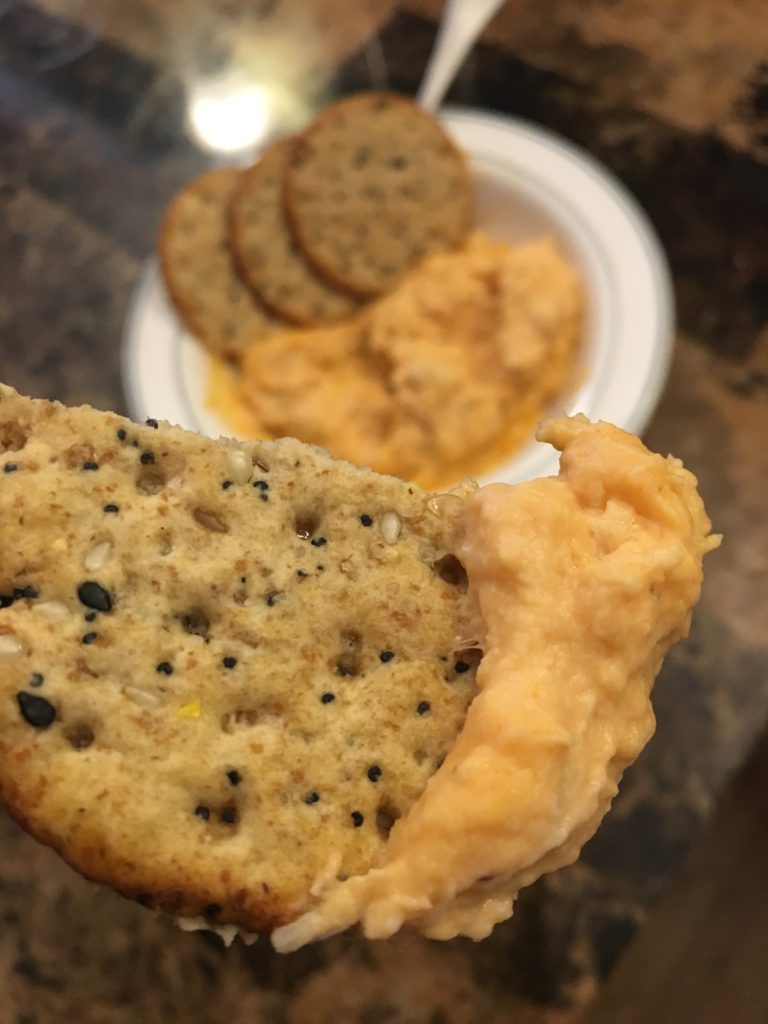 They'd also probably be really good with one of those laughing cow cheese wedges spread on top! Although, I've never had the combination before, so I'll put it on my list of future snack ideas!
Applesauce (homemade!)
I've seen a lot of people talk about how they like to eat applesauce as a zero point snack, but I really am not a fan of store-bought applesauce. If you've ever had homemade applesauce you know just how much better it is!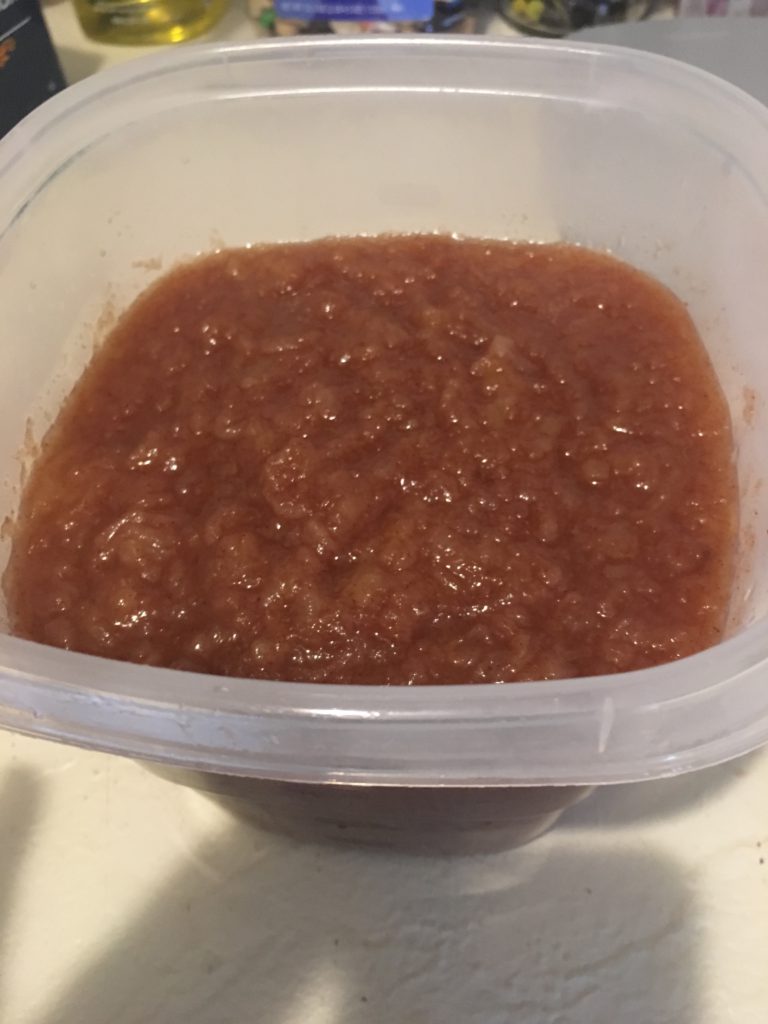 I like to make this cinnamon applesauce in my crockpot. It's incredibly easy and lasts me for at least a week. I don't put any sugar in it so it's zero points!
If you're looking for something fun to do with extra apples and you don't want to bake anything with too many points or calories, this is an awesome thing to make! Check out the recipe. (And for real, it's SUPER easy…)
Quest Bars (or Kirkland brand) Chocolate Chip Cookie Dough
Since I started on the WW program I've gotten really into Quest bars and Kirkland protein bars! The chocolate chip cookie dough flavor specifically – both brands have SO many chocolate chunks it makes them taste really yummy.
These bars have way fewer points than other protein bars and I still think they taste pretty good – they're 4 or 5 points each depending on flavor or between 190-200 calories. (I've tried the Built Bars and I just couldn't get into them)
The chocolate chip cookie dough flavor is 5 points per bar, for both brands.
Obviously it's not like you're eating straight chocolate chip cookie dough but it's a pretty good alternative that doesn't taste overly sweet.
I also like the Oatmeal Chocolate Chunk and Smores flavor Quest bars heated up in the microwave for a few seconds. The Kirkland brand Peanut Butter Chocolate Chunk is also a pretty good flavor! (All 3 of those flavors are actually only 4 points!)
If you're unfamiliar, Kirkland is Costco's brand and you can buy them for significantly cheaper than Quest, although the downside is you have to buy them in bulk quantity. If you're not a Costco member, you can actually still buy them in bulk on their website you just have to pay a small fee.
You can also find them places like Amazon, although they're a bit more pricey.
The advantage to Quest bars is you can buy single bars, or smaller packs and you can find them at tons of grocery stores now and online at places like Amazon. They also have way more flavors.
Apples + Peanut butter
I am a really big fan of apples and peanut butter and I will eat these several different ways, depending on my mood. Sometimes I'll heat peanut butter up in the microwave and drizzle it over the apples, and even add some mini-chocolate chips if I'm feeling like a little extra.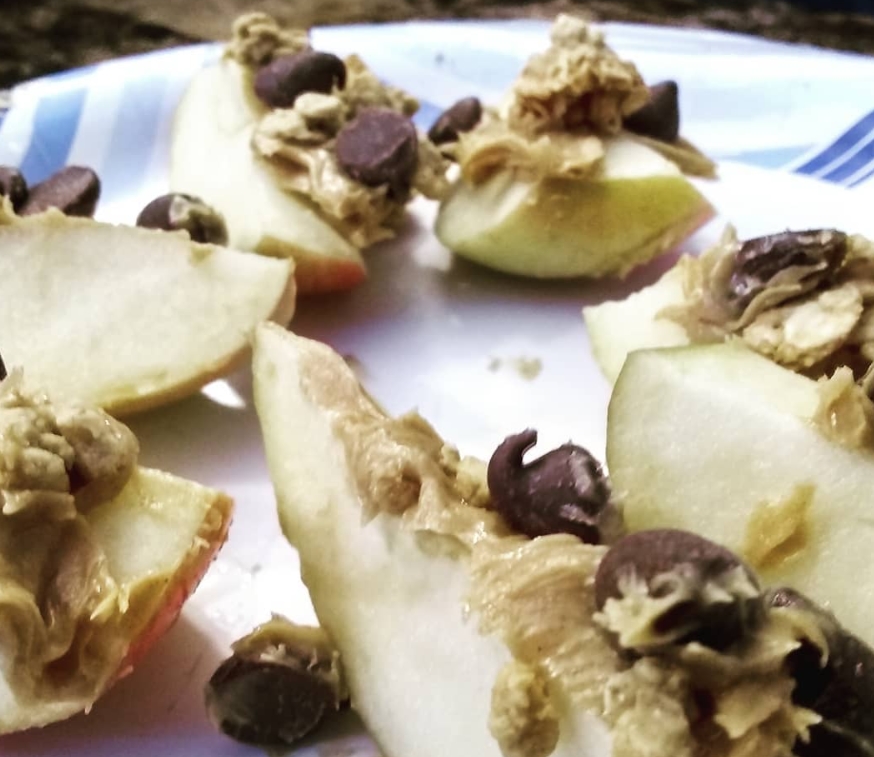 Sometimes I'll dip it straight, or I also like to use the Jif Whips peanut butter because it's fluffy and makes a great dip. Plus, it's fewer calories than regular peanut butter, but still tastes really good.
Another thing I do, if I feel like I'm wanting more volume is mix some peanut butter into yogurt (which is fewer points and less calorie-dense) and bam – you have a nice dip for your apples. You still get the peanut butter taste and you can eat a whole lot more!
I prefer to use the Dannon Light and Fit Greek – Vanilla flavor. It is 2 points for a small container and I mix 2 tbsp of peanut butter into it. You can use any kind of peanut butter you want, even the PB2 powder mixed into vanilla yogurt isn't too bad.
The point value for this depends on how you make it and what kind of peanut butter/yogurt you use.
2 tablespoons of regular peanut butter + apple = 6 points
2 tablespoons of whipped peanut butter (4 pts) + a container of vanilla light and fit greek yogurt (2 pts) + apple (0 pts) = 6 points
If you want to get really fancy and up it to dessert level, check out this peanut butter apple salad (it's 12 points for WW Freestyle, 387 calories)
Xtreme Wellness! Wraps + Jif Whips Peanut Butter and Chocolate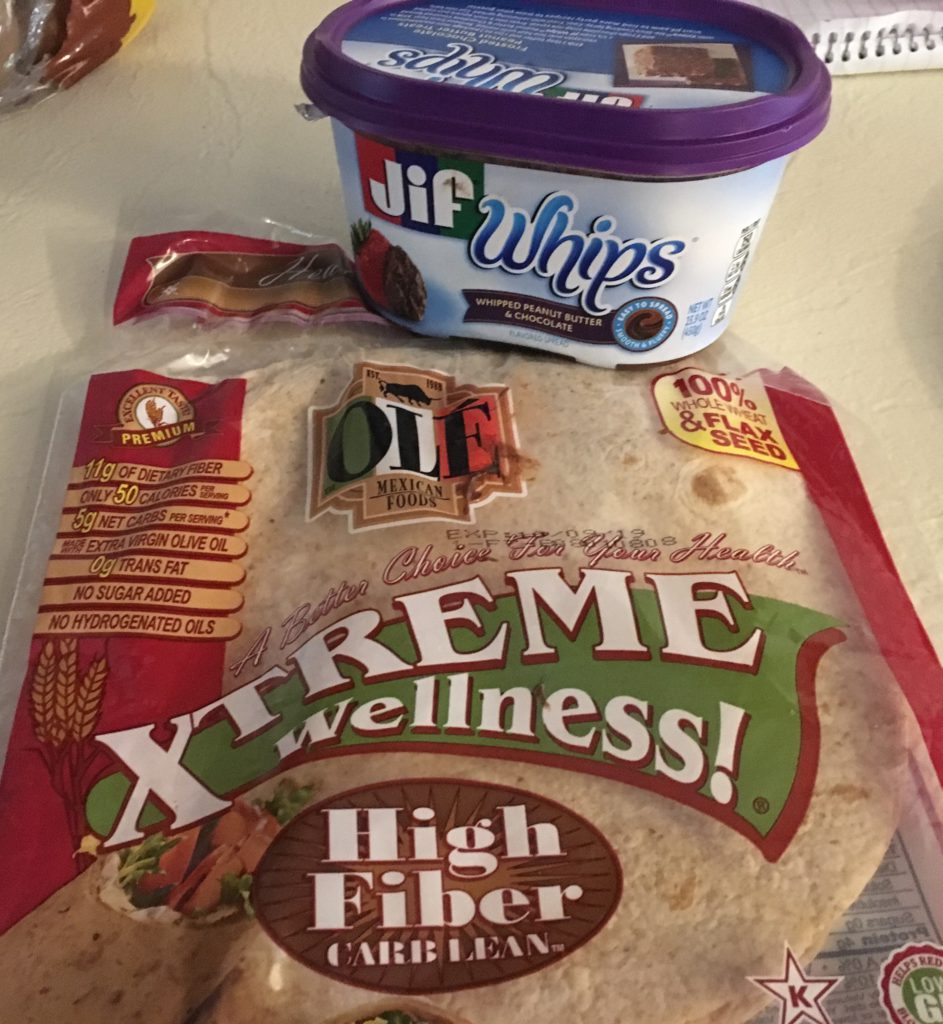 The whipped PB and chocolate is kind of hard to find – the only store that carries it around me is Meijer. The regular whipped peanut butter I've seen at most stores, but the chocolate one isn't as widespread for some reason. (You can actually buy it on Amazon though)
That being said it's totally one of my favorite things in the entire world. It reminds me of a fluffy chocolate frosting without the intense sweetness and has a subtle peanut butter flavor. I used to be obsessed with Nutella so it's a good alternative and has basically half the points.
I do all kinds of things with this, but one of my favorite snacks is to spread some over these Xtreme wellness wraps (which are only 50 calories or 1 point each), roll it up and you have a chocolate spread wrap! It's 4 points if you use 1 tablespoon, 7 points with 2 tablespoons (including the wrap).
This is also super good with apples!
Or, another thing I secretly do sometimes is spread just a little bit (like a teaspoon or so) of it on one of those fiber one brownies and it's super decadent!
Wheat Thins + Laughing Cow Cheese
I love Wheat Thins, especially the ranch flavor! A serving of these is 5 points, and 1 wedge of Laughing Cow cheese (1-2 points depending on the kind) is enough to spread on every cracker if you stick with a single serving (30 grams or around 15 crackers).
This is a super tasty 6-7 point snack that satisfies my need for that salty/savory taste way more than a bag of chips.
I'm just getting less and less into eating chips these days because it's not satisfying at all – I just have to keep eating them and before I know it I ate a thousand calories/points! I've tried to munch on alternatives like Lays Poppables, Pirate's Booty, white Cheddar Smart pop, and even rice cakes – they just don't do it for me.
So these are some of the snacks and foods I'm really enjoying this month while following WW Freestyle. I still do like to snack on fruit – especially green grapes and watermelon – but these are just some things I wanted to share that maybe will give you some ideas or spark inspiration if you're looking for something new or to get you out of a food rut!
I know some of the point values are maybe a bit high for some people (it really depends how many daily points you get) I get 34 currently, so I can easily eat a snack that is 4-7 points if I plan for it.
What are your favorite things to snack on while losing weight? If you have any super cool ideas, let me know!
Please follow and like us: