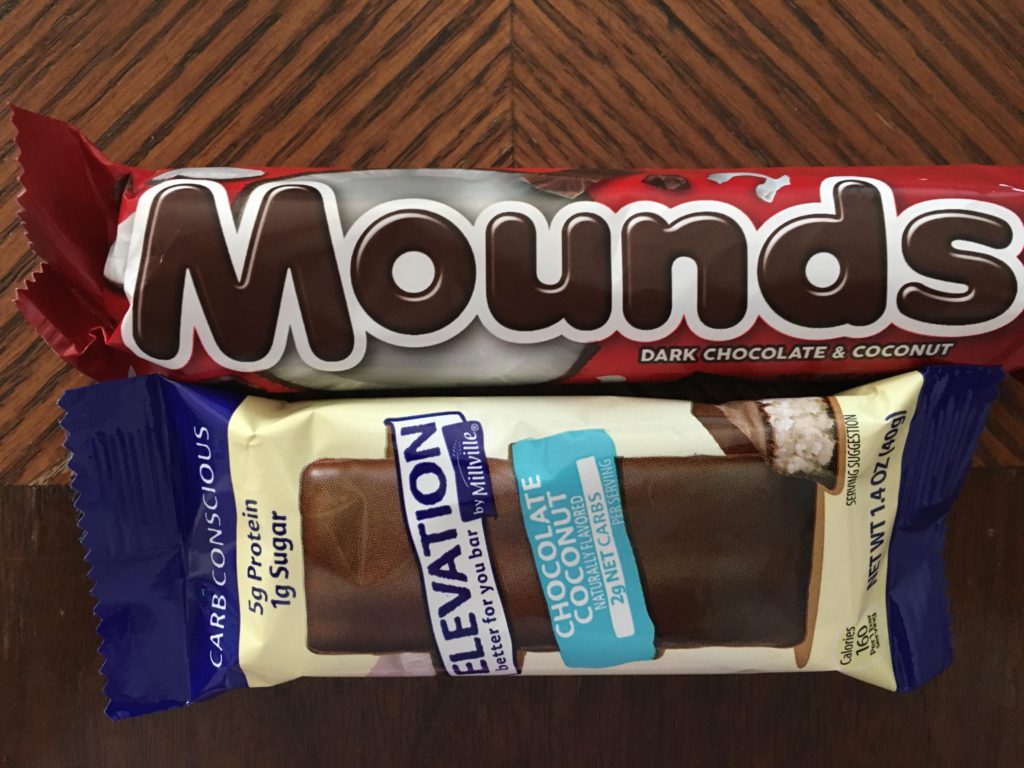 When I first heard about Elevation chocolate coconut "better for you" bars, I was super excited. I love finding alternatives to junk food that I actually like, and if I can save myself some calories, sugar, and fat I say it's worth it. But are these Elevation chocolate coconut bars actually a "healthier" version of Mounds – do they taste any good, or are they just crap?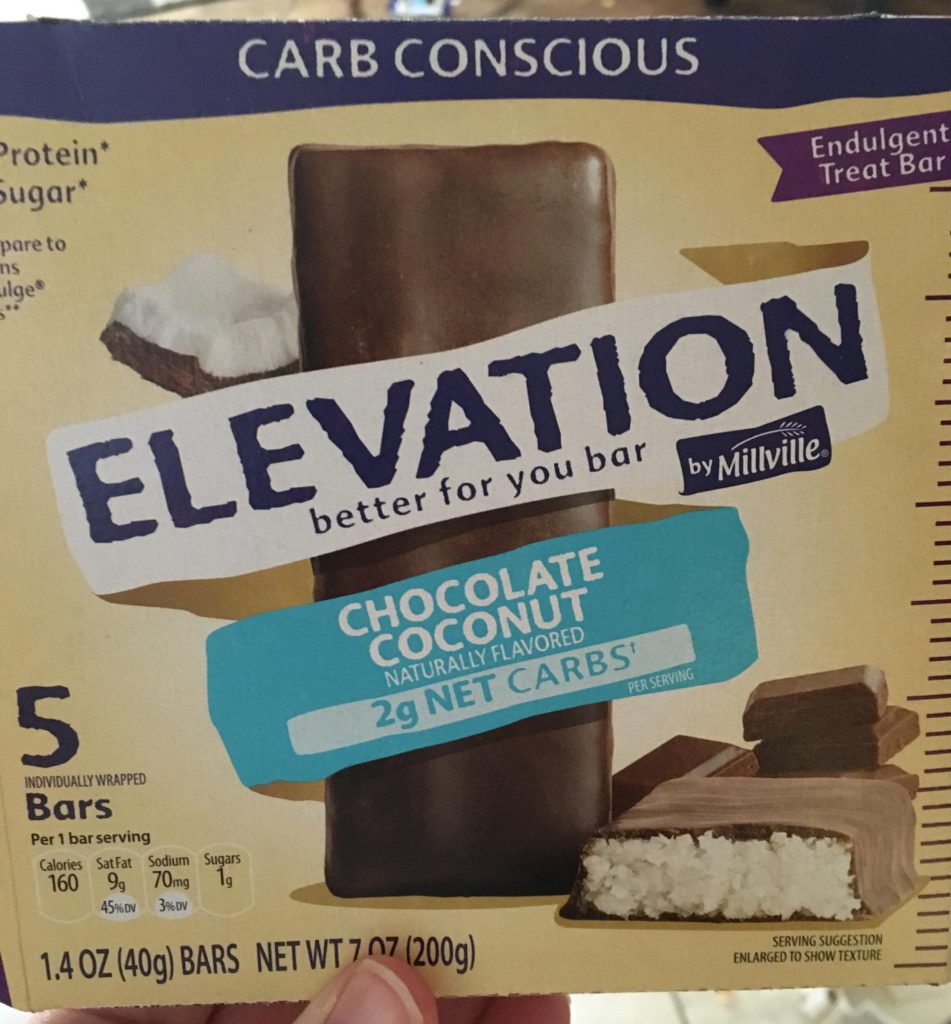 Elevation by Millville is an Aldi brand, so that is the only place I know of that you can find them.
Nutritional Info
First, let's take a look at how these Elevation chocolate coconut bars compare to candy such as Mounds…
| | | |
| --- | --- | --- |
| | Elevation | Mounds |
| Calories | 160 | 230 |
| WW Points | 7 | 12 |
| Sugar | 1 g | 21 g |
| Fat | 11 g | 13 g |
| Carbs | 19 g | 29 g |
| Protein | 5 g | 2 g |
| Fiber | 6 g | 3 g |
| Sodium | 70 mg | 55 mg |
From a purely nutritional standpoint, Elevation chocolate coconut bars are better for you than eating a Mounds candy bar. They're lower in fat, carbs, calories, and higher in protein and fiber… (nearly) HALF the points on Weight Watchers.
However, one could argue they're still processed and not a great alternative to eating healthier snacks like fruit, veggies, nuts, etc. There's also the issue these contain Sucralose as an added sweetener, which is highly controversial. But if we're talking about swapping candy for this, it's definitely a better choice.
Let's be real, they're labeled as an "indulgent treat bar" not a healthy snack.
Ingredients
Elevation Chocolate Coconut Bar
Coconut (preserved With Sulfites), Dark Chocolate-flavored Maltitol Coating (maltitol, Chocolate Liquor, Cocoa Butter, Milk Fat, Soy Lecithin, Vanilla), Maltitol, Inulin, Polydextrose, Glycerin, Whey Protein Isolate, Gum Arabic, Salt, Natural And Artificial Flavor, Potassium Sorbate, Sucralose.
Mounds
Corn syrup, semi-sweet chocolate (chocolate, sugar, cocoa, milk fat, cocoa butter, soy lecithin, PGPR, emulsifier, vanillin, artificial flavor, milk, coconut, sugar, contains 2% or less of: salt, natural and artificial vanilla flavor, hydrolyzed milk protein, sodium metabisulfite
Elevation bars have coconut as the main ingredient, where Mounds is buried much further down the list (with sugar the first). While the addition of sucralose in place of sugar may reduce the calories, the health effects are debated.
Taste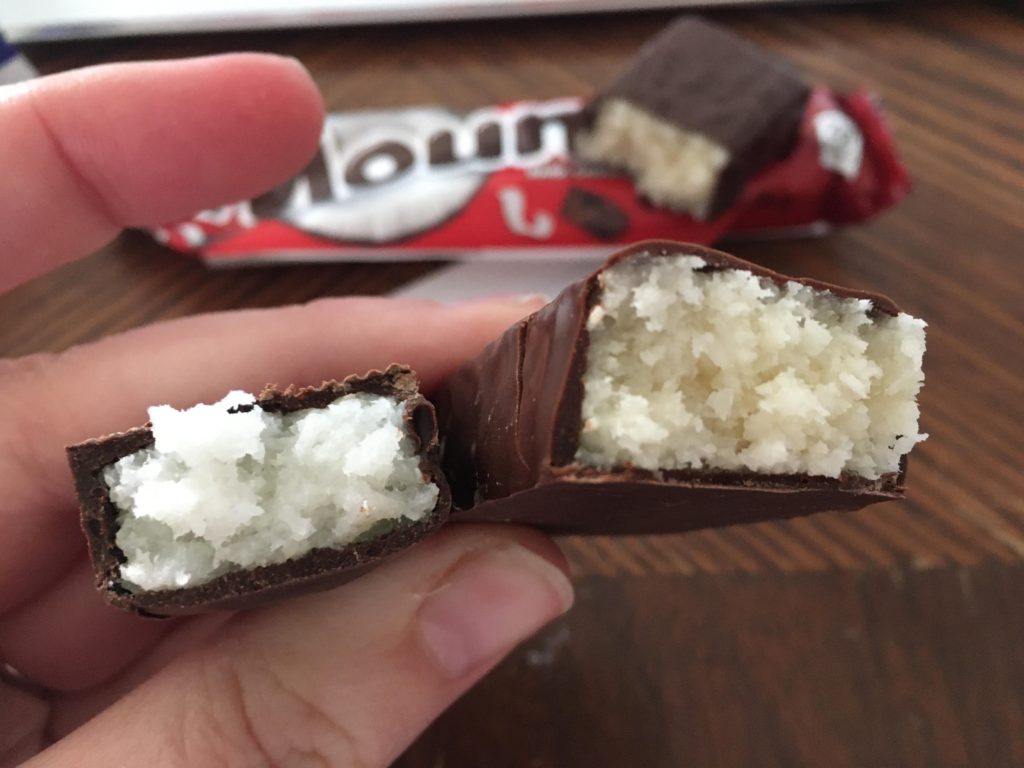 With a side-by-side taste test, you can definitely tell these Elevation bars are much less sweet than Mounds. They also have a firmer, almost chewier texture. Although, it's still very similar and coconut-y. They even have the coconut texture, and they don't taste like a protein bar or anything. And they definitely taste MUCH better than Built Bar's coconut chocolate flavor (in my humble opinion, anyway)! They don't have any sort of strong chemical taste to them.
To be completely honest though, the first time I tried these bars I hadn't had an actual Mounds bar in YEARS, and I thought they tasted pretty close. You can tell they're not AS sweet, even if not tasting side-by-side, but they are still pretty similar in taste and texture.
Overall Rating
I think I'd give these bars about a 7/10. They're pretty good and don't have any strong chemical flavors. They do taste like coconut and have that distinct coconut texture (it is the first ingredient, after all) but they're a little bit chewy. Not so much so, but in comparison to a regular Mounds you can tell a difference.
They're not really as sweet as I prefer, but for something that's supposed to be "diet" food, I can't complain.
How many Weight Watchers points are Elevation Chocolate Coconut Bars?
If you're following Weight Watchers, these bars are 7 points each. I believe this is true on all plans, whether you follow Green, Blue, or Purple as they all use SmartPoints, it's just the number of free foods and daily point allowance that's variable.
In comparison to 12 points for regular Mounds, it's a huge difference.
The Bottom Line
I'd totally recommend you give these a try, they're less than $5 for a box at Aldi. They're a great alternative if you're trying to cut down your sugar and carbs but love chocolate coconut treats. However, if you're leary about sucralose, these are not a good option.
Recommended Reading: How I'm Getting Paid to Lose Weight
Please follow and like us: