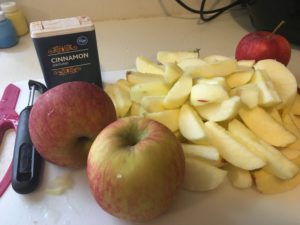 One of my favorite things to do in the fall when the weather cools down is to make this homemade cinnamon applesauce recipe. It's probably the easiest thing you'll ever make, and it's so incredibly delicious. The best part is it's sugar-free (by this I mean no ADDED sugar) and if you follow the WW Freestyle program it's ZERO points. Can't beat it!
This particular recipe I cook in my crockpot and it makes my house smell SO amazing. I love to make this because my husband has a sensitivity to artificial scents – so that means I can't light candles or use those plug-in air fresheners around the house. It sucks and I really miss it, but when I cook this it's like I'm lighting the best apple cinnamon candle that ever existed.
This is probably the simplest, easiest recipe you'll ever make but it's so darn good. I mean, my secret to making it taste super sweet without adding sugar or any type of sweetener is to use the sweetest apples – Gala, Fuji or Honeycrisp. I typically use a combination of Gala and Fuji, but you can just use one or the other, or really any combination of apples you prefer (but the sweeter apples make sweeter applesauce).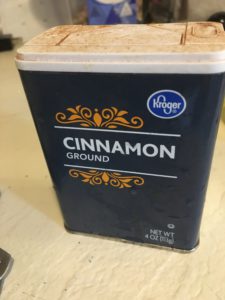 Another thing that really makes this taste sweet is the cinnamon – I feel like applesauce tastes kind of bland when you don't add sugar, but once you combine the cinnamon it really brings it out the sweetness and adds a nice spice to it. You can use as much or as little as you like. My recipe uses 1 full tablespoon which is actually quite a bit, so if you want the taste of apple to stand out more use less cinnamon (like 1 or 1.5 tsp).
You can actually cook this either on the stovetop or a crockpot, both ways work just fine. I prefer the crockpot just because it's less hassle – I can turn it on and not think about it, whereas cooking on the stove you kind of have to babysit it.
Cinnamon Applesauce Ingredients
8-9 cups apples, peeled and chopped
1/2 cup water (you can always add more after it cooks if it's too thick when mashing)
1 Tbsp cinnamon (this gives it a pretty strong cinnamon flavor, if you prefer less use between 1-2 tsp)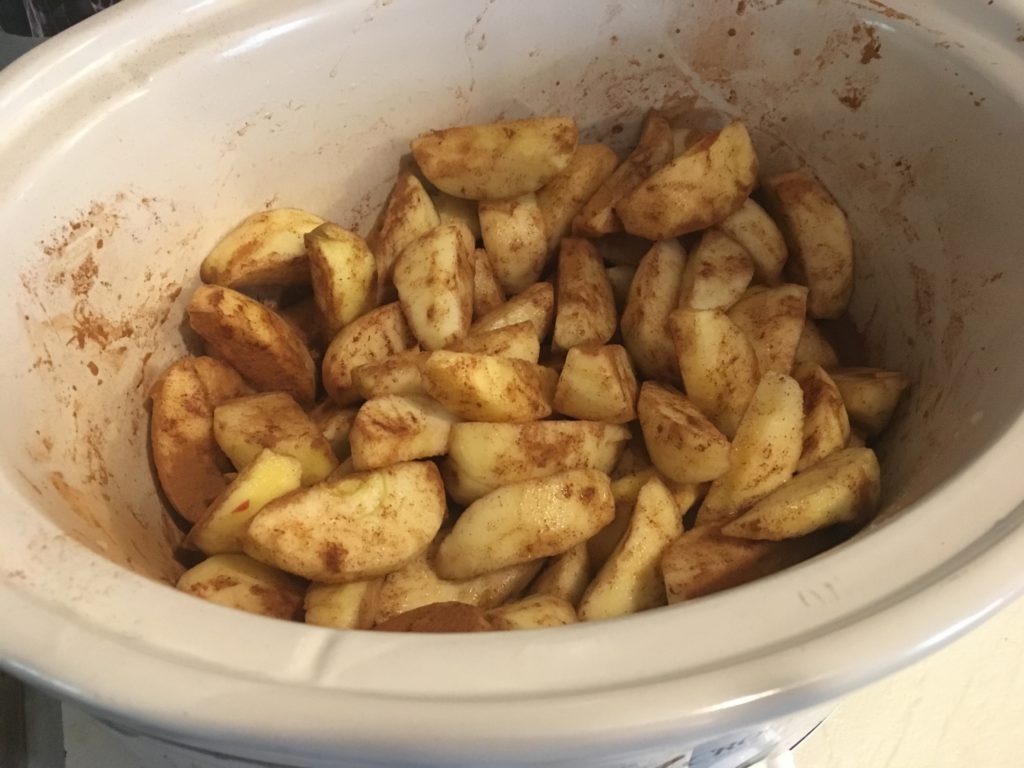 Directions
Peel and chop apples, throw in the crockpot (or a large pot on the stove) The thinner the slices, the less time it'll take to cook
Add water and cinnamon, stir
If cooking in a crockpot – turn on high for between 3-4 hours or until apples fall apart and turn to applesauce when stirred. Can also cook on low for 4-6 hours. The cooking time might vary a lot depending on your Crockpot and the thickness of the apples, so check periodically to see how they are doing.
If cooking on stovetop, cook apples over medium heat until they fall apart and can be mashed, stirring occasionally. It takes around 20 minutes if you do it this way but depends on the thickness of the apple slices
Once apples start falling apart, mash the rest of the way. If you cook it long enough in the crockpot, you really only need to stir it and the apples break up enough. If the mixture is too thick, add a bit more water. I personally just stop after this and leave it chunky, but if you like smoother applesauce you can add the mixture to a food processor or use an immersion blender to break up the chunks.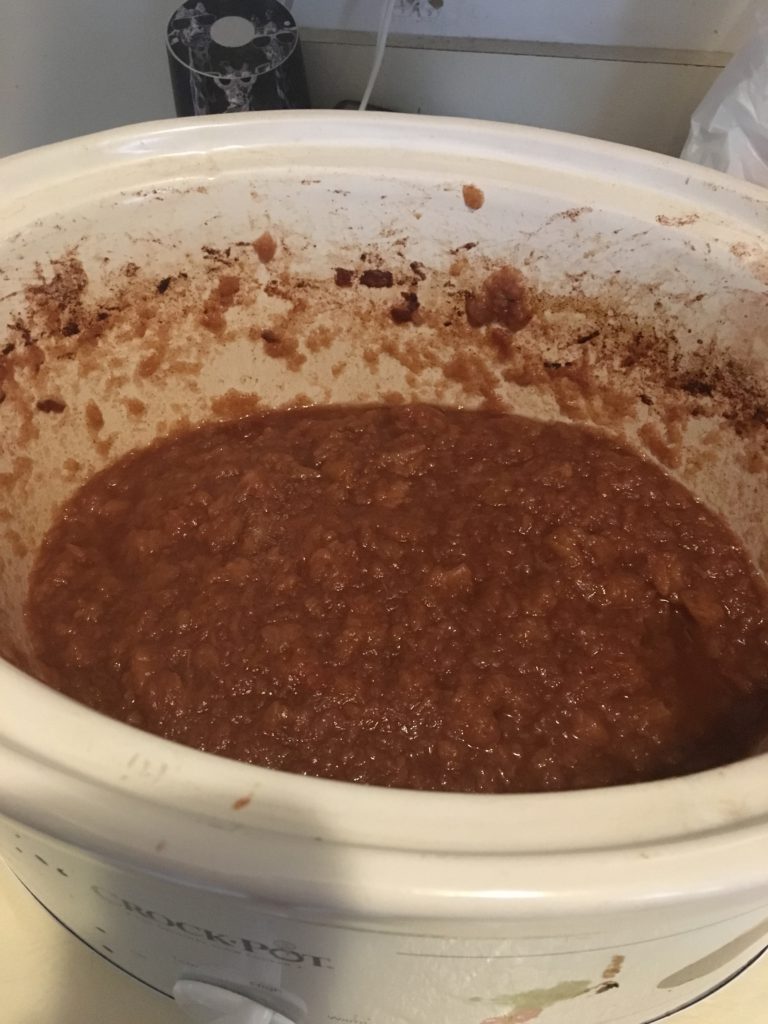 That's it! Now you have perfectly chunky and very cinnamon-y applesauce that's incredibly sweet without any added sugar.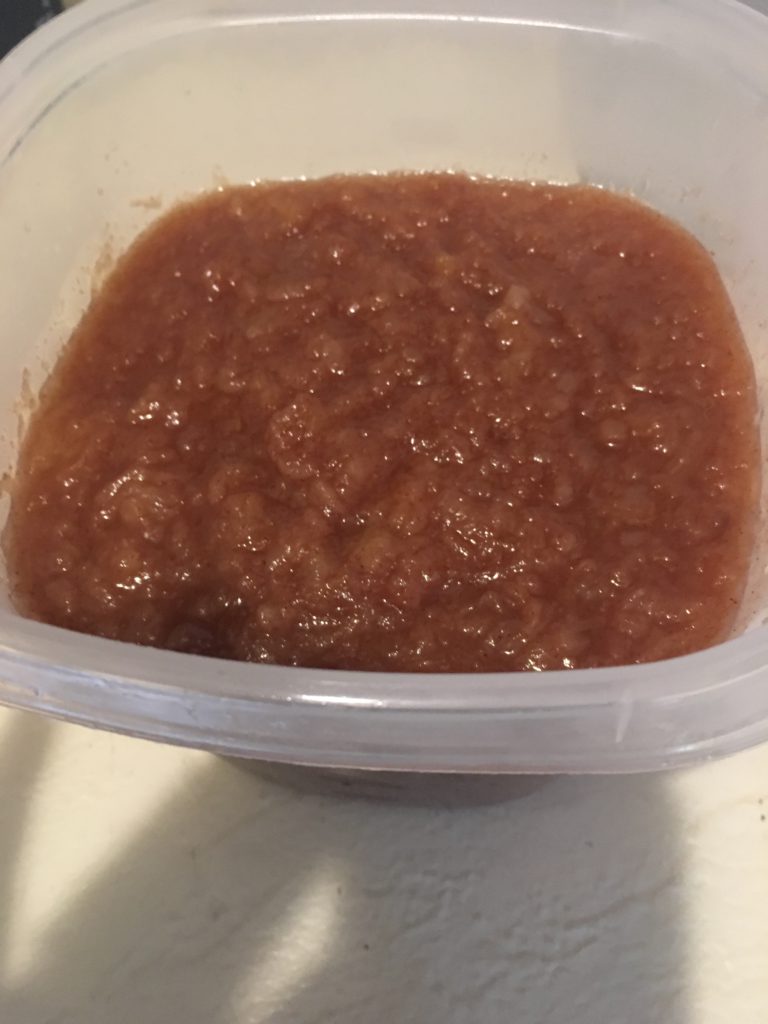 I like to transfer to the fridge and chill it thoroughly overnight before eating it because I think it makes it taste even sweeter.
This recipe is zero points on the WW Freestyle plan and around 500 calories for the ENTIRE pot if you use 9 full cups of apples, so you can calculate calories based on that.
Please follow and like us: