Dietbet is a program that lets you place a bet on your weight loss. If you're familiar with HealthyWage, it's quite similar (although different). If you're wondering how does Dietbet work? let's go into some more detail about how this program.
You may have heard of this being promoted by various celebrities and influencers via Instagram or other social media outlets. Dietbet is a HUGE deal within the weight loss community – but can you really win a lot of money betting on your weight loss with this program?
Recommended: HealthyWage vs Dietbet – Which is Better?
How Dietbet Works
First of all, this is NOT a diet program at all. How you lose weight doesn't matter. You can choose to do whatever works for you.
Basically how it works is like this – you enter into one (or several) of their various weight loss challenges and if you win, you get your money back plus a small profit. You're able to do up to 3 Kickstarters and 3 Transformers (both of which are explained further down below) at once.
The entry fees for each challenge can vary, but you can find them for as low as $10. Typically you will win back 1.5 – 2x the amount you bet. If you enter into one with a $10 fee, you could expect to get $15 – $20 back at the end ($5 – $10 profit).
While you're in challenges with other people, you're not really in competition with each other. If you hit your goal, you win regardless of other members on the team.
You can enter a popular game with thousands of people, or just one with your family and/or friends if you want.
For each game you enter, everyone's entry fee goes into a big pot. At the end of the contest, everyone who wins gets to split the money (technically 85% of the pot since Dietbet takes a cut). The more people lose, the more money you can win.
In any case, we're not talking about a lot of profit – it's more of a way to stay motivated and encouraged to lose weight, rather than making big money to do it.
Dietbet also claims they have a "no-lose guarantee" so if for some reason everyone in your particular Dietbet game won, you are supposed to get back at least your entry fee.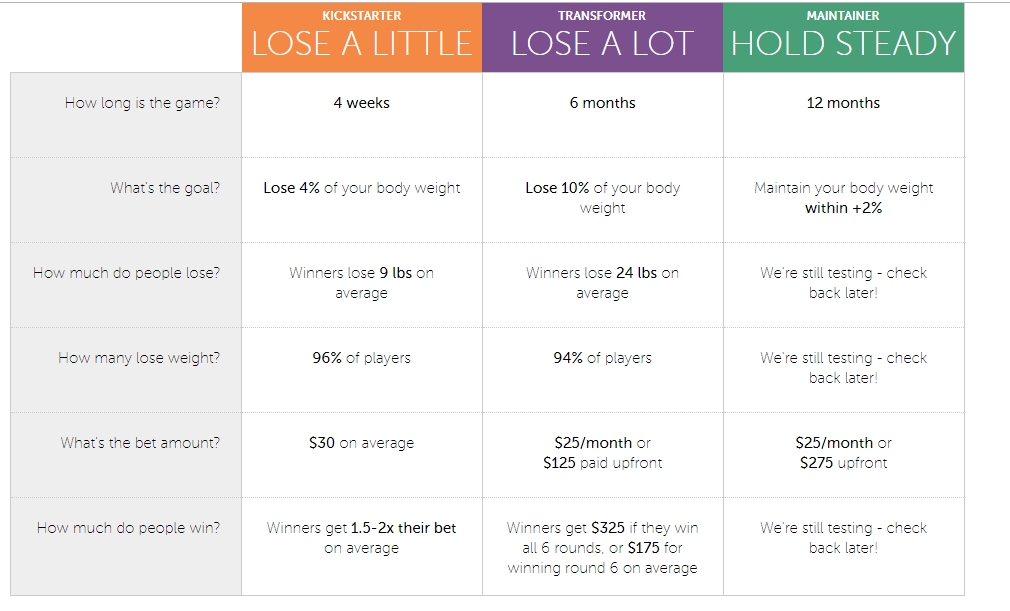 Dietbet has 3 different types of challenges you can enter – Kickstarter, Transformer or Maintainer
Kickstarter is a 4-week challenge in which you must lose at least 4% of your body weight. The entry fee varies by challenge, but the average bet is $30. On average winners can win back 1.5 – 2x their bet. So if you bet $30, you can expect to get back $45 – $60.
Transformer is a longer 6-month challenge in which you must lose 10% of your body weight. This bet is $25/month or you can pay $125 up-front. This challenge is more complex because it's not just about losing 10% over 6 months, you are supposed to hit 6 different milestones, as follows:
Round 1: must lose 3% of your body weight
Round 2: you must lose 6% body weight
Round 3: you must lose 8% body weight
Round 4: you must lose 9% body weight
Round 5: you must lose 10% body weight
Round 6: maintain 10% body weight
Note that the percentages are cumulative based on your starting weight.
You can win up to $325 for winning all 6 rounds in the transformer challenge. (which would be a $200 profit)
Maintainer is a challenge for people who want to maintain their weight over a 12 month period. Your weight must be maintained within plus or minus 2% of your body weight. But according to the FAQ section, they'll actually allow you to lose up to 4% of your body weight over the length of this challenge. The cost for this is $25/month or $225 up-front.
In order to qualify for Maintainer challenge, you must have either previously lost weight with a Dietbet Kickstarter or Transformer or prove to them in another way that you have lost weight before.
Want to make a completely personalized, long-term bet for YOUR goals? Check out HealthyWage
How do you verify your weight? Can't you cheat?
Dietbet uses a 2-step photo verification process for your starting and end weights. You must submit 2 photos – one full length standing on the scale, and another shot of the scale read-out. You also are given a time-sensitive code word to write on a piece of paper and include in your photos to prevent people from re-using pictures.
Would this process be easy to cheat? Maybe… It definitely seems like it'd be easier to cheat than HealthyWage's verification system (you have to do a video weigh-in for them).
Can you really make money with Dietbet?
For the most part, this is sort of something you do to hold yourself accountable to your weight loss and stay motivated, rather than to actually make a bunch of money.
The money you typically make playing Dietbet games is not that much – only between 1.5x -2x the amount you bet, per game. Those are just the typical amounts, there are lots of cases where you could win even less, or sometimes even more. It all depends on how many people win or lose the particular Dietbet game you joined.
According to certain players reviews and various things I've read scanning forums, it seems like the more players a game has, the higher percentage of winners there will be.
How to earn more money with Dietbet
Just joining a 4-week Kickstarter challenge might give you a kick in the butt to drop some weight, but it won't make you rich. At best, it will put a few extra bucks in your pocket.
To earn more money, play more games – this is obvious but since you can join up to 6 games at once (3 Kickstarters and 3 Transformers) you'll have a chance to win much more that way (although you're also betting a lot more!)
Become a host – there's serious money to be made hosting Dietbet games. As a host, you get between 5-10% of the gross pot.

In the above example, this pot is over $80K… even just 5% of that is quite a bit of money. The trick? You kind of need a huge following to pull this off… Most people aren't going to be able to convince 3,000 people to join a game with them!
What to consider before you make a bet…
Dietbet is a totally legit program, but before you sign up there are some things to consider.
The challenges are not customizable at all. You need to lose a very specific amount of weight in a certain amount of time. 4% may not sound like much, but if you're on the heavy side that could be quite a bit of weight to lose in just 4 weeks.
Even the Transformer challenge has extremely specific goals you must meet throughout the 6-months to win the max amount of money.
To me, they seem like they'd cause A LOT of stress and anxiety. However, other people might enjoy that and thrive in that type of situation. It just depends on the type of person you are and what motivates you.
I much prefer HealthyWage's customized HealthyWager challenge. How much weight you lose and how long you take to lose it is up to you – within certain limits. You can also play with their prize calculator and figure out how much you could possibly win. I played with the calculator probably about 20 times before I figured out I could win nearly $2,000 for losing a reasonable amount of weight in a year!
Please follow and like us: