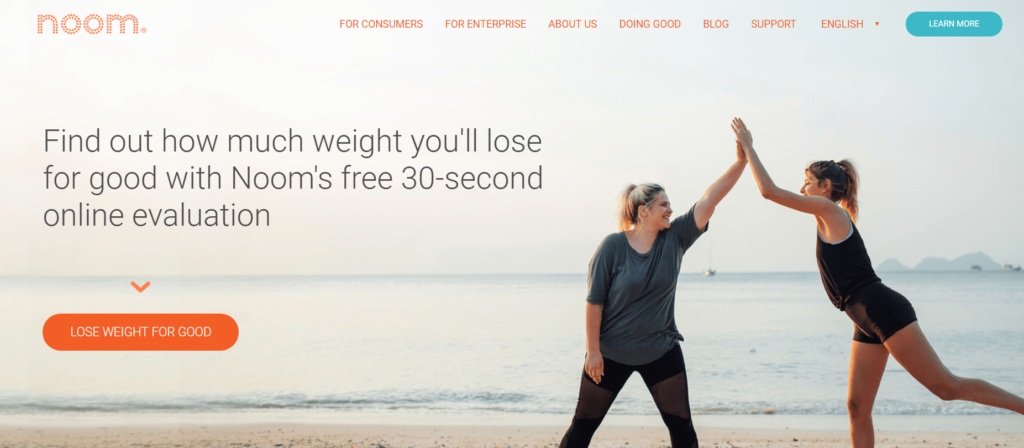 I was genuinely curious about this company so I signed up for their special $1 offer. If you're wondering what Noom is all about or out there researching is Noom a scam? I'm here to share my experience with this weight loss app.
And if you're wondering, Noom is definitely not an MLM or a pyramid scheme. There are no downlines and recruiting is not involved in their business model.
Update October 22, 2019: Noom STILL has a pattern of complaint warning with the BBB. There are many customers complaining they are being charged after the free trial offer, even though they tried to cancel. This was not my experience with the program, but I'm going to throw it out there and caution anyone who is considering using this program..
What interested me most about Noom's weight loss app is they go beyond just telling you how or what to eat to lose weight. They offer support and guidance with a personal coach and claim to tackle the psychological barriers that prevent people from losing weight and keeping it off, which is a major issue for me. It seems like they really try to get at the root of the issue and get people to change their lifestyle and eating habits without having to rely on counting calories or points forever
Quick Summary
After joining, I wouldn't say Noom is a scam. However, I'd like to note that they have had a lot of billing issues and have a warning with the BBB. Personally, my experience was different – I was able to cancel pretty easily. However, I acknowledge their cancellation system isn't the best.
But judging from the sheer volume of complaints, Noom needs to get its act together and fix some problems because clearly it's not doing something right.
But back to the actual program – Noom is not a diet at all – the program teaches you about nutrition and attempts to tackle the mental and emotional issues many people battle when it comes to losing weight.
While there have been numerous complaints about the trial offer cancellation, I am not sure why because I had absolutely no issues and was able to cancel in less than 2 minutes from the time I requested it.
In the end, I realized Noom wasn't the program for me. I much prefer tracking with MyFitnesspal and adding some extra accountability in the mix with a really unique program that lets me bet on my weight loss!
But everyone is different and this may be a good program for some people.
Still, if you're on the fence about Noom I'd take the BBB complaints into consideration. I'd also recommend paying with Paypal rather than a credit or debit card as you can deactivate your Noom subscription directly through them.
How Noom works
Noom advertises themselves as being "the last weight loss program you'll ever need" because it's designed to be a 16-week program that gives you the education and motivation you need to finally tackle your bad habits and get the weight off for good.
In order to use Noom, their app must be downloaded on your phone. There's no option to do any of this program or food tracking on the website. There are no attending meetings like Weight Watchers – the entire program is within the app, even the support. This is probably why they refer to themselves as Weight Watchers for Millenials. (You can read my comparison between Noom and WW here)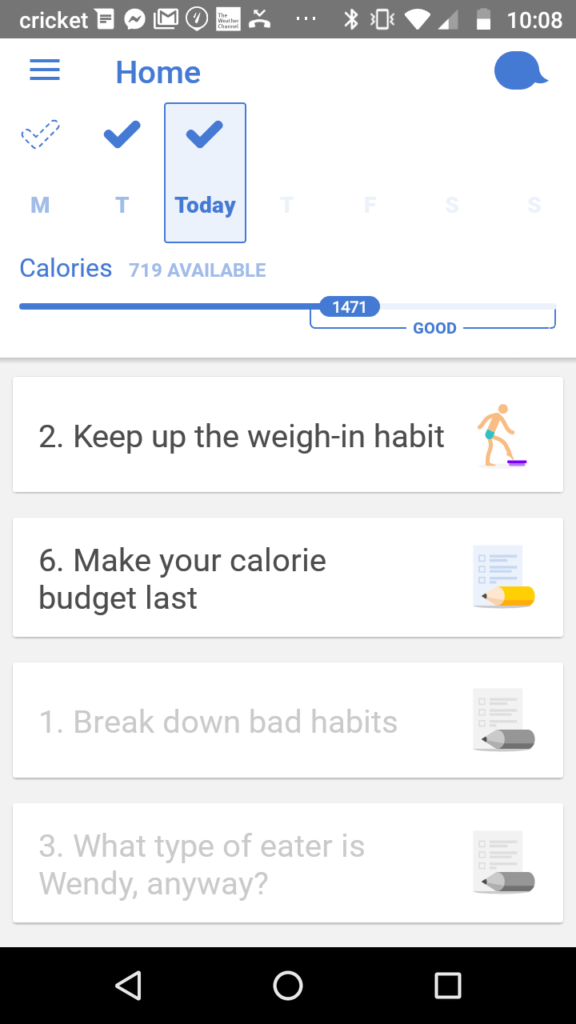 Noom's weight loss program consists of three main parts:
Daily food logging
Daily lessons and tasks
Accountability and motivation from your personal support coach and group
Food Logging
Food tracking is encouraged daily. You're given a daily calorie limit that is determined by factors like age, sex, weight, height, plus how much weight you want to lose each week (up to 2 lbs). They have the software built into their app, much like Myfitnesspal or Loseit, or any other calorie tracking app you may be familiar with.
What makes this a little different than free calorie-tracking apps is they analyze your food choices and group them into three categories – green, yellow and red. You're encouraged to eat more green foods than yellow, and the least amount of red foods. This is based on calorie density – the food that can fill you up with the least amount of calories is better and encouraged over calorie-rich foods that leave you feeling hungry. An example would be eating grapes over raisins, as you can eat a much larger volume of grapes for fewer calories.
Green foods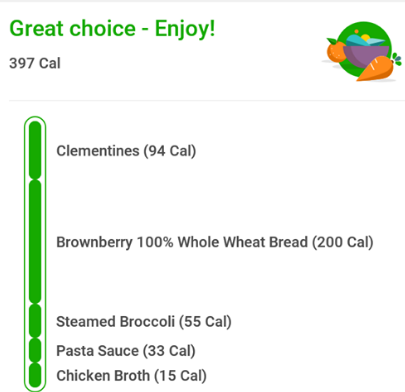 Green foods are things like fruits, veggies, and whole grains. They recommend green foods make up 45% of your diet.
Yellow foods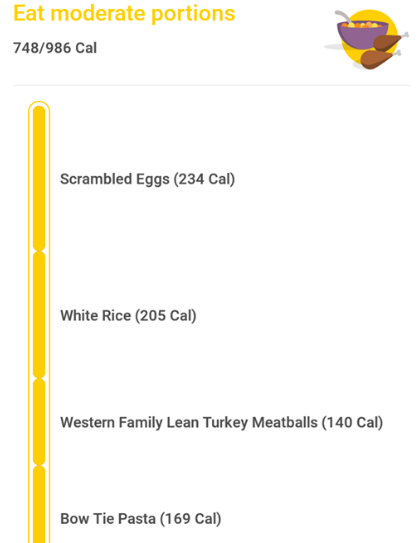 Yellow foods are things like beans, dairy, lean meat, pasta, rice, and eggs – they should be eaten in moderate portions. They recommend yellow foods make up around 30% of your diet.
Red foods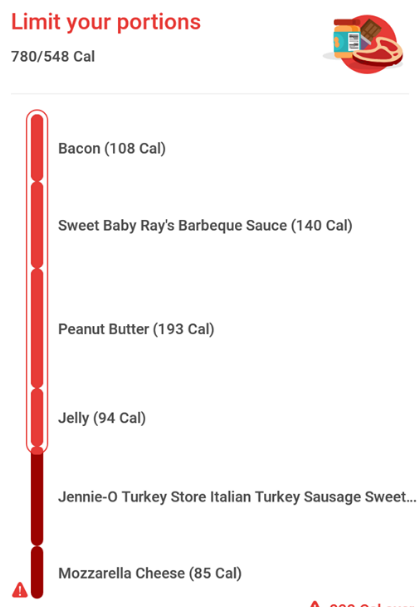 Red foods are things that contain a lot of calories without filling you up – you can see from my examples things like peanut butter, cheese, condiments and high-fat meats (and also candy, desserts, etc). These are supposed to make up 25% of your daily intake.
My issues with Noom's food tracking software
To be completely honest, I had a lot of problems logging my food on their app. First of all, you can't create your own recipes which makes it much more difficult to track meals you make at home. Every time I made a recipe, I had to log the individual ingredients and figure out how much of each was in my exact portion. This is just so much easier when you can create the recipe yourself, set the number of portions, and have the system track it for you (like on Myfitnesspal or the Weight Watchers app).
Update: You CAN track recipes with Noom now
Their food database is also lacking in many foods. While you can scan the barcode if you can't find it in their system, I still got the message a few times that they didn't have the barcode on record. I've never had that issue with Myfitnesspal or Weight Watchers!
Another thing that bothers me is I don't have the option to log meals on my computer. I don't necessarily always want to use an app for everything, but Noom is only available as an app, so that's just the way the program operates.
Overall, I just think Myfitnesspal and Weight Watchers are better when it comes to food tracking. (But I realize can also be a personal preference thing)
Lessons/Tasks
Every day you are given new reading material and quizzes. They give you just a little bit each day to get through over the entire 4 months. It should only take you a few minutes each day to read and complete the tasks.
Noom's material is broken down into 4 phases:
Phase 1: Define your goals and figure out the reason why you want to lose weight. Make a plan to get motivated, develop good habits and conquer your food demons.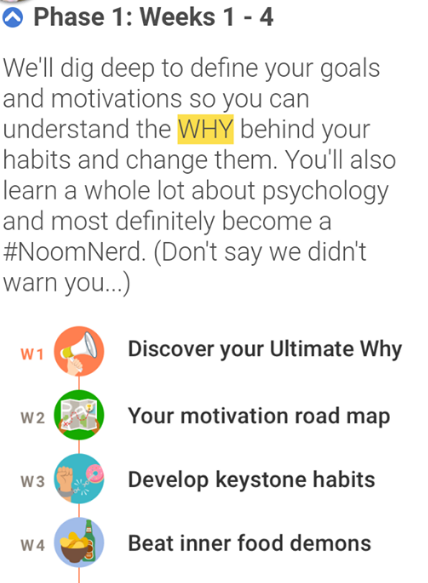 Phase 2: Learning the psychology behind weight loss, beat your thought distortions, debunking weight loss myths and learning to overcome your food triggers.
Phase 3: Building up willpower and managing stress, build mental resilience and resist food pushers.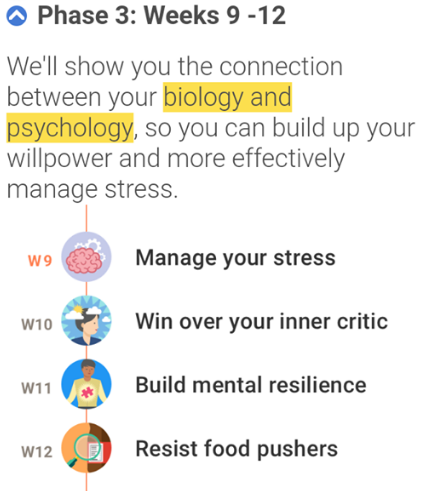 Phase 4: Teaches you how to make this lifestyle last, so you can keep the weight off for good and never have to diet again.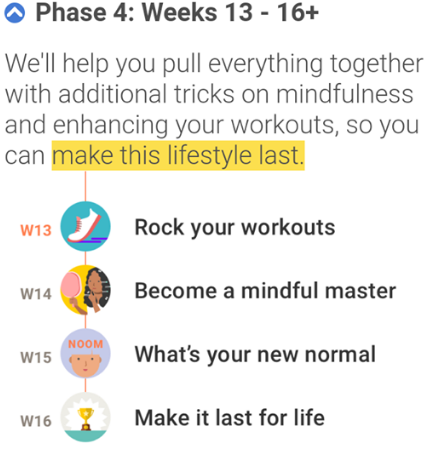 I like that they provide material that tackles the mental barriers of weight loss. For a lot of people, including myself, that is one of the major issues and most diet programs out there don't have any type of education in this department. They do give some great advice and their daily lessons can help a lot of people stay on track and re-examine the way they think about food and their habits.
However, I think this is really designed for normal people who don't have deep-rooted problems with food. It definitely isn't meant as a replacement for a therapist if you have serious issues with food and food addiction.
Accountability/Motivation
Another aspect of Noom's weight loss program is they provide you with a "goal specialist" who is there to check in with you to make sure you're following through with the program, provide encouragement and motivation. They check in once a week.
You're also put into a weight loss group where you can get additional support.
Honestly, this was an area that I wasn't too impressed with. It's rather robotic and it's hard to feel encouraged and motivated by someone who isn't really invested or interested in me as a person.
I'm not saying there aren't real people behind the coaches, I'm sure there are. However, a large part of their responses seems automated and prewritten, which I understand. They're assigned to tons of people, they're not going to take the time to type out the same thing over and over again a thousand times. If you ask them a more specific question, they do respond although something feels a little off, like they aren't actually listening to what you're really telling them.
I think that for many people, just knowing there's someone looking out for them and encouraging them is enough.
What I liked about Noom
It's not a diet
It provided me with some insight into the foods I'm eating and what they consider red, yellow and red
There are no good or bad foods – nothing is off-limits
They try to address the real problems that are preventing you from losing weight
What I disliked about Noom
There are currently too many complaints about cancellation issues. Even though I did not have a problem, it's concerning when the BBB has an alert on this business.
Their food tracking software isn't the best, Myfitnesspal is superior and it's free
The goal specialist was a little too automated for my taste
It's only an app, so you have to do the program entirely from your phone. I think it would be cool if they had it available on an actual website.
They're totally not upfront about their pricing, which actually really bothers me (this is discussed more in-depth down below)
Overall it just isn't a good fit for me
How much does the Noom weight loss app really cost?
Initially, it's only $1 for a two week trial period which they claim is risk-free. (Currently, they're letting you choose how much you pay for your trial – anywhere from $1 to just over $18)
Here is the cost, depending on how long you sign up for:
Monthly plan $59

2 month for $99

4 month for $129

6 month for $149

8 month for $159
It's not easy to find this information on their website and sign up for the length of time you want to (I actually had to contact their customer service to get this information about their pricing).
You need to complete some questions on their site in order to be directed to the payment page, and even then you are only presented with one option for how long of a program you can sign up for. I don't like that they're not straightforward about this at all.
Actually, this bothers me more than anything about Noom. I know it's designed to be a customized program, and that the program is supposed to work for a certain length of time depending on your personal weight loss needs and goals, but still…
Complaints about Canceling Noom membership
When I first heard of this company through a Facebook advertisement, I saw a lot of negative feedback within the comments about membership cancelation.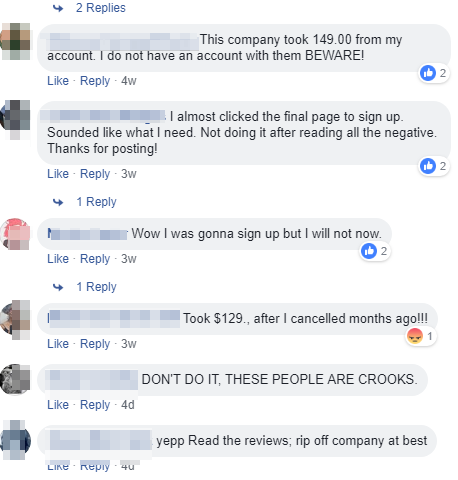 Even the BBB has recognized a pattern of these complaints and is requesting Noom's voluntary cooperation into fixing these problems it is having so frequently with membership cancellations and customer service.

Did Noom resolve this issue?
If you look at current complaints with the BBB, you'll see complaint after complaint of being customers being charged before the free trial ended and having no way to get in touch with anyone to cancel. Noom's company is very responsive to these complaints, but the high number of these complaints is very alarming.
Noom really needs to change the way they handle their free trial and cancellation method in order to be more upfront with people.
The strange part is I didn't find it difficult at all and immediately was sent a link to cancel my account when I contacted my goal specialist. It was actually an automated message that sent immediately when I told her I wanted to cancel, so I didn't have to wait any length of time for a response.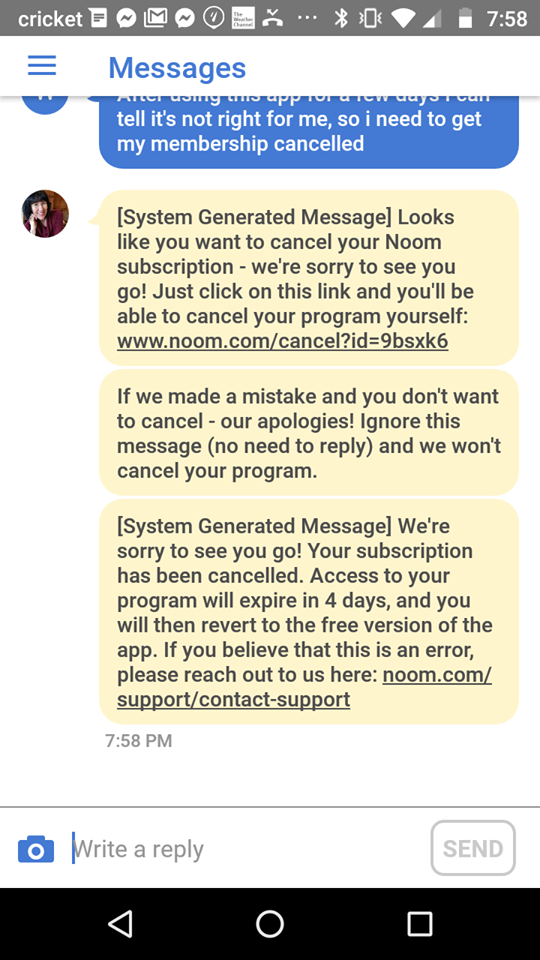 Immediately after I cancelled, I was sent a confirmation message in the chat (see above) plus a confirmation email.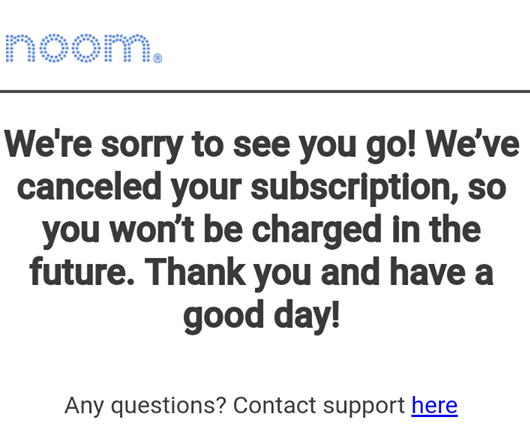 If you send a message to your goal specialist saying you want to cancel, they will automatically send a link to cancel your account. You shouldn't have to wait for them to reply as the response is generated by the system as long as you type something along the lines of "I want to cancel my membership".
Although I think implementing a simple "cancel subscription" button within the app with clear instructions on where it's located, maybe it would help resolve a lot of problems people are having.
HOWEVER – there are complaints from others stating they went through and cancelled their account, but the money was still taken out of their account anyway.
I'm not really sure what's going on with Noom and cancellations, but it doesn't seem right.
Use Paypal to avoid any problems
If you're interested in Noom but worried about all the problems people are having with billing, I would recommend paying with Paypal instead of a credit or debit card.
With Paypal, you have the ability to manage your subscriptions from within your own account. You can go into your settings and payments, and from there find Noom and deactivate the subscription. This will stop authorized payments, even without contacting Noom directly.
You still will want to let Noom know you want to cancel, but at least they won't be able to take out an unauthorized payment. I would recommend doing this BEFORE the last day of your trial to be safe.
Final thoughts on Noom
While Noom's weight loss app has some good elements to their program, all the issues with billing are really concerning to me. The fact that the pattern of complaints is STILL up with the BBB after nearly a year and that Noom hasn't changed their business practices to resolve it is not a good sign.
If after reading this you still want to try it out, if you end up needing to cancel the program just make sure you pay with Paypal and deactivate the subscription after you cancel with Noom to make sure no unauthorized payments can be taken out of your account. You can try Noom here.
I do think that WW (formerly Weight Watchers) is a great program and in many ways is better than Noom. You can check out my full comparison between the two programs here.
Want to increase your chances of success with weight loss? Check this program out and find out how you could actually get paid to lose weight?!
Please follow and like us: