Out with the old, in with the new – it seems Keto has taken over everything these days. I wanted to compare Weight Watchers vs the Keto Diet to take a closer look at the similarities and differences between the two and find out if one really works better than the other.
Keto and Weight Watchers are very different diets. Keto involves severely restricting carbs to under 50 grams per day while eating only a moderate amount of protein. Weight Watchers doesn't restrict food groups and allows you to eat what you want (in moderation) while also teaching and promoting long term, healthy eating habits.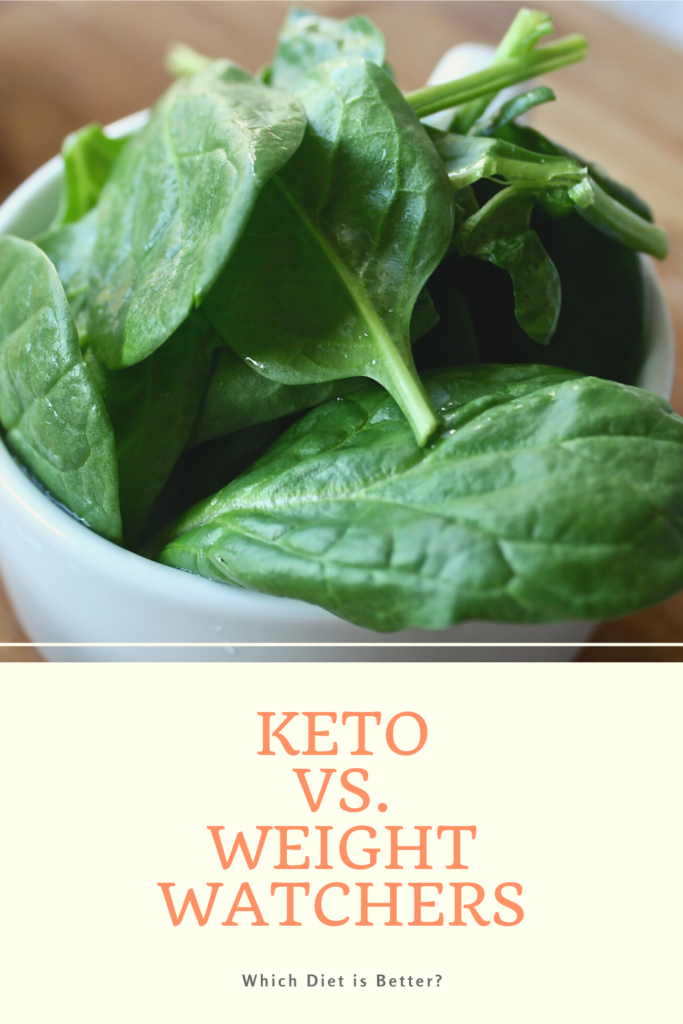 Weight Watchers vs. Keto – At a Glance
Weight Watchers
Keto
Food Restriction
No foods are eliminated
Carbs less than 50 g/day
Food Tracking
Yes, with points
No tracking
Price
Monthly Fee, varies based
on plan (digital around $20/month)
No monthly fee
Support
WW app support, group meetings
No "official" group support
Practicality
Super flexible, fit into your
lifestyle
Restrictive, harder to
follow long-term
The first major difference between these 2 programs is Keto isn't a trademarked, commercial diet program. It's more so a way of eating. Keto is simply referring to following a very strict low carb diet, in which you should keep your carbs under 50 grams per day. With Keto, you don't have to purchase a membership to follow it. (Although there are a ton of Keto programs out there to purchase)
Weight Watchers, on the other hand, is a trademarked diet program with a proprietary points system. The fundamental science behind the diet is calorie restriction, but instead of tracking with calories, you track points. You can read more about calorie counting vs. the Weight Watchers points here. Weight Watchers also focuses on member weekly meetings and weigh-ins, in which you have group support. To be on Weight Watchers, you need to purchase a membership.
Unlike Keto, Weight Watchers does not restrict food groups and is known to be the diet that lets you just "eat normally".
How does the Keto diet work?
The traditional, "standard" Keto diet is a high fat, moderate protein, and low-carb. The suggested ratio for your daily intake is:
5% carbs
20% protein
75% fat
With traditional Keto, you must keep your carbs under 50 grams per day. Eating this way will allow your body to enter a state called ketosis. Once you enter this state, your body uses fat as its main source of fuel instead of carbs.
You don't need to track calories or anything with Keto. However, because you're cutting out so many foods (and basically all junk) it's easy for most people to enter a calorie deficit anyway, and that's how weight loss happens.
The Keto diet actually was not initially intended to be a weight loss diet at all. It was first used by doctors in the 1920s to treat children with epilepsy.
However, as a side-effect, many people found that by following this diet, their health improved and they lost weight. At some point recently, this diet has blown up in popularity and has become the new weight-loss fad.
How does the Weight Watchers diet work?
Weight Watchers is a way to stay accountable for your eating habits. There are no restrictions on what types of food you can and can't eat, however, the point system forces moderation.

The way it works is you are allowed a certain number of daily points based on factors like weight, age, sex, height, etc. Different foods are assigned point values based on their nutritional value and less strictly calories. Foods that are higher in saturated fat and sugar have higher point values.
When you're a member, you'll get access to their app that allows you to track your daily food intake from your phone. You can also do this directly from their website if you're not an app person.
Certain foods are considered zero points and don't need to be tracked, like fruits, veggies, lean meats, and even whole grains. Members are also given weekly points allowances to use (or not use) however they want.
In addition to following their points system, a huge integral part of the program is the weekly in-person meetings. Many members find these meetings critical for success as they offer support and accountability. However, you can choose to only use their app version to track (and it's less expensive).
The current program offers 3 different food tracking plans – Purple, Blue, and Green – which are all based on the number of "free" (zero points) foods you're allowed to eat.
Weight Watchers vs Keto price – which is more expensive?
In terms of membership, Weight Watchers is more expensive as Keto does not have a monthly price tag. While there are several memberships and books you can buy that are based on the Keto diet, overall the information is available for anyone to follow the diet for free.
Keto may get expensive in terms of buying food, as high-fat items like meats, cheeses, and nuts tend to be pricey.
What diet is easier to follow?
This is highly subjective – may be easier to follow for one person may not be for another.
If you don't want to give up carbs or any of your favorite foods, Weight Watchers may be a better option if you don't mind putting in the effort to track your food each day.
On the other hand, Keto doesn't require tracking or calorie counting, so in that sense, it's "less work". But there also may be more planning, deprivation, and cravings that are hard to deal with.
Having a severely restricted diet like Keto is harder for most people to follow out in the long term. Many people love Weight Watchers because you can lose weight and still not feel like you're "on a diet".
Which gives better results?
Many people who follow Keto see massive weight drops in the first few weeks, whereas with Weight Watchers the loss isn't typically quite as fast.
However, if both followed out long term, the results even out in the end. Both of these programs can definitely work if you stick with them.
The Bottom Line
For a diet to actually "work" you need to stick with it. Keto may be super popular, but it's definitely not a good fit for everyone.
If you don't see yourself sticking to Keto for any length of time, it's probably best to follow a less restrictive diet. Even just a lower-carb diet may be more sustainable than Keto for many.
Weight Watchers can be a great fit for a lot of people because it doesn't require "dieting" in the sense of severe restriction or eliminating foods. It teaches people long-term, sustainable healthy eating habits. It can be great especially if you're looking for additional support from weekly meetings. You can learn more about the program and how it works here.
Need more motivation to lose weight? Check this out
Please follow and like us: