Since we're under quarantine due to COVID-19, I've been playing around in the kitchen a bit more. A few weeks ago, I stumbled upon a box of Bigalow Vanilla Chai in the cupboard that I had totally forgotten about.
Ever since I've been obsessed with trying to re-create a coffee-shop version of an iced chai latte recipe, that's healthier and lower calorie and sugar, of course.
After some experimenting, I finally think I got it right. (Scroll down for recipe)
What is chai?
Chai is basically just black tea that is infused with a variety of spices like ginger, cinnamon, cardamom, fennel, and cloves (among others).
You can make it by using black tea and then adding your own spice mixture to it (to your preference) or, you can simply purchase specific chai tea bags.
For me, using chai tea bags specifically is much easier than trying to make my own spice mixture. The best type of chai that I've tried has been the Bigalow Vanilla Chai type, but any kind will work.
Chai lattes from coffee shops are typically high in sugar and calories
I absolutely love iced-chai lattes. It's probably one of my favorite things to order at fancy coffee shops. But a large iced-chai from Biggby, my favorite local shop, has SEVENTY grams of sugar and nearly 600 calories!
I mean, that's pretty insane. It's a nice treat but definitely not something to drink when you're trying to lose weight.
And really, it's probably something I should never drink now that I know how much sugar is in it.
Plus, now that I have created a nearly equivalent, at-home version that's significantly lower in sugar and calories, I have NO reason to. (Plus, it's much cheaper!)
This recipe I created has just under 80 calories per serving, 14 grams of sugar, and is only 4 points on WW (Weight Watchers).
Creating the perfect at-home low sugar and calorie iced chai latte
Trying to make this iced chai taste similar to what you'd get at Biggby (or Starbucks) while keeping the calories and sugar low, took some experimenting.
I just couldn't figure out how to make it taste right. Every method I tried came out bland.
Eventually, I stumbled upon this YouTube video of a girl who makes it at home to try and mimic the Starbucks version.
(This is NOT me, but she does a good job explaining how she makes her version of it)
I knew I would have to alter the recipe a little bit to make it lower sugar, but her method was way better than what I was trying to do, plus she used key ingredients I was missing.
I realized that I was totally leaving out the cinnamon and honey, which is ESSENTIAL to making this taste like a genuine chai latte.
I thought by using chai tea bags I wouldn't have to add any extra flavors, but you really do. Without those key ingredients, it tastes bland.
I also made the mistake of not using enough tea bags. I thought if I just used 1 bag and let it steep for longer, it'd add more flavor. Total newbie mistake!
You really should use tea 2 bags for every 1 cup of water you use in order to get enough flavor.
How I changed it
First, I halved the recipe because I was still in the experiment phase. I didn't want to make TOO much if it wasn't going to work out.
Therefore, I made it with 2 cups water, 4 chai tea bags, 1/2 Tbsp cinnamon, 1 Tbsp honey, and 6 Splenda packets (which is equivalent to 1/4 cup of regular sugar).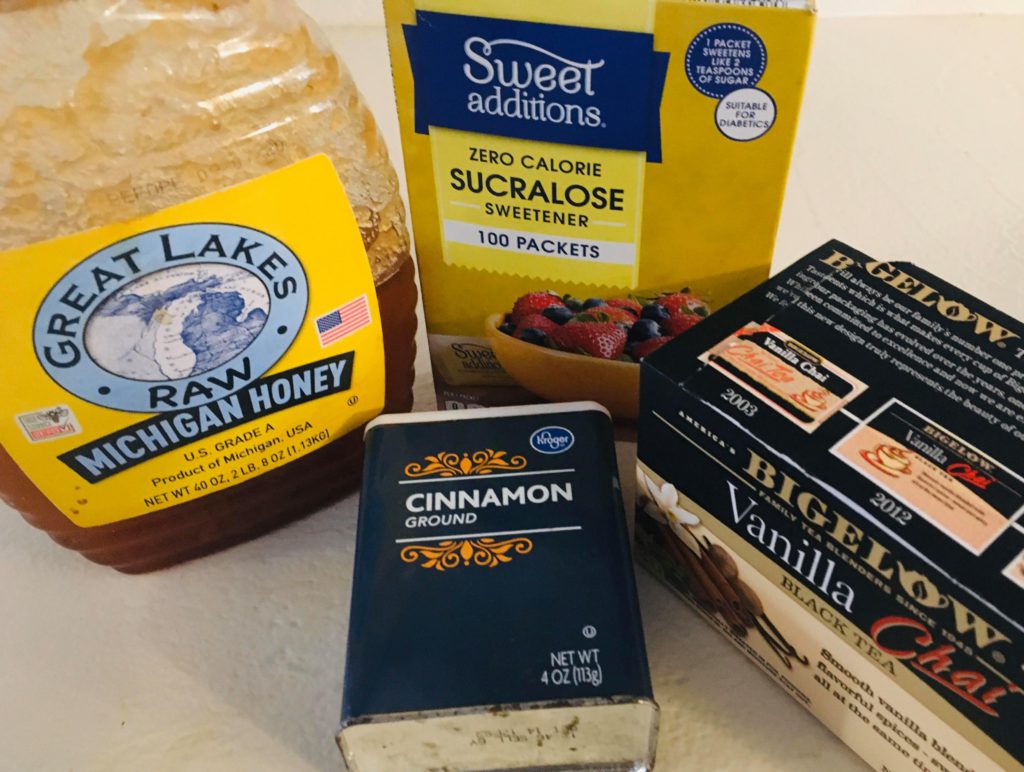 This makes 2 smaller lattes that are approximately 80 calories or 1 large glass that's about 160.
The calories are based on the exact ingredients I used, but it may vary if you substitute for regular sugar or a different type of milk (or soy/almond milk).
I used Splenda instead of sugar because 1/2 cup (1/4 cup for the halved recipe) is still quite a lot.
She recommends a few particular brands of chai tea, neither of which I have used. I personally like to use the Vanilla Bigalow Chai stuff, but any type you like will work fine.
I only left the tea bags in the water for about 5-6 minutes. I don't think it needs any longer than that.
I used raw local honey, but you can use any kind you want. You could probably cut the amount of honey in half if you wanted, but I think it's pretty vital to this recipe so I wouldn't leave it out entirely. It does add an extra depth of flavor.
So here's the exact measurements and how I tweaked the recipe…
Healthier Iced-Chai Latte (At-Home Coffee Shop Version)
A lower calorie (and lower sugar) version of a classic iced chai latte from Biggby (or Starbucks)
Ingredients  
4

bags

Chai Tea

I use Bigalow Vanilla Chai (you can use whatever you prefer)

6

packets

Splenda

1

Tbsp

Honey

1

cup

Skim milk

you can use any milk or milk substitute, but it might effect the nutritional info

2

cups

Water

1/2

Tbsp

Cinnamon
Instructions 
Place 2 cups water, honey, cinnamon, and sweetener in small saucepan over high heat. Whisk and let come to boil, remove from heat.

Put 4 chai tea bags in pot and let steep for 5-6 minutes. Remove.

Set pan aside and let cool, or pour into large cup or pitcher and place in fridge for faster cooling

Once cooled, fill cup up about halfway with ice and pour 1 cup of the chai tea mixture over top, followed by about 1/2 cup of milk. Makes 2 small lattes (80 calories each), or one large (approx. 160 calories)
You can easily double this recipe (to match the amount she made in the video) and use 12 Splenda packets, 2 Tbsp honey, 4 cups water, and 1 Tbsp cinnamon.
This would make 4 lattes and you could keep it on hand in the fridge to pour when you wanted. I imagine it would last in the fridge for at least a few days.
Nutritional Information
This iced chai latte only has 77 calories and 14 grams of sugar per serving.
Compared to nearly 600 calories and 70 grams with the coffee shop version, I say it's a win. (Especially considering it tastes really close)
Weight Watchers points: It's 4 points on Weight Watchers for one serving or 7 points for the entire batch.
Here are the nutrition facts that MyFitnesspal calculated when I put the ingredients into the recipe builder: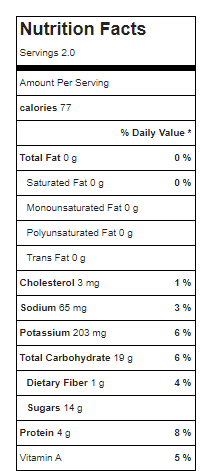 You can also drink this warm if you want. After the tea is done steeping, just leave out the ice and add milk.
Is this OK to drink this iced chai latte while intermittent fasting?
If you're following an intermittent fasting diet, this particular recipe for iced chai has a bit too many calories to be a safe fasting drink. The typical rule is you should stay under 50 calories to remain in a fasted state – so this particular drink having 77 calories is too many.
However, you could tweak the recipe to make it fasting safe. I'd lower the amount of honey and milk to make the drink under 50 calories. I think this will be my next project! I'll post the recipe soon.
Being able to drink something that tastes this good while fasting would be a total game changer!
Please follow and like us: