I really love the original recipe, but I decided to try and do a lower calorie (and Weight Watchers friendly) version of the classic raspberry vanilla yogurt fluff recipe.
What is this raspberry vanilla yogurt concoction???
Well, it's the easiest stuff on the planet – cool whip, vanilla yogurt, vanilla pudding mix, and raspberries all mixed together. It forms a fluffy, creamy dessert that's light yet sweet and satisfying.
I've seen a lot of different variations on this – some use cottage cheese (to cut the sweetness) others add in marshmallows! I personally prefer the way I make it.
Since I'm currently following Weight Watchers I wanted to try something with less sugar and lower calories to dial down the points a bit. What I came up with is super easy and still pretty delicious.
Substitutions I used to make it low calorie (and a low Weight Watchers point dessert)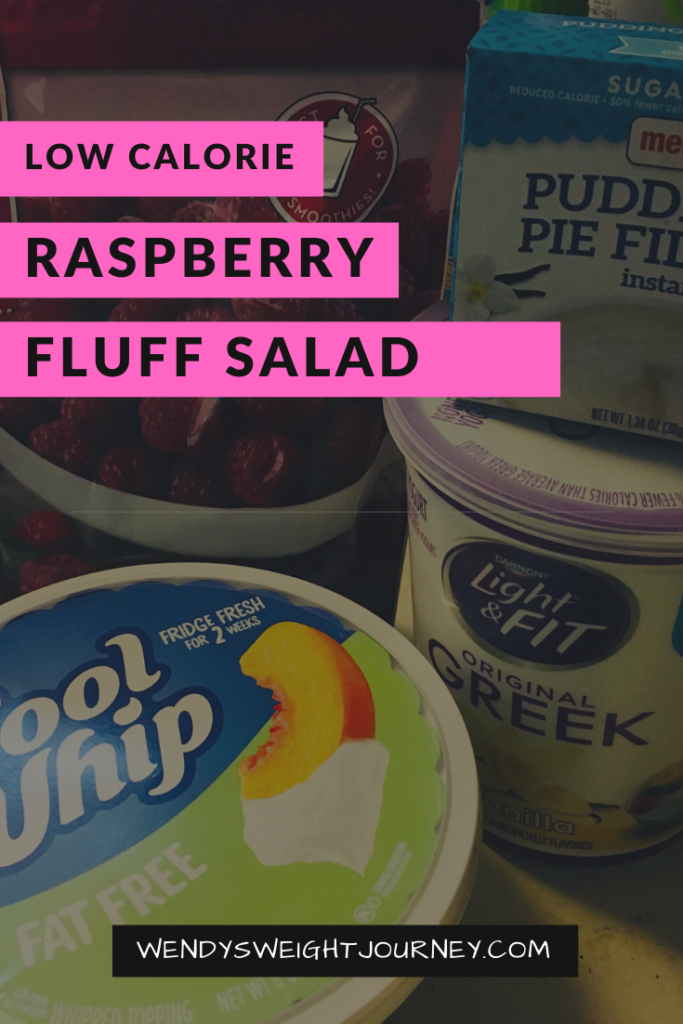 The classic recipe just calls for 4 ingredients – cool whip, vanilla yogurt, vanilla pudding mix, and raspberries. I just made some substitutions:
Dannon Light and Fit Greek (Vanilla) yogurt
Fat-Free Cool Ship
Sugar Free pudding
… the last ingredient is obviously raspberries but that stays the same! You can use fresh or frozen (unsweetened).
My version is the lowest point (and calorie based on your tastes. If you don't want to use sugar free vanilla pudding, you can totally use regular just keep in mind it will have an effect on points (and calories). I will admit it tastes better with regular pudding vs. sugar free, but it does cut down on the points.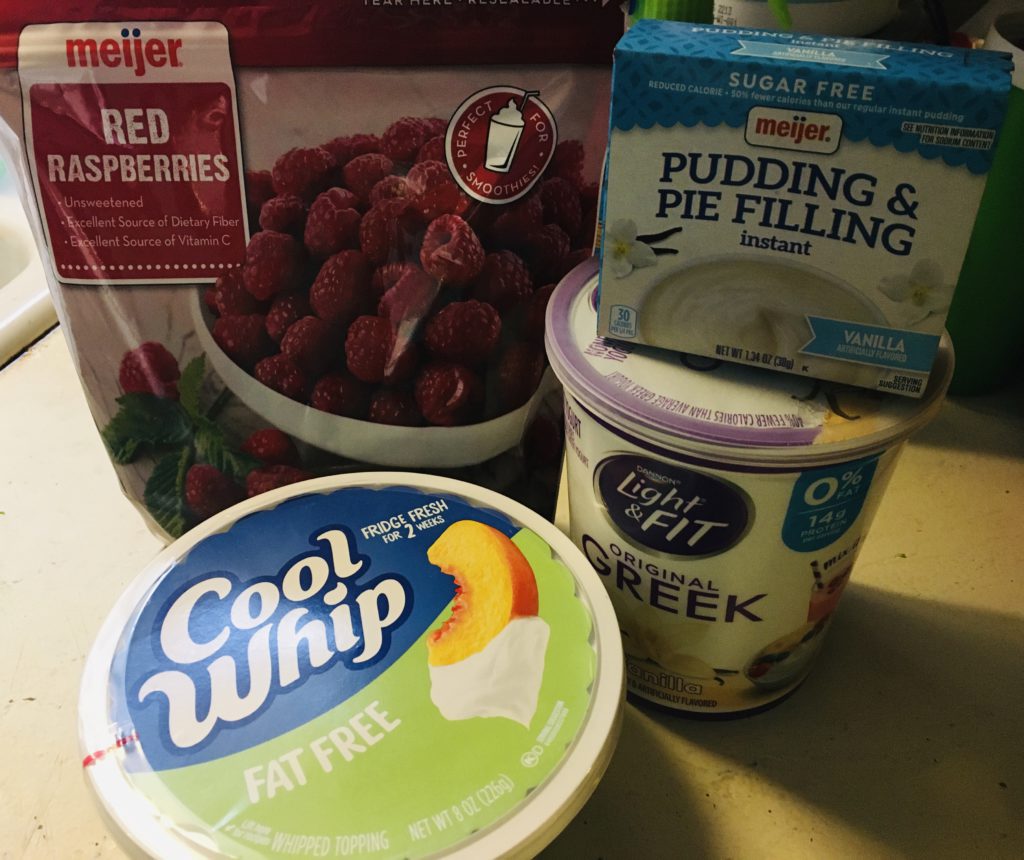 This is super easy to make – all you do is first mix together the yogurt and pudding mix in a bowl (mix well!) Then, fold in the cool whip and raspberries. Viola!
You can eat it immediately, or let it set up in the fridge for a bit. The longer it sets, the more raspberry flavor and juice that will seep into the salad. It tastes good both ways but if you want the entire pudding mixture to take on a raspberry flavor you'll need to let it set for a few hours (or overnight).
You also don't have to use Greek yogurt – you may prefer to use regular light yogurt and it will give it a lighter texture. Greek yogurt makes it quite a bit thicker (which I personally prefer).
You'll want to eat this right away (or freeze)
This dessert is great for taking to a party or if you're going to have a lot of people eating it up, because like most cool-whip based desserts, it just doesn't really keep well. If it goes longer than 2 days in the fridge it gets a little bit… weird.
What I do is freeze portions in freezer safe containers so I can pull them out and thaw whenever I feel like it. You can eat it frozen, but I think it tastes better thawed out a bit.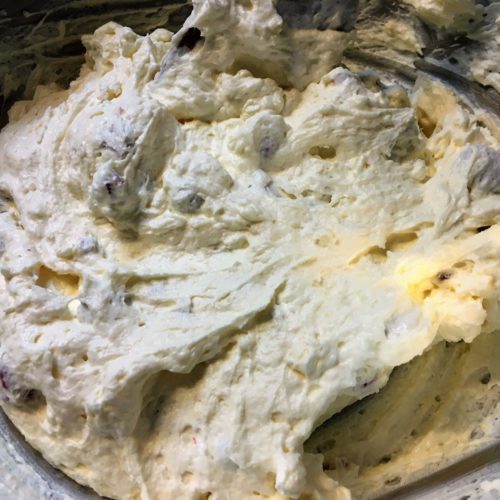 Raspberry Yogurt Fluff
Low calorie version of this super simple summer dessert salad
Ingredients
1

Large container

Dannon Light & Fit Greek Vanilla Yogurt

1

8 oz container

Fat-free Cool Whip

1

small package

sugar-free vanilla pudding mix

1-2

cups

raspberries, fresh or frozen
Instructions
First, mix together vanilla pudding and vanilla pudding mix. Stir well.

Fold in Cool Whip, then mix in raspberries.

Refrigerate for at least an hour, up to overnight. The longer it sets, the more raspberry flavor the dessert will have.
Calories and Weight Watchers Points
I am basing this off of the recipe making 8 servings, but yours could be more, or less, depending on how you portion it out.
Calories: 94
WW Points: 4
I calculated the calories and points for Weight Watchers using MyFitnessPal and the Weight Watchers app. Also keep in mind these are calculated using the exact ingredients, so if you switch up even the brand of yogurt could have an effect on the calories/points.
I bet this would also taste really good with white chocolate pudding mix too! I haven't tried it yet though, but I just might.
Have you tried this (or any other version)? Can you think of any better substitutions? Let me know your thoughts in the comments below!


Please follow and like us: